USS Donald Cook prepares for first ballistic missile defense patrol
By
Steven Beardsley beardsley.steven@stripes.com
February 17, 2014
---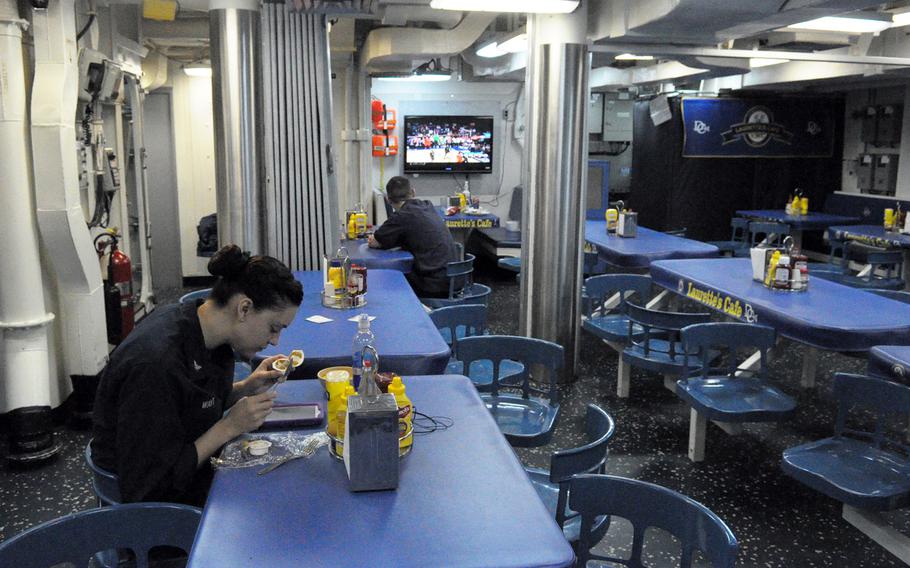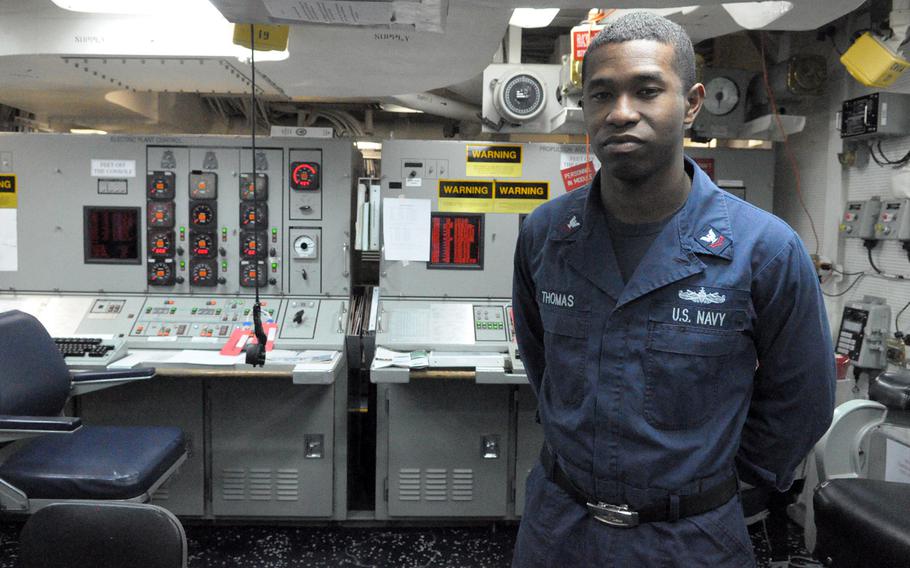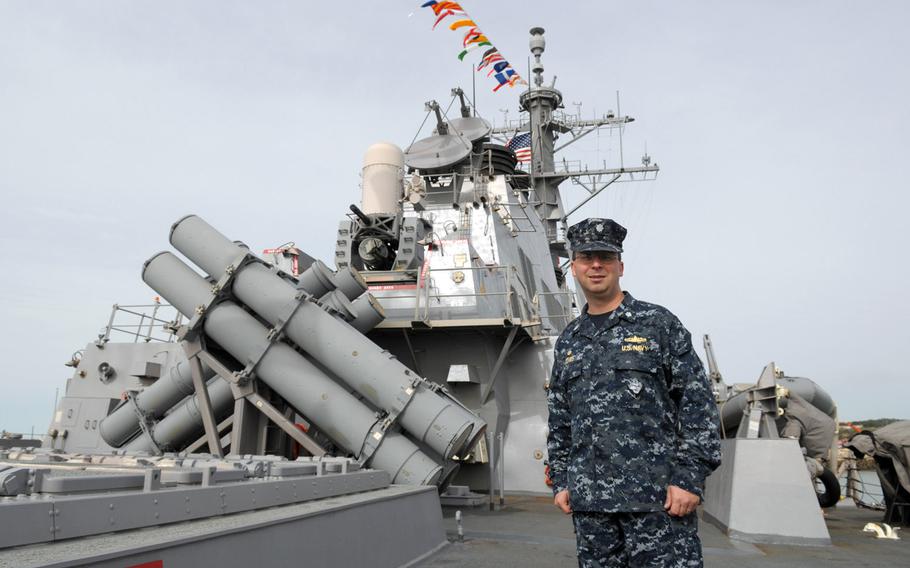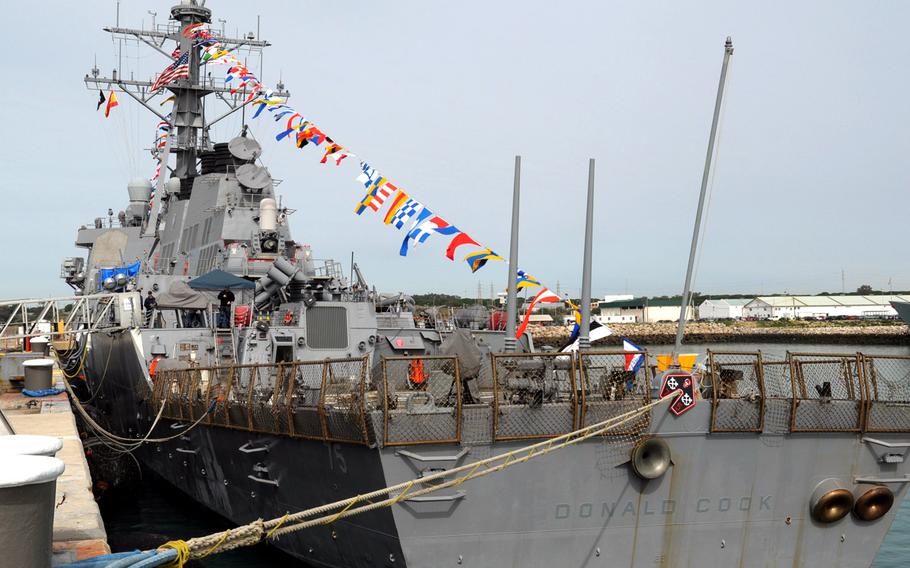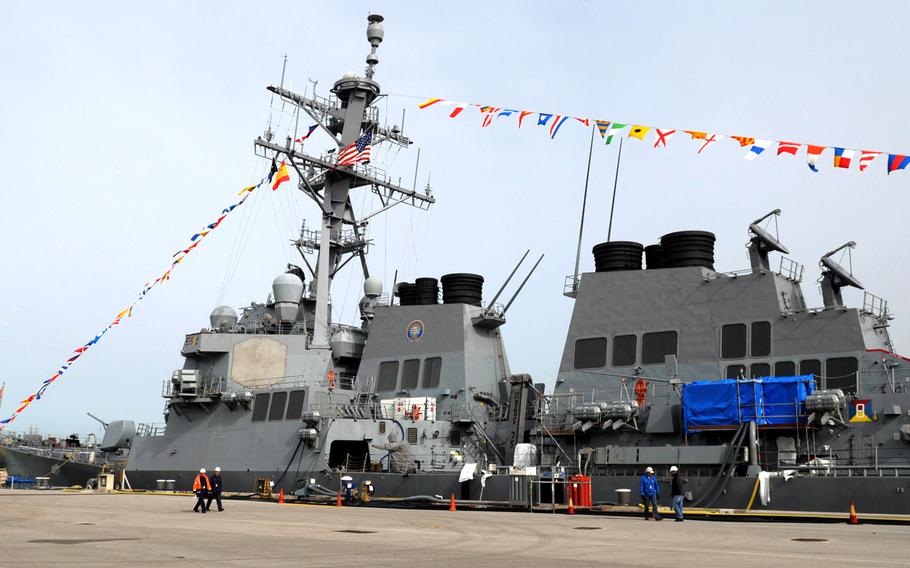 ROTA, Spain — The fanfare of its arrival has passed, and the USS Donald Cook is preparing to make its first patrol in support of Europe's ballistic missile defense patrol sometime in the next month.
On a quiet, holiday morning when most of his sailors were away, Cmdr. Scott A. Jones, commanding officer of the Arleigh Burke-class destroyer now anchored at this Navy base in southern Spain, spoke about the Cook's mission and the recent move from Norfolk to Rota, where the crew was welcomed last week by Spanish and U.S. dignitaries, including Navy Secretary Ray Mabus.
"I've got a million-and-one business cards," Jones said. "I'm Rota's latest social butterfly, as I told my wife."
The Cook is the first of four American destroyers to move to Rota over the next two years, each equipped with Aegis radar system and SM-3 missiles capable of intercepting medium-range ballistic missiles. Together the ships will form the centerpiece of Europe's Phased Adaptive Approach program, a missile shield with radar in Turkey, a command element in Germany, and ground-based interceptors in Romania and Poland.
Although the U.S. insists the system is meant to provide a defense against rogue states such as Iran, its development has caused a major rift with Russia, which says the shield is aimed against its own nuclear missile arsenal. Moscow has argued that Iran has no ballistic missiles capable of reaching Europe.
The pace of operations for each ship will be high, with a cycle of four months on patrol and four at pier. Aside from missile defense, the ships will perform tasks for the Navy's Sixth Fleet and NATO, from exercises to mission support and port calls.
The arrival of the ships coincides with increased U.S. interest in the Mediterranean and Africa, where an area of instability ranges from Syria down to Egypt and across much of northern Africa, parts of which have become havens for militant groups.
The Mediterranean also remains the gateway for U.S. deployments to the Middle East and the Persian Gulf, where operations in Afghanistan and tensions with Iran have led to increased tours by carrier groups and smaller craft.
Jones is awaiting the tasking for his first patrol. In the meantime, the ship is undergoing light maintenance, and crew leaders are focused on situating the Cook's roughly 300 sailors on the base and in town.
The Cook's crew has spent the last year preparing sailor and ship for their new home in Rota, a base just north of Gibraltar on the Atlantic coast. They participated in a ballistic missile defense exercise off the East Coast, and in October they fired their SM-2 surface-to-air missiles to destroy a target drone. They also met with Rota base officials to talk about the move process, and they interviewed families.
A few crew members were forced to leave the ship. Single parents, families dependent on two incomes and some with chronic medical issues were among those weeded out, Jones said. He was able to swap some crew members by "deck-crossing" with other ships, or trading similarly qualified sailors.
About a dozen families have arrived in Spain so far, Jones said, with another 50 slated to come in the summer. Other sailors are ineligible to bring families because they will leave the ship within a year. The arrival of their replacements will bring even more families to the area, Jones said.
The ship's needs are generally light, Jones said, because of early planning and a broad push at the highest level to meet timelines for the shield.
"This transition has been so smooth because of the work done on both sides of the Atlantic to make this a success," he said. "The president tasked the Navy to do this, and the Navy made it happen."
Commissioned in 1998 and named for a Marine captured in Vietnam, the Donald Cook is a floating arsenal that boasts the Navy's most advanced radar system.
Vertical launch systems at the fore and aft can fire SM-2 missiles, SM-3 interceptors and Tomahawk cruise missiles. A five-inch gun at the front can provide indirect fire to support troops on land. The Harpoon missile system can target other ships.
At the heart of the Aegis system are four large radar sensors on each side of the ship, which are used to track and target aircraft and incoming missiles. Information is fed into the Command Information Center below deck, where weapons systems are controlled and monitored.
Originally developed to defend against anti-ship missiles, the system was adapted for ballistic missile defense, in which targets are fired from extreme distances and sometimes leave earth's atmosphere as part of their trajectory.
"This is the most capable component of national missile defense…It is deployed around the world on station 24-7, 365, for a capability that was never originally conceived of," he said.
Sixth Fleet previously had one ship permanently stationed in its waters, the command ship Mount Whitney. The Cook's arrival —and the impending arrival of the three other ships — mark a leap in the Navy's organic capabilities in the Mediterranean and Atlantic, as well its reach.
"Certainly the Mediterranean will be our primary focus, since that's where we're best able to support the ballistic missile defense of Europe from," he said. "But certainly, there's opportunity to go up into the Atlantic, up to the UK, to the Baltic."
beardsley.steven@stripes.com Twitter: @sjbeardsley
---
---
---
---