USAREUR commander praises Ukraine's treatment of captured Russians
---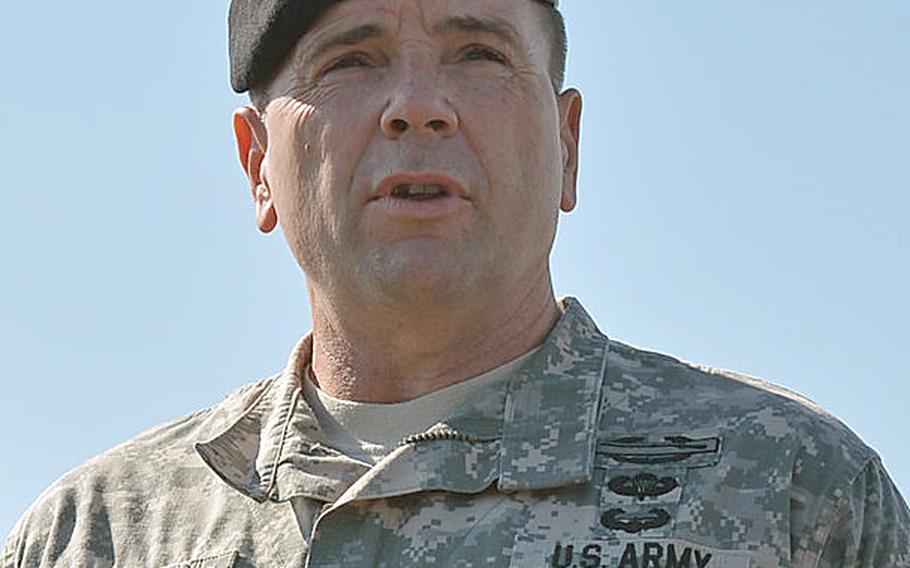 The commander of U.S. soldiers in Europe praised Ukraine's military for its treatment of two Russian soldiers who were captured Saturday near the front line between pro-Russian separatists and government forces.
The capture of the troops on Ukrainian territory was another indication of Moscow's meddling in the country, said U.S. Army Europe's Lt. Gen. Ben Hodges during a news conference Tuesday in Kiev.
"I was impressed and want to congratulate Ukrainian armed forces and the government for the way that you handled the situation with the two captured Russian soldiers," Hodges said.
He credited Ukraine for promptly informing international cease-fire monitors and the Red Cross about the capture and providing the Russian troops with medical care.
Hodges, who was in Ukraine to observe the progress of a USAREUR mission to train the country's new national guard, said the capture of the soldiers underscores the need for full access to the cease-fire line by monitors from the Organization for Security and Cooperation in Europe.
"The monitoring by OSCE is essential," Hodges said. "On the Ukrainian side of the line of contact, it's almost complete transparency. Some places could improve, but it is almost complete transparency. Unfortunately on the other side, the Russian-led separatist side, there are large areas where we don't have monitoring by the OSCE."
Moscow has repeatedly denied having a military presence in Ukraine outside the Crimean Peninsula, but the West says a growing body of evidence indicates otherwise. After the ouster of President Viktor Yanukovych in February 2014, Russia invaded Crimea and annexed it the following month. Fighting later broke out in Ukraine's east, with pro-Russian separatists battling government forces.
A cease-fire agreed to in September in Minsk, Belarus, has more or less held, despite frequent breaches.
On Tuesday, a U.S. State Department official said the capture of the Russian troops, which occurred along the Ukrainian government side of the cease-fire line, came as no surprise.
"We've said repeatedly that Russians and the separatists are working together, training together, and operating with the same command and control systems," Jeff Rathke, a State Department spokesman, said during a Tuesday news briefing. "So this capture only heightens our concern that the combined Russian separatist forces continue to flout the terms of the Minsk agreements, and Russia has shown little willingness to abide by its commitments and has not used its considerable influence with the separatists to persuade them to do the same."
Hodges, meanwhile, said USAREUR's training of the Ukrainian national guard continues to progress.
In April, troops from the 173rd Airborne Brigade launched Fearless Guardian, which will train thousands of Ukrainian troops over a six-month period.
"They were very experienced. Very fast learners to pick up new ideas," said Hodges, who noted that several of the Ukrainian troops had front line experience during the past year of conflict in Ukraine's east.
---
---
---
---