USAREUR commander outlines transformation for reservists
By
svanj@estripes.osd.mil Jennifer H. Svan
May 20, 2012
---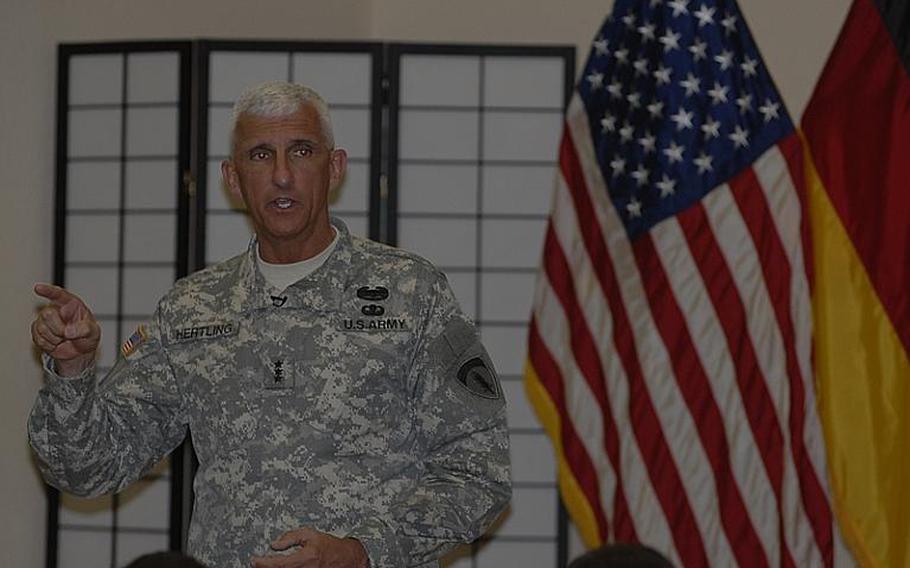 KAISERSLAUTERN, Germany — About 29,000 to 31,000 soldiers will remain in Europe in seven enduring communities after the Army completes its force transformation over the next three years, the commander of U.S. Army Europe told reservists Sunday with the 7th Civil Support Command.
Lt. Gen. Mark Hertling told about 100 reservists at a town hall-style meeting that the Army's physical footprint in Europe will shrink from about 850 sites at one time, including small kasernes and radar stations, to about 100 when transformation is finished.
Hertling said the Army communities considered enduring are the Benelux; Vicenza, Italy; and Germany's Wiesbaden, Stuttgart, Grafenwöhr, Ansbach and Kaiserslautern, which encompasses Baumholder.
Two heavy Army brigades based in Europe will be withdrawn starting next year as part of the new national security posture announced by Defense Secretary Leon Panetta earlier this year.
Hertling said the pending changes to the U.S. force structure in Europe should be completed by 2015, unless politicians make other decisions.
On Friday, the House of Representatives voted to remove all four brigade combat teams from Europe in coming years, a proposal that would have to be approved by the Senate and the president to become law.
In an interview after the town hall, Hertling called that proposal "somewhat short-sighted."
"There are others in both the House and the Senate who understand the requirements for U.S. national strategy," Hertling said, noting close cooperation with NATO and other European allies and their contributions to combat operations in recent years. "I think U.S. Army Europe and what we have over here is sized exactly correctly right now. It would be unfortunate if someone were to propose other cuts based solely on financial issues and not considering diplomacy, strategy or the economy."
The visit to the 7th CSC, the only U.S. Army Reserve command completely stationed abroad, at the unit's headquarters at Daenner Kaserne was a chance for Hertling to see the command's unique capabilities, as well as talk to the reservists about the Army's future plans in Europe and find out what's on their minds, he said.
Hertling said he's been to about every Army community in Europe to talk about force structure changes, and he realized he hadn't talked to the 7th CSC yet, the nature of the reservists' Army jobs dictating the weekend meeting.
"These are our citizen soldiers. They have jobs at other places during the rest of the week. This is when they come together for their drill," Hertling said, adding that he was impressed by the "great deal of energy and passion" the reservists' showed for their mission.
Hertling said the 7th CSC, with its civil affairs expertise, is similar to the U.S. Federal Emergency Management Agency, but for Europe. "We designed it as a FEMA to help a lot of countries stand up in case of a disaster," he said.
"It's one of a kind in the world," he said after the town hall meeting.
In response to one reservist's suggestion that perhaps the unit could be used even more, Hertling said, "It's a new organization. Once the word gets out, you'll have too much work, I think."
---
---
---
---