USAREUR chief headed to Washington think tank after retirement
---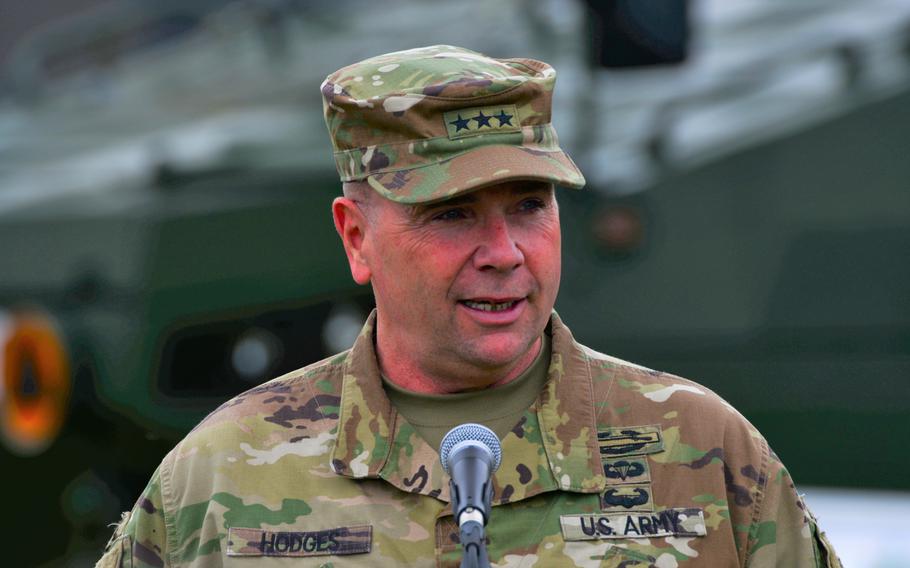 STUTTGART, Germany — Lt. Gen. Ben Hodges, who has designed the U.S. Army's efforts to intensify operations in the Baltics and Poland since Russia's intervention in Ukraine, will join a think tank focused on security in central and Eastern Europe when he retires in September.
As holder of the new Pershing Chair, Hodges will work in Washington at the Center for European Policy Analysis, where he will contribute to research and "provide military insight on questions of geostrategy, deterrence, territorial defense and the European military balance," the organization said in a statement.
Hodges is nearing the end of three years in command at U.S. Army Europe, where he led soldiers during one of their busiest times on the Continent since the end of the Cold War.
With offices in Washington and Warsaw, CEPA says its mission aims to promote an "economically vibrant, strategically secure and politically free Central and Eastern Europe with close and enduring ties to the United States."
Besides leading about 32,000 permanently stationed soldiers in Europe, Hodges has overseen U.S.-based forces that have been on steady rotation along NATO's eastern flank.
Much of the Army's efforts have centered on enhancing operations in Poland, which Hodges has frequently described as the Army's "new center of gravity in Europe."
The Army's mission in Europe shifted shortly before Hodges came into command. Moscow's 2014 intervention in Ukraine unnerved NATO allies, particularly those along Russia's periphery. The Pentagon and U.S. European Command responded by making the Army's focus the deterrence of possible Russian aggression. USAREUR, the largest of the services in Europe, has been the centerpiece of that effort.
The Army has yet to announce a replacement at USAREUR's Wiesbaden, Germany, headquarters.
In his final months, Hodges will direct several Army war games with allies. In July, USAREUR will conduct its largest exercise of the year, Saber Guardian, which brings together 25,000 troops from more than 20 countries for drills in Romania, Bulgaria and Hungary.
Hodges said his thoughts aren't yet on his impending retirement.
"We are going to run hard through the tape," he said in a recent interview.
vandiver.john@stripes.com Twitter: @john_vandiver
---
---
---
---