US tanks and troops headed to Lithuania for lengthy deployment
by
John Vandiver
September 25, 2019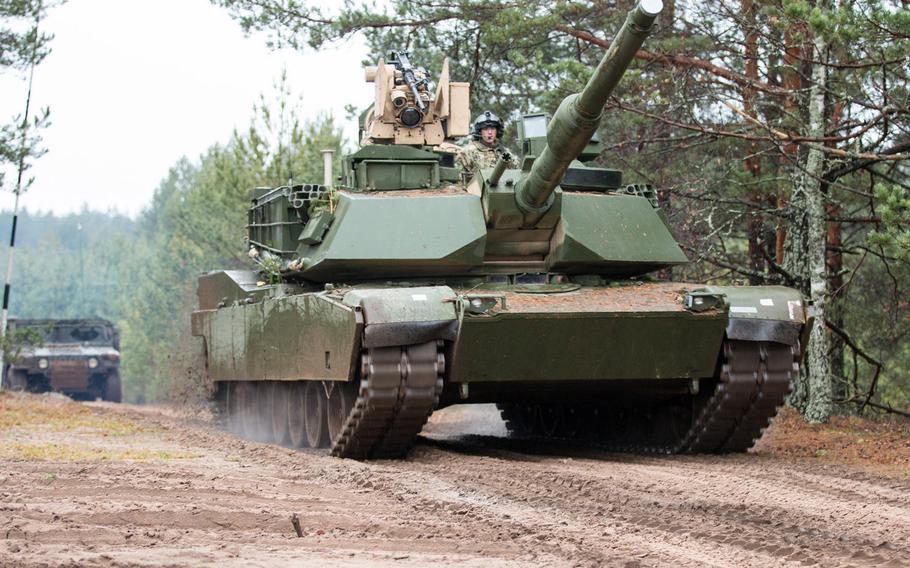 STUTTGART, Germany — More than 500 U.S. soldiers and dozens of tanks and heavy fighting vehicles will deploy to Lithuania in the coming days on an extended mission to bulk up NATO's eastern flank, the Baltic country's military said Wednesday.
The troops are being dispatched as part of U.S. Army Europe's Atlantic Resolve campaign, which involves rotating hundreds of troops to locations up and down eastern Europe in an effort to deter Russian aggression in the region.
The looming arrival of U.S. forces was welcomed by Lithuanian officials, who have lobbied for more frequent and longer American troop rotations since Atlantic Resolve began in the wake of Russia's annexation of Ukraine's Crimean Peninsula in 2014.
"We have sought a larger, long-term U.S. military involvement in Lithuania and the region consistently and patiently," Defense Minister Raimundas Karoblis said in a statement. "Therefore the deployment of the U.S. Army battalion for a longer period of time is good and awaited news and a result of our efforts and investment."
The U.S. military is "a vital factor of deterrence" in the Baltic region, Karoblis said.
Unlike past deployments of Army battalions to Lithuania, the current mission is for a long-term deployment rather than an international exercise, the Lithuanian defense ministry said. The unit — the 1st Battalion, 9th Cavalry Regiment out of Fort Hood, Texas — is expected to be in the country through spring 2020, it said.
The unit is part of a broader brigade rotation into Europe involving the 2nd Armored Brigade Combat Team, 1st Cavalry Division, which deploys in October, U.S. Army Europe said.
The 9th Cavalry will bring with it 30 Abrams tanks, 25 Bradley Infantry Fighting Vehicles and 70 wheeled vehicles, the defense ministry said. They will be based out of a training area in Pabrade, a small town near the country's border with Belarus.
Lithuania will provide lodging and logistical support during the deployment, the ministry said.
For the U.S.-led NATO alliance, the Baltic countries of Estonia, Latvia and Lithuania have been an area of focus during the past couple of years. All three have multinational alliance battlegroups, which were deployed on a year-round basis in 2017 to deter Russian aggression.
A U.S. battlegroup is also positioned in northern Poland, near the Russian military hub Kaliningrad, which is wedged between Poland and Lithuania. NATO forces in the area are focused on defending the Suwalki Gap, a vulnerable, 45-mile-wide corridor regarded as a likely battle zone in the event of a conflict with Russia.
vandiver.john@stripes.com Twitter: @john_vandiver
---
---
---
---