US military family among wounded in Islamic State-claimed Brussels attack
---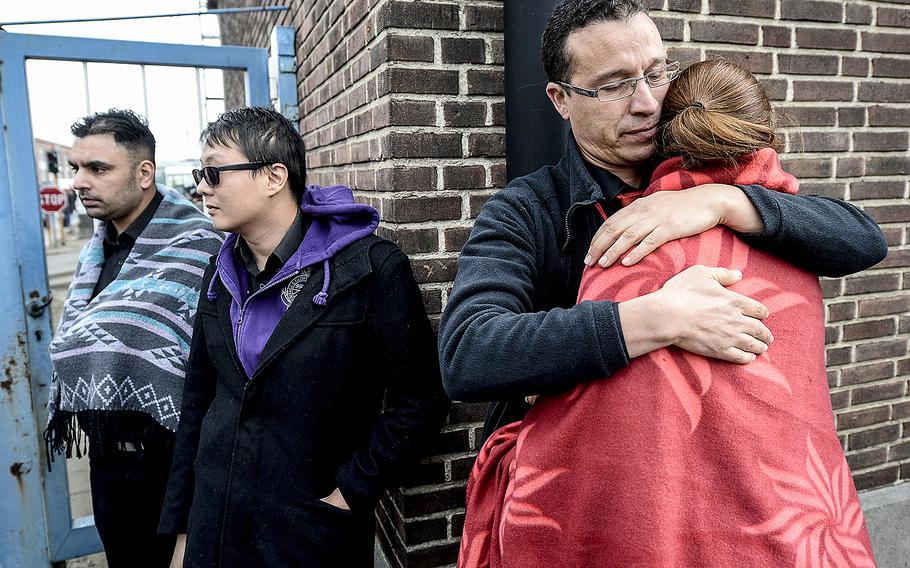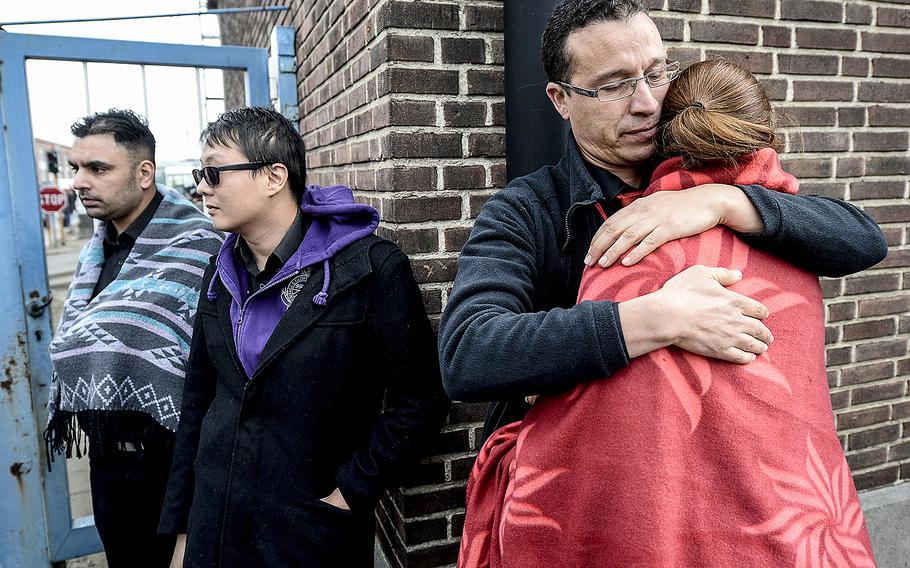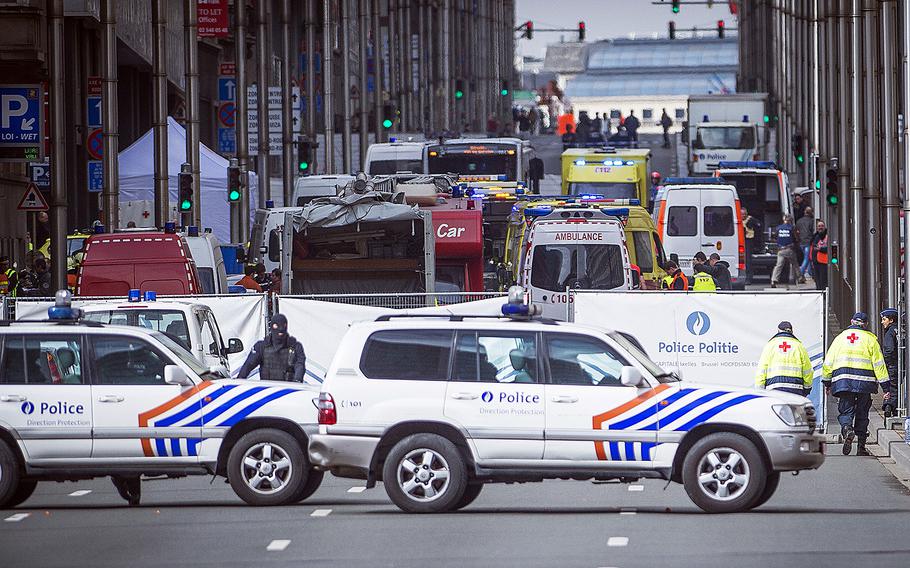 STUTTGART, Germany — A U.S. airman and his family were among the scores wounded in a series of bombings in Brussels Tuesday claimed by the Islamic State group that killed more than 30 people, prompting travel restrictions to the country for all American forces, U.S. military officials said.
The airman, assigned to Joint Force Command Brunssum, Netherlands, was injured at Brussels' international airport, the Air Force said in a statement. The airman, who The Associated Press reported was a lieutenant colonel, "sustained various injuries," the statement said.
The AP, quoting unidentified U.S. officials, said the officer's wife and four children were also injured.
"Our thoughts and prayers are with our Air Force family, and with the hundreds of others affected by these tragic events," said Air Force Chief of Staff Gen. Mark A. Welsh III.
"Due to privacy concerns, we are not releasing the status of their injuries at this time," said Lt. Col. Dave Westover, a spokesman for U.S. European Command.
To confirm the safety of all U.S. military personnel and families, including those on pre-approved leave and business travel, EUCOM is requiring all subordinate commands and units to account for their personnel, Westover said. U.S. Army Europe also advised any troops traveling in the Brussels area to make immediate contact with their unit.
Defense Secretary Ash Carter said the United States is working to account for all U.S. civilians and servicemembers in Belgium.
Three missionaries from Utah were seriously injured in the airport attack, Mormon church officials said, and have been hospitalized.
A travel restriction announced by EUCOM applies to all uniformed personnel, civilian staff, contractors, command-sponsored dependents and family members. Unofficial travel to Brussels is prohibited until futher notice.
"We are working closely with our interagency partners and host nation counterparts to determine the appropriate steps to ensure the safety and security of all U.S. personnel," Westover, said.
Earlier Tuesday, EUCOM, USAREUR and the U.S. Embassy in Belgium were advising personnel in the Brussels area to avoid public transportation "until further notice."
At military installations in Belgium, security guards were operating in a state of heightened alert.
"The USAG Benelux Directorate of Emergency Services is asking visitors to be patient and understanding as they access military facilities," said U.S. Army Garrison Benelux, in a Facebook post.
Brussels is home to the headquarters of the U.S.-led NATO alliance.
Carter told a House Armed Services Committee hearing that "in the face of these acts of terrorism, the United States stands in strong solidarity with our strong ally Belgium." He added that the United States stands ready to provide assistance to allies in Europe as necessary.
"No attack can shake our resolve to accelerate the defeat of ISIL," Carter said, using an acronym for the Islamic State group, which claimed responsibility for the Brussels attacks.
Jens Stoltenberg, NATO secretary-general, said his headquarters is now operating in a state of heightened alert.
"We remain vigilant and continue to monitor the situation very closely," Stoltenberg said.
Calling the bombings a "cowardly attack," Stoltenberg said, "We all stand together with our ally Belgium on this dark day."
The U.S. Embassy recommended sheltering in place and avoiding all public transportation.
At least 11 people were killed and 81 injured in twin explosions at Zaventem Airport, local media reported. Another explosion at the Maelbeek metro near the European Union headquarters left 20 dead and 106 wounded.
The U.S. Embassy said the threat rating in Belgium was raised to its highest level, "Level 4," meaning a "serious and imminent attack."
Germany tightened border controls, particularly with Belgium, and increased security at "sensitive targets" such as airports and train stations, where federal police were carrying "special equipment," a federal police spokesman said, without elaborating.
At Frankfurt Airport, only flights to and from Brussels were canceled. Other flights were not affected, a spokesman said.
A spokesman for Germany's Interior Ministry said security experts were in close contact with Belgian and European colleagues.
Marcus Kloeckner and Stars and Stripes reporter Michael S. Darnell and Travis Tritten contributed to this report.
---
---
---
---