US Army in Italy plans for possibility of longer school closure, isolation for coronavirus patients
by
Nancy Montgomery
February 27, 2020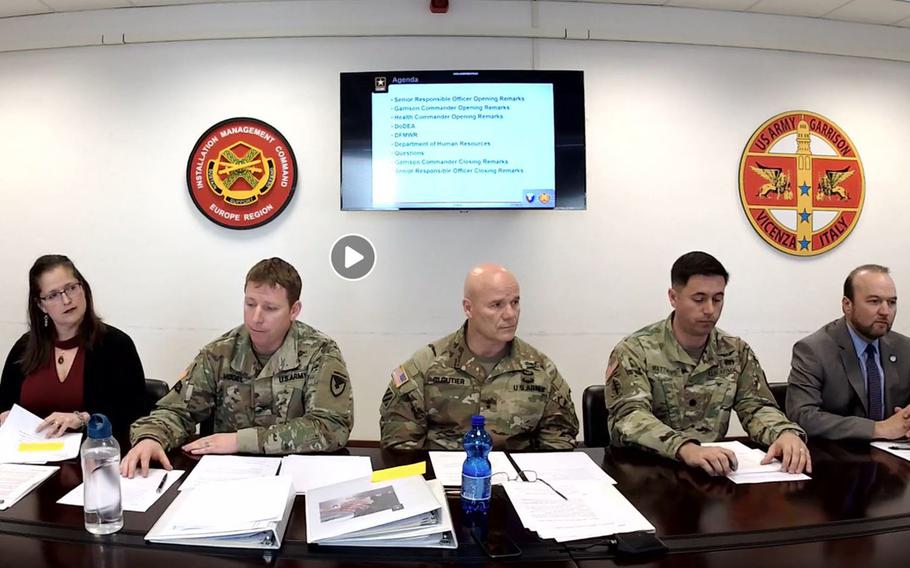 VICENZA, Italy — U.S. military officials are planning for possible continued school closures and isolation facilities for any infected troops as Italy's number of coronavirus cases grows, Maj. Gen. Roger Cloutier said at a virtual town hall meeting Thursday.
"As we look at the graph, we're still on the ascendant phase," Cloutier, commander of U.S. Army Africa, which is headquartered in Vicenza, said on Facebook Live regarding the outbreak.
"We don't know how long this is going to go. It could be a week, it could be a month," he said. "What we're trying to do is put everything in place to protect our families and protect our community."
The city of Vicenza, home to U.S. Army Garrison Italy, has three suspected coronavirus cases, Italian media reported Thursday.
More than 500 cases of coronavirus and 14 deaths have been confirmed throughout Italy, with clusters in Lombardy and the Veneto regions.
Lt. Col. Joe Matthews, commander of the base health care center, said 90 people in Vicenza had been tested for the coronavirus over the past three days at San Bortolo Hospital. One U.S. soldier's test result has not yet been returned, he said, and the other tests were negative.
Dozens of troops with respiratory symptoms were confirmed to have influenza, Matthews said.
U.S. officials, in keeping with Italian directives, this week closed down base schools, church services, gyms, bowling alleys and other gathering spots through March 1 to try to prevent the spread of the new virus, or at least slow it down so that health care facilities don't get overwhelmed.
Cloutier said that contingency planning to isolate soldiers who test positive for the coronavirus is completed.
Defense Department school officials said they were working to provide online lessons available if the schools remained closed. The garrison won't reopen its schools until Italians do, officials said.
Any virtual class days would count as regular school days.
"Ideally, we wouldn't have to tack on any days" at the end of the school year, Cloutier said.
But that remained in flux, as did questions about leave policies for workers. Cloutier said that meetings were ongoing to devise broader Army policies, as the epidemic affects garrisons around the world.
So far, he said, permanent changes of station to and from Italy were proceeding as usual.
Roughly 7,000 U.S. service members are stationed in Vicenza. About 70% of those troops are accompanied by spouses and children.
According to the World Health Organization, about 80% of patients infected so far with the coronavirus have a mild illness and recover. The other 20% have progressed to severe illnesses such as pneumonia. The mortality rate is thought to be about 2%, significantly higher than influenza, which is typically around 0.1% in the U.S.
The garrison has set up a phone line for coronavirus concerns and screening, at DSN 314-636-9000 or +39-0444-61-9000 from off post.
Testing for the coronavirus can be done at San Bortolo Hospital, not at the base clinic, Army officials said.
montgomery.nancy@stripes.com Twitter:@montgomerynance