U.S. troops participating in Memorial Day ceremonies in Europe
by
Dan Blottenberger
May 28, 2011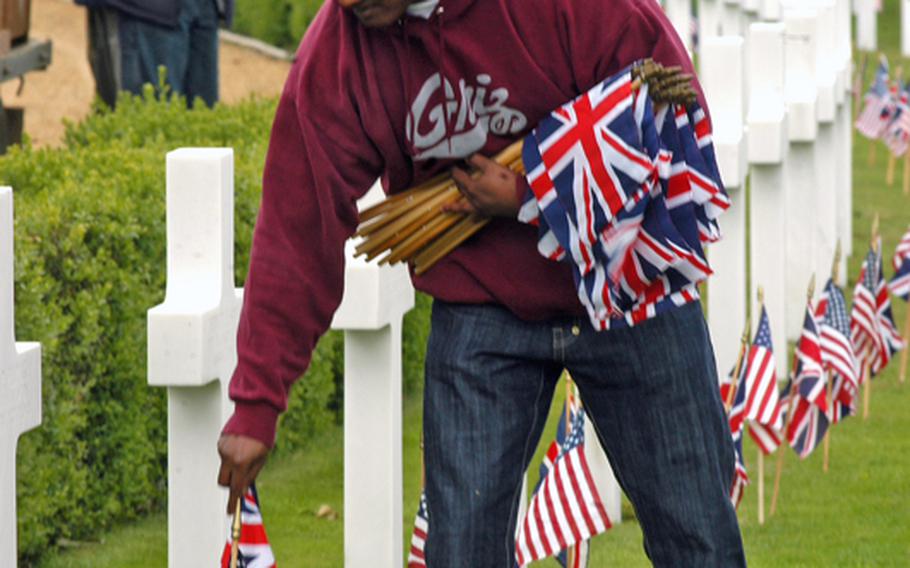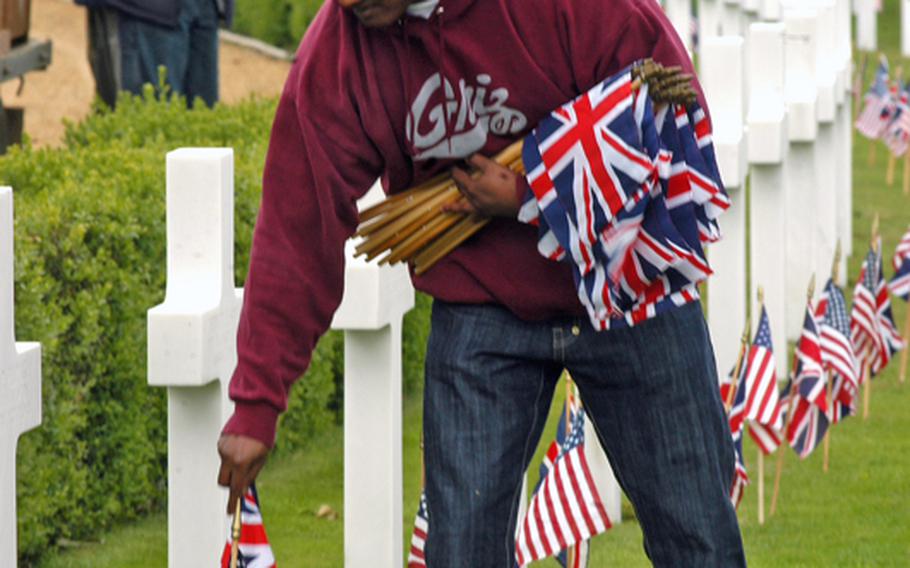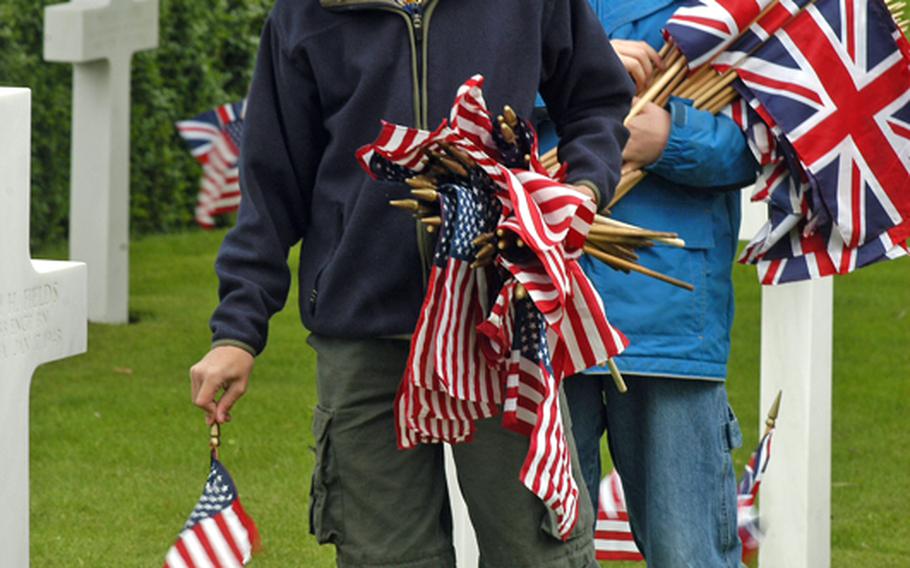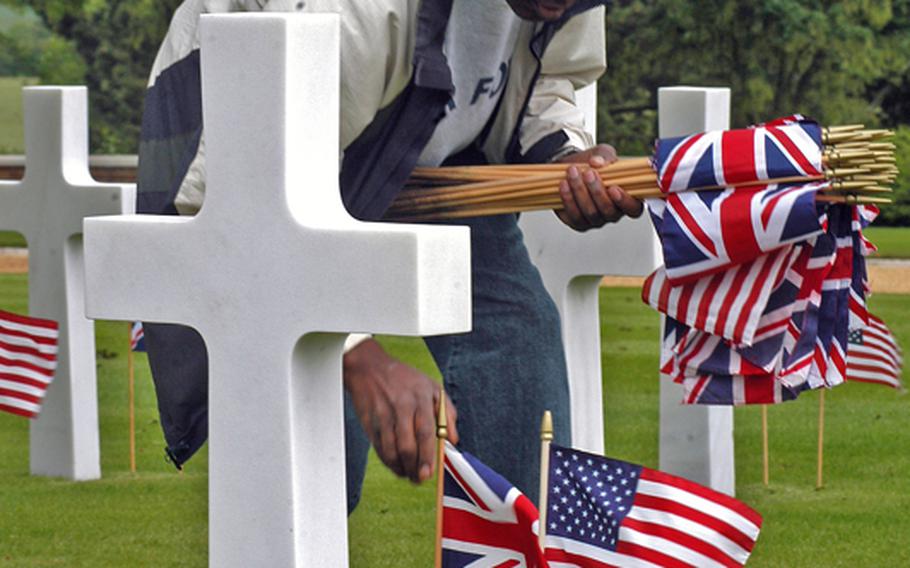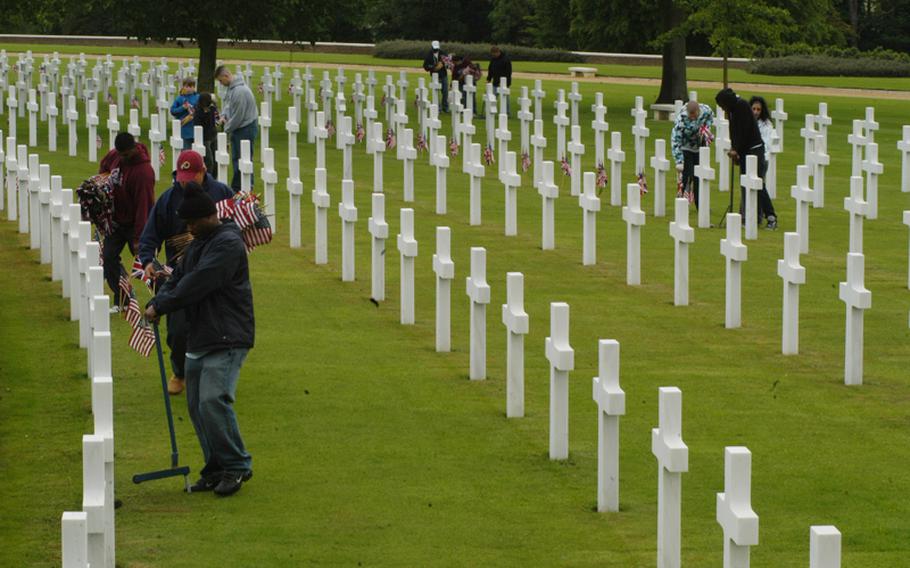 U.S. military members will serve as color guards, band members, chaplains and speakers in Memorial Day events at American cemeteries in Europe this weekend, said officials from the respective services.
On Saturday, troops from U.S. Army Europe, U.S. Air Forces in Europe and Naval Forces Europe will all have representatives at the Luxembourg American Cemetery. In addition, USAREUR will have soldiers at the Ardennes and Henri-Chappelle cemeteries in Belgium.
The bulk of the ceremonies will be Sunday, with troops scheduled to attend ceremonies in France, Belgium, the Netherlands and England. On Monday, services will be conducted at the Florence American Cemetery and the Sicily-Rome American Cemetery in Italy and at Cambridge American Cemetery in England.
In addition, airmen will conduct flyovers at several sites and will be participating in special ceremonies in Paris. They will be at the Lafayette Escadrille Memorial on Saturday and at the Arc de Triomphe on Sunday.
Ceremonies at U.S. cemeteriesFollowing is a list of ceremonies at cemeteries operated by the American Battle Monuments Commission in Europe. Find more details and directions at its website, www.abmc.gov.
Africa North Africa American Cemetery, Tunisia: 3 p.m. MondayBelgiumArdennes American Cemetery: 10 a.m. Saturday Flanders Field American Cemetery: 3 p.m. Sunday Henri-Chapelle American Cemetery: 4 p.m. SaturdayFranceAisne-Marne American Cemetery: 9:45 Sunday Brittany American Cemetery: 4 p.m. Sunday Épinal American Cemetery: 3 p.m. Sunday Lorraine American Cemetery: 11 a.m. Sunday Meuse-Argonne American Cemetery: 3 p.m. Sunday Normandy American Cemetery: 10:30 a.m. Sunday Oise-Aisne American Cemetery: 3 p.m. Sunday Rhone American Cemetery: 10 a.m. Sunday Saint Mihiel American Cemetery: 4 p.m. Sunday Somme American Cemetery: 3 p.m. Sunday Suresnes American Cemetery: 2:30 p.m. Sunday EnglandBrookwood American Cemetery: 3 p.m. Sunday Cambridge American Cemetery: 11 a.m. MondayItalyFlorence American Cemetery: 11 a.m. Monday Sicily-Rome American Cemetery: 11 a.m. MondayLuxembourgLuxembourg American Cemetery: 2 p.m. SaturdayNetherlandsNetherlands American Cemetery: 3 p.m. Sundayblottenbergerd@estripes.osd.mil
---
---
---