U.S. airman testifies Frankfurt shooter had 'hate' in his eyes
---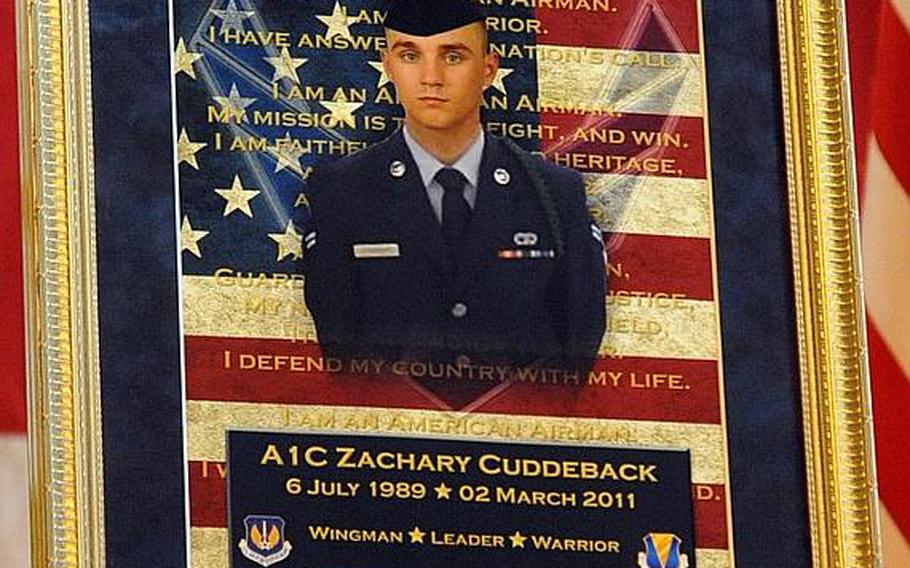 STORY UPDATED OCT. 24, 9:59 a.m. ET
FRANKFURT, Germany — A U.S. airman who escaped death when the gun used in the Frankfurt Airport shooting jammed testified Monday that he saw hate in the eyes of Arid Uka, who has confessed to shooting four airmen and said he was influenced by jihadist propaganda.
Staff Sgt. Trevor Brewer, 23, told the Frankfurt court that he saw Uka board the Air Force bus and shoot the driver, Airman 1st Class Zachary Cuddeback.Brewer ducked down into a seat, he said, and heard more shots fired, along with the words "Allahu Akbar!" Arabic for "God is Great," repeated.Before long the gunman, standing a few feet from him, pointed his pistol at Brewer."I looked into his eyes," Brewer told the judge. "What did you see?" the judge asked."Hate," Brewer said. "Disgust, almost."The gun clicked and Brewer stood up, he said. The gun clicked again. "I realized the gun had jammed, and I think he realized it, too. He turned around and ran," Brewer said.Brewer said he started to pursue the gunman, but slipped. He saw why. There was blood on the floor of the bus.As Brewer righted himself and followed the gunman off the bus, he saw another airman with a bullet wound to the head, he said.
He chased Uka into the airport. "I was yelling, 'He just shot my friend!'"Brewer was one of three airmen from Lakenheath Air Base who testified Monday.Also testifying were Airman 1st Class Brandon Kilgore, 22, and Senior Airman Nicholas Gursky, 22, who both were aboard the bus.
Uka, a 21-year-old Kosovo Albanian, is charged with two counts of murder in the killing of Senior Airman Nicholas Alden, 25, and Cuddeback, 21. He is also charged with three counts of attempted murder. Staff Sgt. Kristoffer Schneider and Senior Airman Edgar Veguilla were wounded. A murder conviction in Germany carries a life sentence. But parole is possible after 15 years, and there is no sentence of "life without parole."Cuddeback was the driver, stationed at nearby Ramstein Air Base. The rest had arrived from RAF Lakenheath in the United Kingdom, bound for Ramstein en route to Afghanistan.According to prosecutors, the accused shot Alden in the back of the head just outside the bus, then boarded and shot Cuddeback, who was sitting in the driver's seat. None of the witnesses saw Alden get shot.Brewer told the court that Alden was "like a brother to me." When he got inside the airport, Brewer said, he saw Uka surrounded by airport police, being told to drop his weapon. Uka was holding a knife at that point, Brewer said.And how did Uka look then? the judge asked."He was very nervous, tense, stiff," Brewer said. "He looked scared."Next to testify was Gursky, who, under questioning told the judges that the airmen, all Air Force security personnel, had their weapons on the bus, packed in cases, but no ammunition.The judge asked if he had a gun on him. "No," Gursky said, "I wish."He said, after the shooting stopped, he stood up and saw Alden outside lying on the ground, and rushed to him."He didn't look like he was going to make it," Gursky said. "He was starting to turn white."Gursky said Alden was still conscious, saying that his elbow hurt.Gursky took off his jacket and t-shirt to treat Alden's wounds. "We didn't have anything else," he said.Judges asked him how he felt about the shootings and what had happened."What happened, happened," he said. "But I do think about it a lot, and I don't think I'll ever forget it."Kilgore testified that he was standing outside the bus when a man in a grey hoodie engaged him in conversation and asked for a cigarette. Kilgore gave him a smoke, and the man asked if they were all Americans and whether they were in the Army, Kilgore said. He confirmed they were Americans and said they were in the Air Force. He gave the man his lighter, the man returned it, and Kilgore got on the bus and went all the way to the back.Before long, he heard shooting. "Everybody started screaming," he said. "Someone grabbed me and shoved me under the seat."Kilgore looked up. "I saw the same person I'd given the cigarette to." Now he was pointing a gun, Kilgore said. Uka, who worked at an airport post office and was arrested at the airport after the March 2 shootings, confessed to the killings during his first court appearance in August. He said he was influenced by jihadist propaganda on the Internet.He said he wanted to prevent American servicemembers from going to Afghanistan, where he said he believed they would rape Muslim girls. He also told the court that what he did was wrong.Monday's hearing was also attended by Robert Cuddeback, Zachary's father, who traveled from Millerton, N.Y."I specifically came here to support the three servicemembers, as a father and as a former soldier," Cuddeback said. "I can't do anything for my son now."Cuddeback's father said in an interview after Brewer testified that he did not believe Uka was sorry. "One of the disconcerting things to me — Uka will not look up," Cuddeback said. "He didn't look up once. I don't believe his tale of remorse."After the morning session, Brewer said in a brief interview that he was "99 percent" recovered from the attack. "It's helped me in some ways to perform my duties. There's more motivation."montgomeryn@estripes.osd.mil
---
---
---
---