Two dead in Ukrainian fighter jet crash, US pilot 'involved'
by
Caitlin M. Kenney
October 16, 2018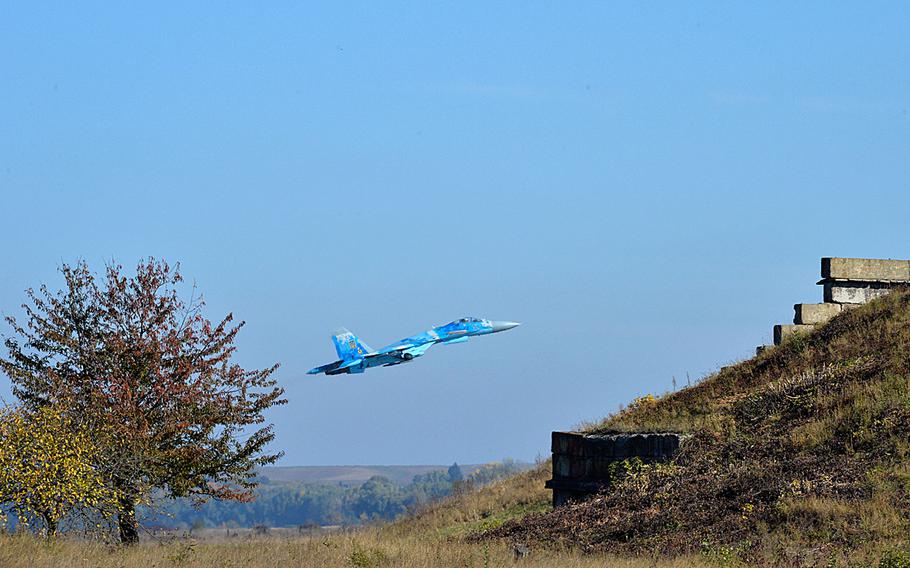 NOTE: This story has been updated.
WASHINGTON — A Ukranian fighter jet crashed during a joint training exercise with U.S. troops Tuesday, killing both pilots, according to the Ukrainian military.
U.S. Air Forces in Europe and Africa issued a statement saying it "can confirm a U.S. service member was involved in this incident," but was unable to confirm the pilot's death.
The crash is under investigation.
The Ukrainian Su-27UB fighter aircraft crashed in the Khmelnytskyi region of Ukraine during Clear Sky 2018 — a joint international exercise which includes 950 personnel from the United States and eight other nations.
The United States planned to send about 450 personnel to participate in the exercise, including about 250 pilots and maintainers. The remainder were to serve in support roles.
The exercise "aims to enhance regional capabilities to secure air sovereignty and promote peace and security through cooperation, collaboration and interoperability with NATO partners and other allies in the region," according to a USAFE news release on the exercise.
This is the first year that the exercise has taken place, the release states.
Training during the exercise was scheduled to include air sovereignty, air interdiction, air-to-ground integration, air-mobility operations, aeromedical evacuation, cyber defense and personnel recovery.
The United States has increased its activity in Ukraine during the past four years, working to build up that country's capabilities in wake of Russia's 2014 seizure of Ukraine's Crimea Peninsula.
The U.S. Army has an ongoing mission in Western Ukraine focused on training indigenous ground forces involved in the fight against Russian-backed separatists in Ukraine's east.
Training with Ukraine's Air Force, however, has been less frequent.
Stars and Stripes reporters John Vandiver, Jennifer Svan and Kat Bouza contributed to this story.
kenney.caitlin@stripes.com Twitter: @caitlinmkenney