Trump confirms he wants to cut US troop level in Germany to 25,000
---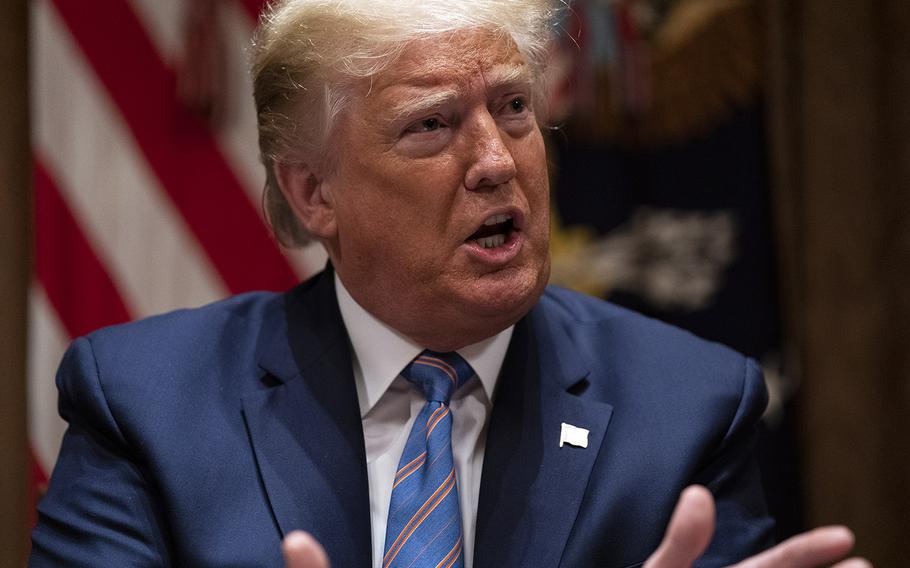 WASHINGTON — President Donald Trump on Monday confirmed reports he intends to remove thousands of American troops from Germany, accusing the key European ally of failing to pay NATO.
"Germany as you know is … delinquent on their payments to NATO," Trump told a small group of reporters at the White House. "They owe NATO billions and they know it… Why should we be doing what we're doing if they don't pay?"
Trump said he would withdraw some 9,500 American troops from Germany, reducing the force size there to about 25,000 until Germany spends more money on its defense. The Wall Street Journal first reported the potential move on June 5, saying troops could be removed by September, but Pentagon officials have repeatedly declined to confirm that report.
Trump has long called for Germany and other NATO allies to increase military spending, saying the United States bears too much of the burden for Europe's defense. But, as he did Monday, Trump has often misrepresented how NATO spending works.
NATO nations contribute each year to the alliance's about $2.5 billion annual budget, with the United States and Germany both to contribute about 16% of that budget this year. But Trump administration officials have targeted allies for failing to spend 2% of their gross domestic product on their own defenses. In 2014, NATO members agreed to reach that benchmark by 2024, though the agreement laid out no penalties for failing to reach that mark.
In fiscal year 2019, only nine of NATO's 30 members reached that 2% figure, according to the alliance. The United States far outpaces its allies in defense spending, spending about 3.4% of its 2019 GDP on defense. But America also spends significantly more money on its military than any other nation in the world.
Germany in fiscal year 2019 spent about 1.36% of its GDP on defense, and German Chancellor Angela Merkel said her nation would reach that 2% target by the early 2030s.
After repeatedly asserting Germany was delinquent on payments to NATO, Trump said he believed Germany should be spending "much more" than 2% of its GDP on defense.
Trump's remarks on Monday came just days after the U.S. Ambassador to Poland Georgette Mosbacher announced the two nations would soon unveil a new, larger American troop presence in Poland, perhaps indicating at least some of the 9,500 troops that could leave Germany would be sent there.
Poland has long sought the deployment of a permanent U.S. military force on its territory. Army tank units have been on top of Warsaw's wish list.
The U.S. military has up to 4,500 nonpermanent troops in Poland, where various units have been rotating for several years. The mission is focused on deterring Russian aggression along NATO's eastern flank, which has been a focal point for the Pentagon in Europe since Russia's occupation of Ukraine's Crimean Peninsula in 2014.
U.S. soldiers and airmen are based at numerous sites, including a small Army headquarters in Poznan, a logistics hub in Powidz, and drone, missile defense and special operations facilities in other parts of the country.
Polish President Andrzej Duda has floated the idea of a large, permanent American military base in his nation. He initially announced in September 2018 that Poland would be willing to spend $2 billion on the installation, which he said could be called Fort Trump.
In 2019, U.S. and Polish officials agreed to base about 1,000 U.S. troops there, but Mosbacher said Friday that the American troops presence now agreed upon "will be even greater than originally outlined."
Stars and Stripes reporter John Vandiver contributed to this report.
dickstein.corey@stripes.com Twitter: @CDicksteinDC
---
---
---
---