'The closest thing … short of actual combat': Air Force F-15s conduct 'turkey shoot' over England
by
Christopher Dennis
September 30, 2019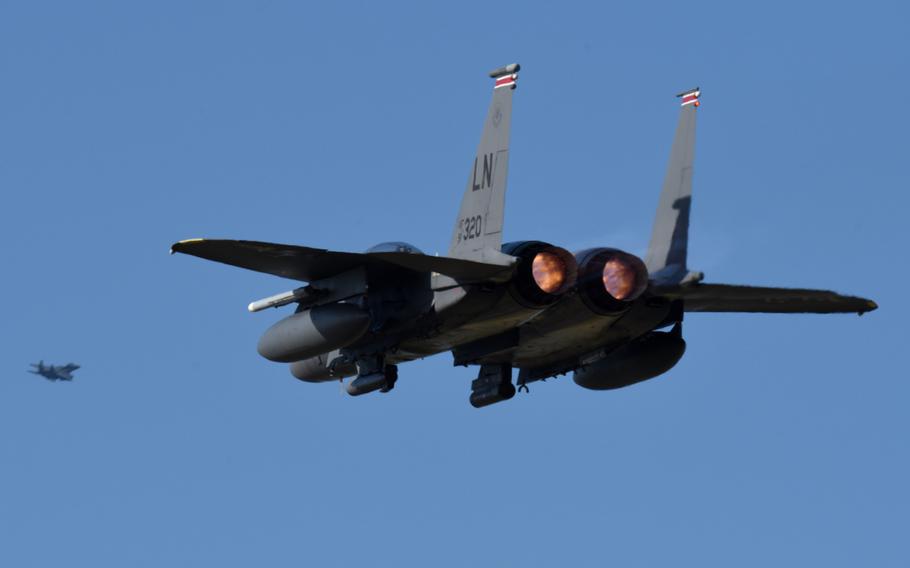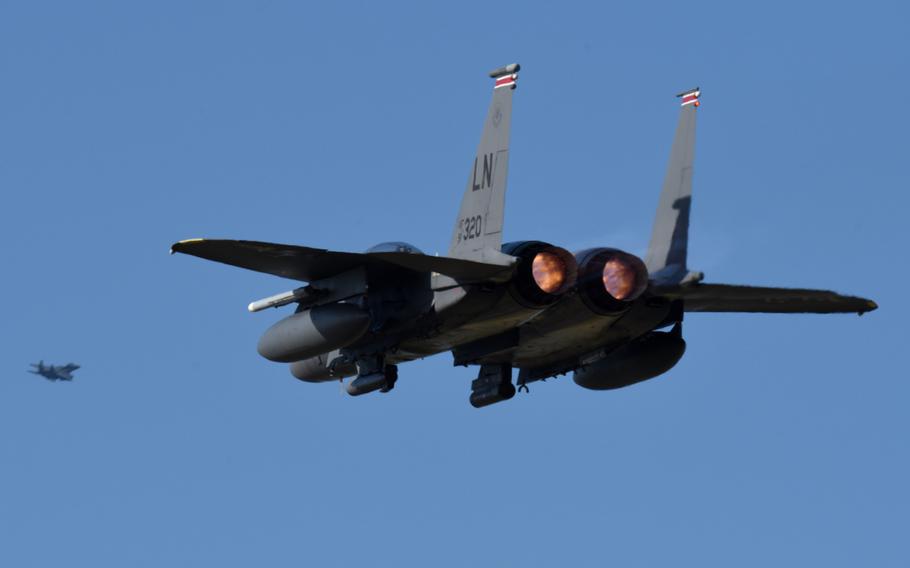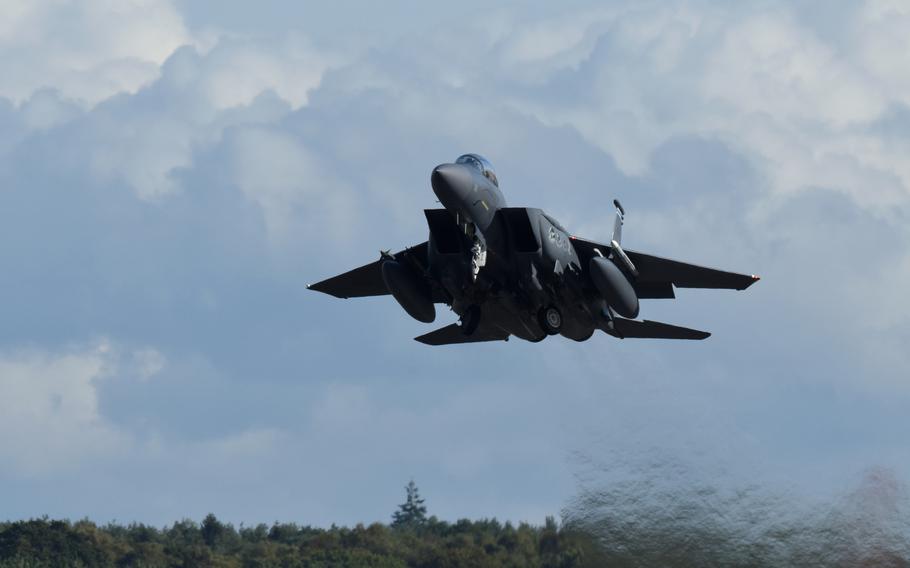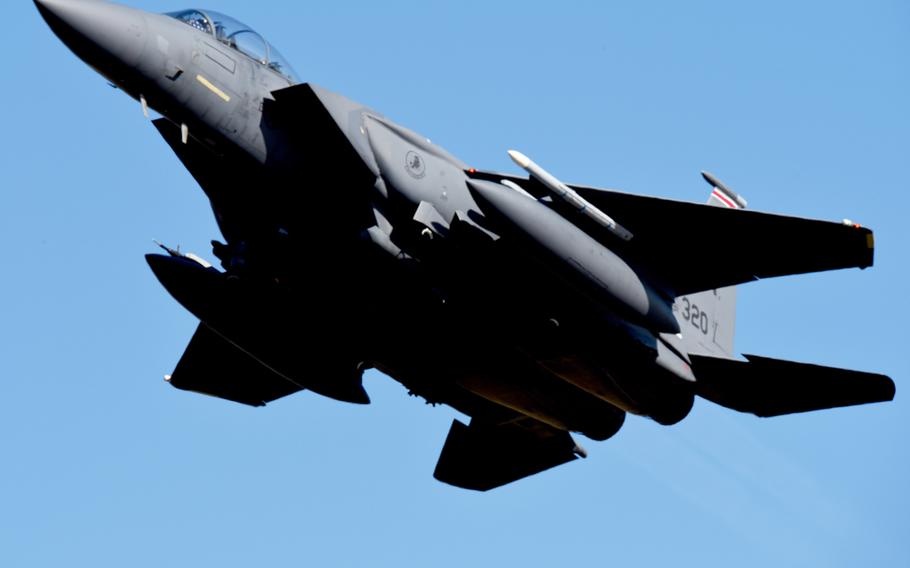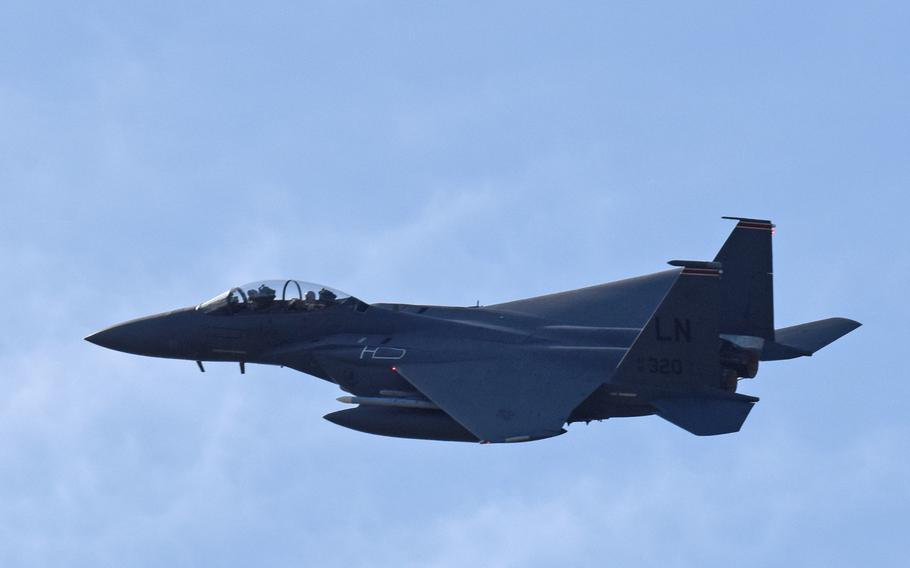 RAF LAKENHEATH, England — Three teams of four Air Force fighter jets each faced off in the skies over southeastern England against more than a dozen opposing aircraft for a "turkey shoot," a one-day event meant to challenge new leaders and boost teamwork in the only Europe-based F-15 fighter wing.
The 48th Fighter Wing's newest flight formation leaders, intelligence professionals, maintainers and operations personnel came together for the drill on Thursday, which also involved a nearby Air Force refueling wing and NATO partners.
Four-ship formations, made up of the flight lead, instructor pilots and wingmen from each of the wing's three squadrons, were handed "a demanding tactical problem to solve," said Capt. Sam Wozniak, 492nd Fighter Squadron weapons system operator flight lead, in a statement.
Each "blue air" team of four fighter jets took on 14 "red air" adversary F-15s flown by other pilots from within the squadrons. After an initial briefing, the blue teams had to then plan their patrols, how close to let the enemy get before reacting and how best to respond in order to win.
In addition to managing their weapons inventory in a high-risk scenario against a "near-peer adversary" — a term often used to describe a potential foe like Russia — flight leads faced tactical problems such as degraded communications and other electronic attacks, said Lt Col. William Watkins, 48th Operation Support Squadron commander.
Adding to the complexity, the scenario pitted "a high number of bad guys versus a limited number of good guys," said Capt. Michael Armour, a pilot with the 494th Fighter Squadron, forcing crews to tackle more than one aircraft-to-aircraft engagement.
Tankers from the 100th Air Refueling Wing supported the drill, as did NATO aircraft providing airborne early warning and control, while the U.K. provided command and control support, Wozniak said.
The first such event in nearly two years, the turkey shoot is an important test of combat airpower, officials said.
"Fighter pilots and fighter weapons systems officers need three things to survive and thrive: readiness, competition and camaraderie," said Col. Jason Camilletti, 48th Operations Group commander.
The exercise is meant to simulate how the squadrons would defend against an enemy attack on a designated target.
"Turkey shoots advance our wing's readiness by stressing our newest flight leads and wingmen in a very challenging high-end scenario," Camilletti said.
Planners set the standards and provided rules, special instructions and a point system to determine the winning team, Wozniak said. For example, successful target defense was awarded 20 points and simulated missile kills earned 5 points each.
In the end, the 494th Fighter Squadron was declared the winner, said Maj. Sybil Taunton, a wing spokesperson.
"The adrenaline rush of competing to win is the closest thing we can do short of actual combat," Camilletti said.
dennis.christopher@stripes.com Twitter: @chrisbdennis