Testing for field medical badge reflects lessons learned in war
by
Steven Beardsley
August 3, 2011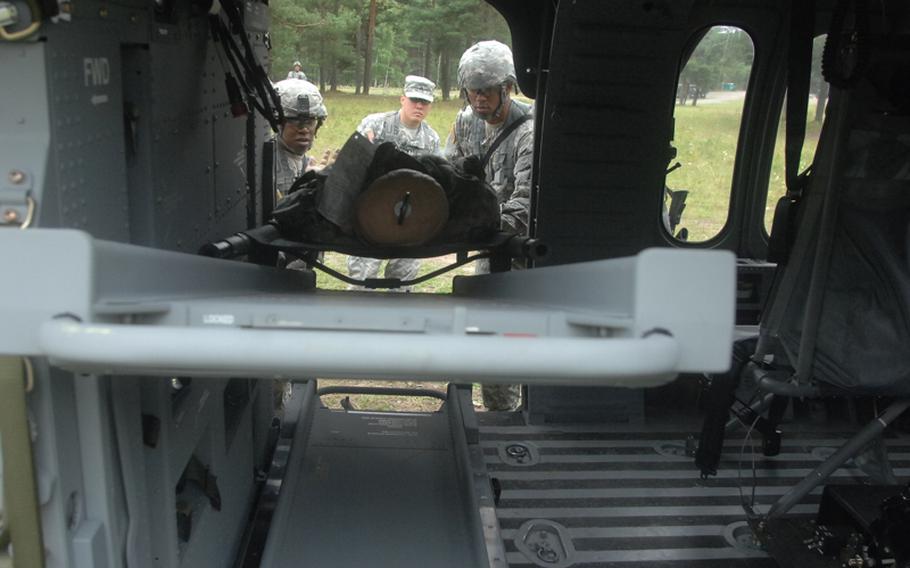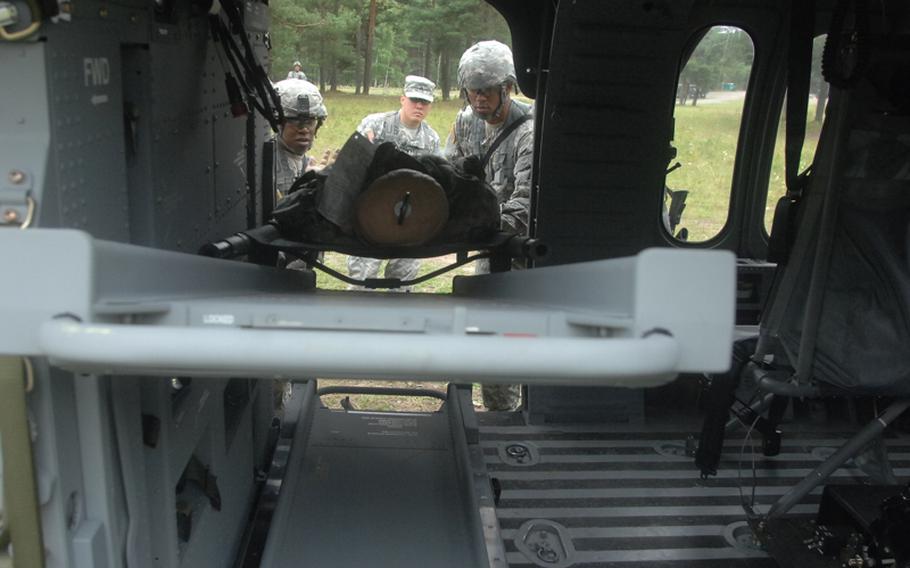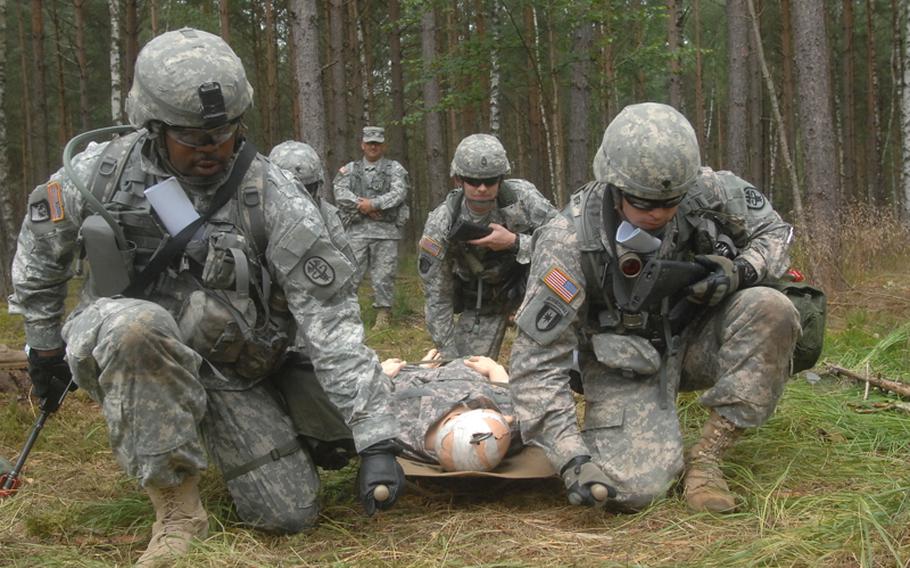 GRAFENWÖHR, Germany — From assessing wounds to radioing for help and evacuating a casualty, the fundamental skills of a combat medic have changed little over time.
Yet of the 300-plus candidates training this week for the Expert Field Medical Badge, more than a few will live a downrange reality much different from the testing — less ground ambulance and more air evacuation; fewer canvas litters and more of the hard plastic wrap-around stretchers, known as skeds. More trauma injuries from bombs and mortars.
Organizers here say the 45-year-old EFMB training is constantly evolving to reflect current combat.
"We have been at war for a decade, and these lessons learned are working their way into the training," said Sgt. 1st Class Troy Ramsey a training leader with the 173rd Airborne Brigade Combat Team.
Changes come incrementally, said Master Sgt. Abdel Guzman of the 421st Multifunctional Medical Battalion, a 1992 badge recipient and the NCO in charge of testing. The wide use of roadside bombs by militants, for example, has shifted the focus of EFMB critical care in recent years to massive blood loss.
"The main focus now is stopping the hemorrhaging, stopping the bleeding," Guzman said. "Whereas before it was the airways, clearing the airways."
Cardiopulmonary resuscitation was removed from testing several years ago, although candidates must still be certified.
Current training employs an increasingly advanced medic kit. Tourniquets and IVs are easier to use; fluid expanders replace saline, and self-coagulating bandages improve upon the pressure bandage.
Sked stretchers make it possible to drag a patient where terrain is difficult for a normal litter.
EFMB candidates represent a wide swath of military medical occupations, from combat medics to dentists. They have to pass a 100-question written exam, day and night navigation courses and a 12-mile ruck march. Candidates must also negotiate three highly detailed testing lanes, obstacle courses that focus on critical care, evacuation and combat skills.
Passing rates for the test range from 15 percent to 20 percent, Guzman said.
Sgt. Enock Nyaenya of the 173rd Brigade Support Battalion deployed to Forward Operating Base Shank in Logar province, Afghanistan, soon after receiving his EFMB in 2008. He said the training was invaluable for its detail, even if the testing lanes can't match life downrange.
"All the training here's in the ideal situation," Nyaenya said. "You have to adjust to the situation downrange."