Stuttgart soldier honored for Böblingen fire rescue
by
John Vandiver
August 3, 2011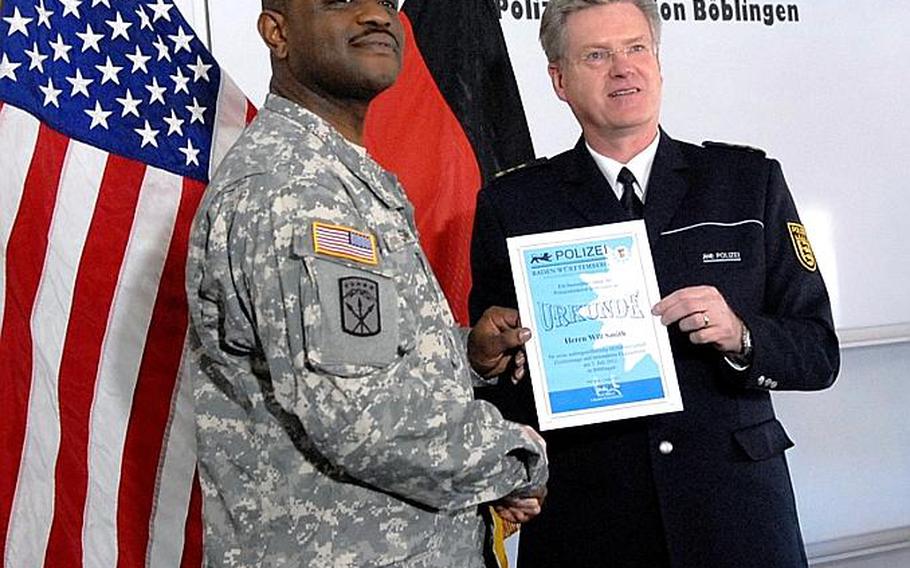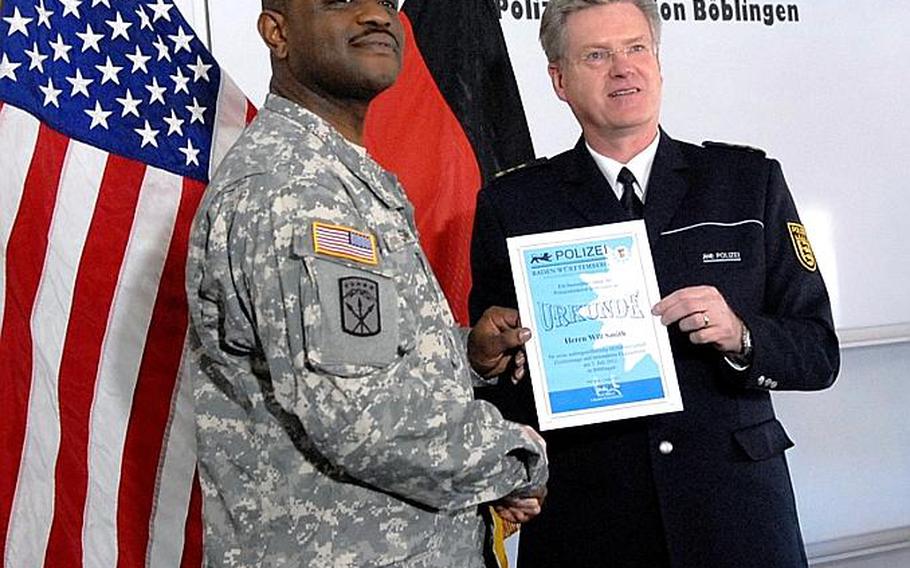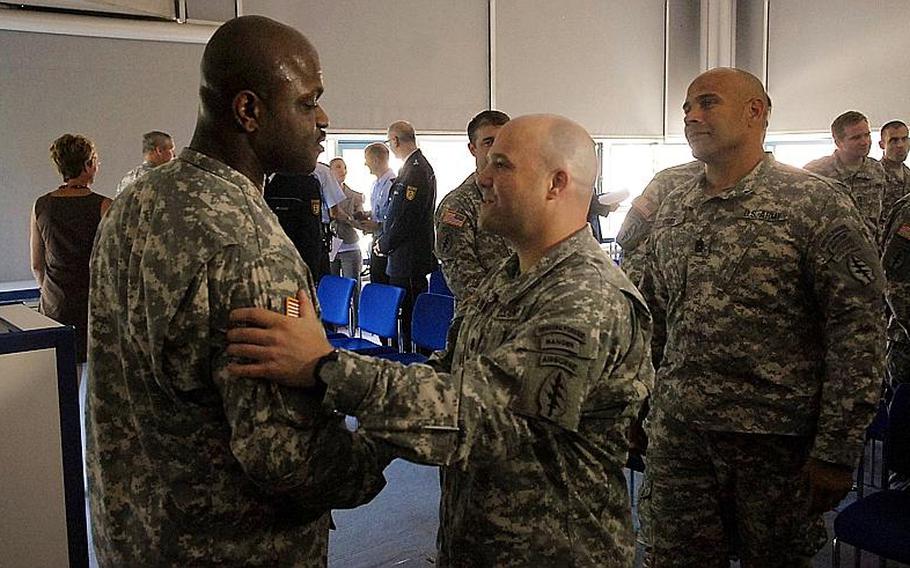 STUTTGART, Germany — After a night out on the town, Spc. Willie Smith was enjoying a peaceful walk back to the barracks when he noticed something wrong amid the July 3rd pre-dawn calm.
Smoke was pouring out of the half-timbered apartment building along a small side street in the town of Böblingen, home to the U.S. Army's Panzer Kaserne. While a friend made an emergency call, Smith sprung to action.
"I just saw the smoke and charged in," said Smith, who works as an administrator assigned to the 1st Battalion, 10th Special Forces Group in Stuttgart. "I just started alerting people, banging on doors. I knew people were in harm's way and I had to get them out of there."
On Tuesday, Smith was recognized for his heroics by local German law enforcement authorities, who credited the American with helping to save the lives of the building's residents.
"Many people stop and watch. It's very seldom when someone steps up to the plate to take action," said Rudi Denzer, chief of police in Böblingen.
During the small ceremony, which was attended by U.S. soldiers and German police, Smith, 41, received a certificate of appreciation and a lot of "Dankes."
When police arrived on the scene, Smith had already charged through the building, kicking on doors and screaming "fire" to alert sleeping residents. About 30 people escaped the building, but there was more work to do.
"By the time the police got there the place was seriously on fire," said Denzer, who credited Smith for taking action while others stood by.
Soon after two police officers arrived on the scene, a head count was taken. It became clear not everyone was accounted for, Denzer said. An elderly couple was still inside.
The two policemen raced into the building. Smith was right behind them.
"It was like your training kicked into full gear," Denzer said.
Smith said he didn't give it a moment's thought.
"Once we realized someone was still inside, we ran back in there."
After kicking in the door, the police found a woman in her mid-70s who was still in bed. The husband, meanwhile, was disoriented from all the smoke.
While one officer helped the woman out of the building, Smith helped the man. Another officer continued to search for others.
Not long after the rescue, the roof of the building collapsed, Denzer said.
"The elderly couple suffered a shock," Denzer said. "Because of your efforts nothing else happened."
Smith said he was doing what any soldier would do.
"It was just something I did," Smith said. "I wasn't looking for anybody to thank me."