Stuttgart-based Green Beret killed in accident while on US training mission
---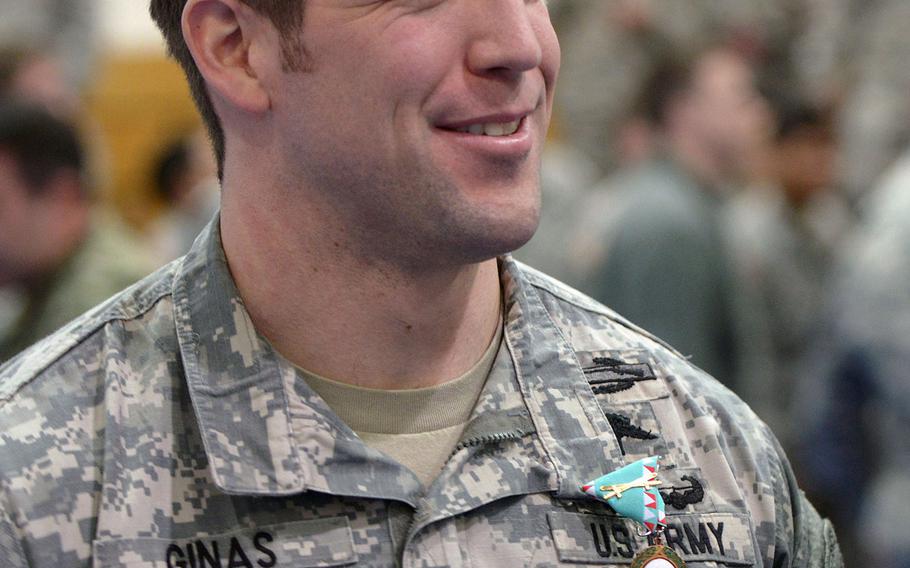 STUTTGART, Germany — The Army is investigating the death of a decorated Stuttgart-based Green Beret who was killed in an April 18 traffic accident in San Diego, where he was on a training mission, Special Operations Command Europe said Thursday.
Sgt. 1st Class James M. Ginas III, who was assigned to SOCEUR, was crossing the street with another person about 12:30 a.m. when he was hit by a vehicle, according to local media. He died at the scene.
"The exact details of the accident remain under investigation by both local authorities and the Army," said Lt. Col. Nicholas Sternberg, a spokesman for SOCEUR, in a statement Thursday.
Law enforcement officials told a San Diego NBC news affiliate that Ginas died from blunt force injuries at the scene and that alcohol was not thought to be a factor in the accident.
On Monday, members of the military community paid their respects to Ginas during a memorial ceremony at Stuttgart's Patch Barracks.
"Sadly, SOCEUR will not be the same without him," Air Force Maj. Gen. Gregory J. Lengyel, SOCEUR commander, said. "Jim was the nicest guy you'd ever want to meet, but he was also a complete badass. If I were casting an actor to play an SF soldier, Jim Ginas is the guy I would choose."
Comments from the service were provided by Ginas' unit.
"Ginas was an ideal friend, a trusting brother, a loving son, a devoted father and a consummate warrior," said U.S. Air Force Col. Jeremiah S. Boenisch, SOCEUR communications director.
During his career, Ginas received numerous service medals, including the Bronze Star with Valor, according to SOCEUR.
While with the 1st Battalion, 10th Special Forces Group, in Stuttgart, Ginas deployed twice to Afghanistan. Since August 2013, Ginas served as the contingency communications planner at SOCEUR and deployed to Ukraine in support of training efforts there.
Ginas, who was born in Long Island, N.Y., is survived by his wife and daughter.
vandiver.john@stripes.com Twitter: @john_vandiver
---
---
---
---