Students stare down Armageddon with science
---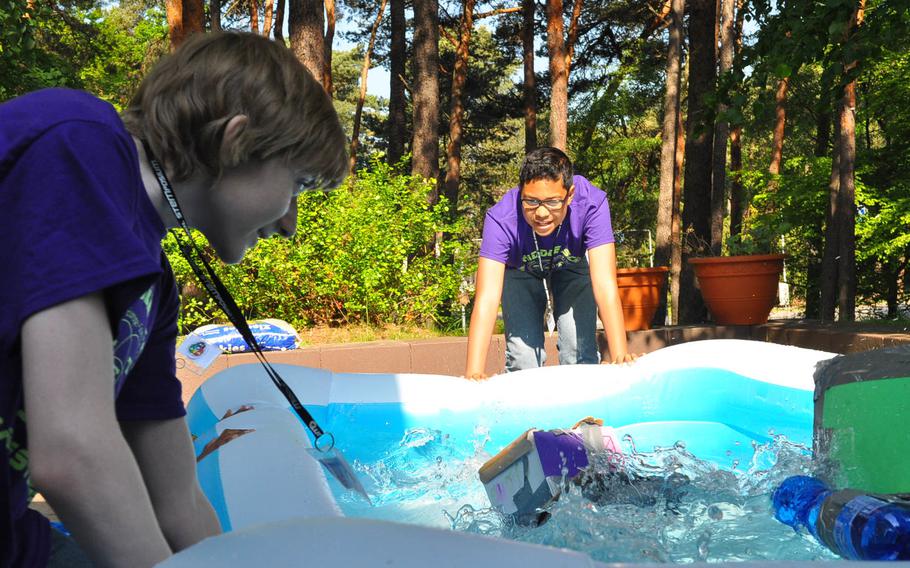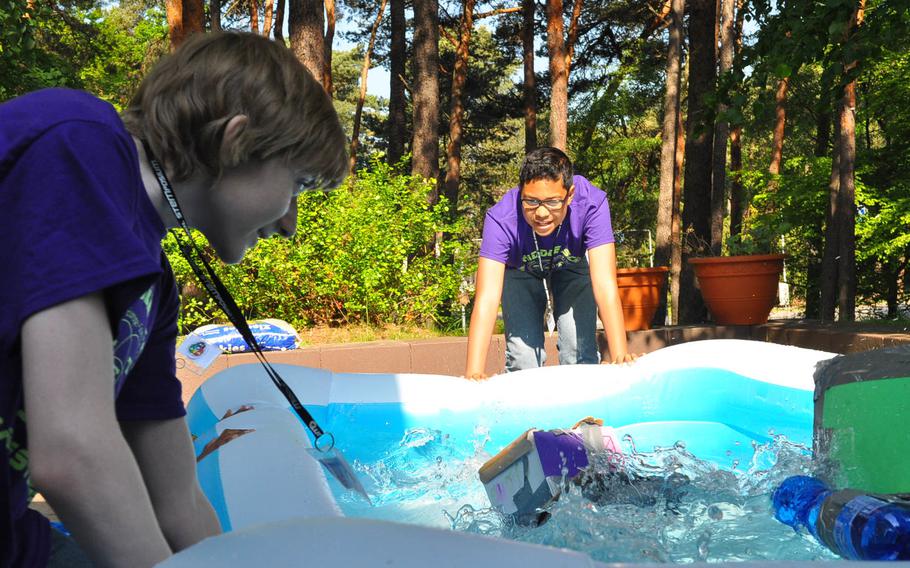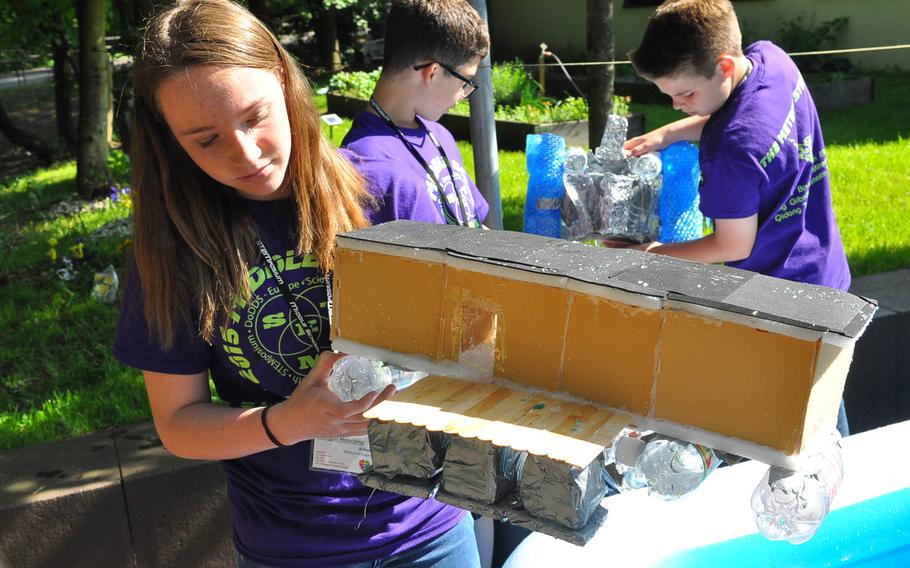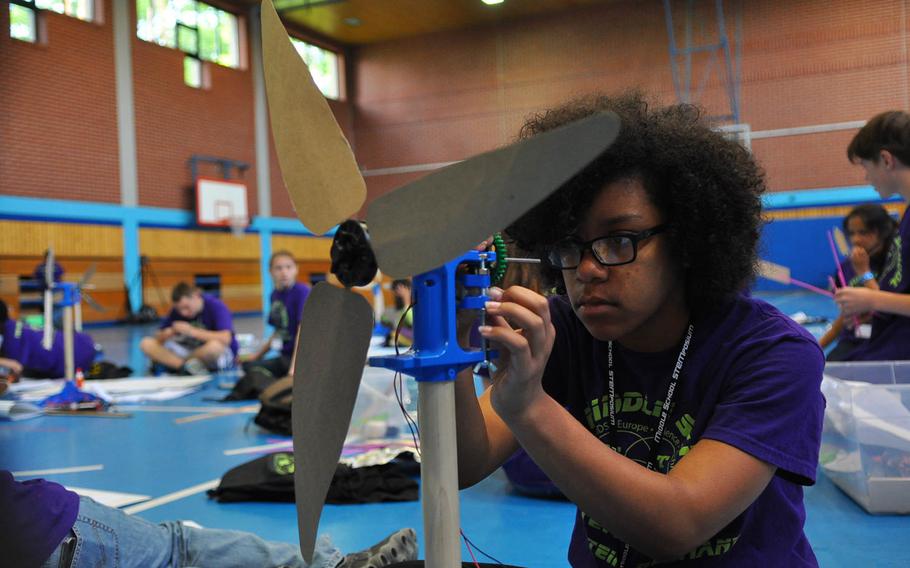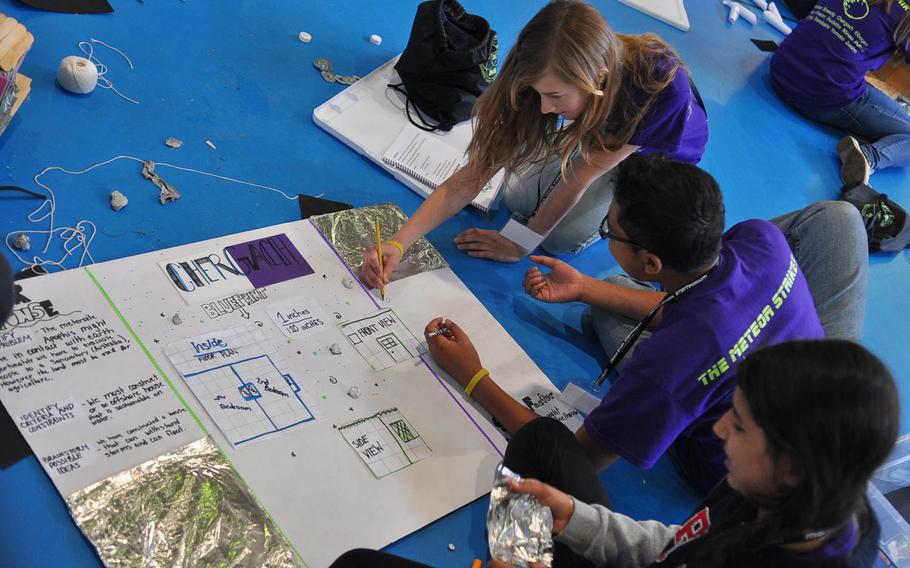 RAMSTEIN AIR BASE, Germany — It's too early to say what careers the 54 students attending the middle school STEMposium at Ramstein this week will eventually choose.
But organizers hope early exposure to real-world applications of science, technology, engineering and math — the fields that make up what's collectively called STEM — will reap benefits later. Even if they don't set out on a path toward a STEM career, at the very least they'll become better problem solvers, organizers said.
"Ideally it would be great for them to make the connection of how they can move into a STEM field that is of interest to them and make a contribution to society," said Michelle Woodfork, the assistant principal at Ramstein Middle School and a member of the STEMposium planning committee.
"We want it to be real life," she said Thursday. We're trying to create a real cross-cultural, collaborative experience for them at this young age that they may not have until they get into the work force."
The second annual middle school STEMposium, held Wednesday and Thursday at the Ramstein Youth Center, expanded this year beyond Kaiserslautern-area schools, underscoring the growing emphasis on the STEM disciplines in Department of Defense Dependents Schools-Europe. All middle schools in the Kaiserslautern District participated: Kaiserslautern, Ramstein, Landstuhl, Sembach, Spangdahlem, Bitburg, Baumholder and Wiesbaden. Eight students from a German gymnasium in Ramstein also took part.
"If this were a real situation, we would have to work with people that don't speak the same language," Woodfork said, explaining the inclusion of German students.
The STEMposium set up a problem that teams of kids had to solve using STEM concepts while competing for top-three medals. This year's problem was fictitious — but not improbable.
STEMposium planners used the scenario of the asteroid Apophis colliding with the earth in 2036, a catastrophic event that forces humans to live offshore and use the limited land available for agricultural and renewable energy generation. NASA scientists have put the impact odds at less than one in a million, effectively ruling out an Apophis strike.
But some students said the possibility, however unlikely, is still unsettling. "I was scared at first," said Kahliya Jones, an eighth-grader at Bitburg, while testing her wind turbine. "I was wondering if it was actually real."
Teams of four split their time between constructing a small wind turbine from a kit and building a prototype house boat. They were tested on how much energy their turbines generated and how well their boats floated in a small inflatable pool. Judges evaluated how well they applied concepts learned in Wednesday's hands-on seminars as well as their problem-solving capabilities and ability to work as a team.
Briget Lilleman, a seventh-grader at Spangdahlem, said she wasn't fazed by the remote possibility of an asteroid hit, since it was in the distant future.
More pressing was whether her team's boat would float. It did — and more. "It floated and survived a simulated tsunami," she said. "We made waves in the pool. Big waves."
---
---
---
---