Soldier killed in Germany autobahn crash is identified
by
Jennifer H. Svan
April 26, 2012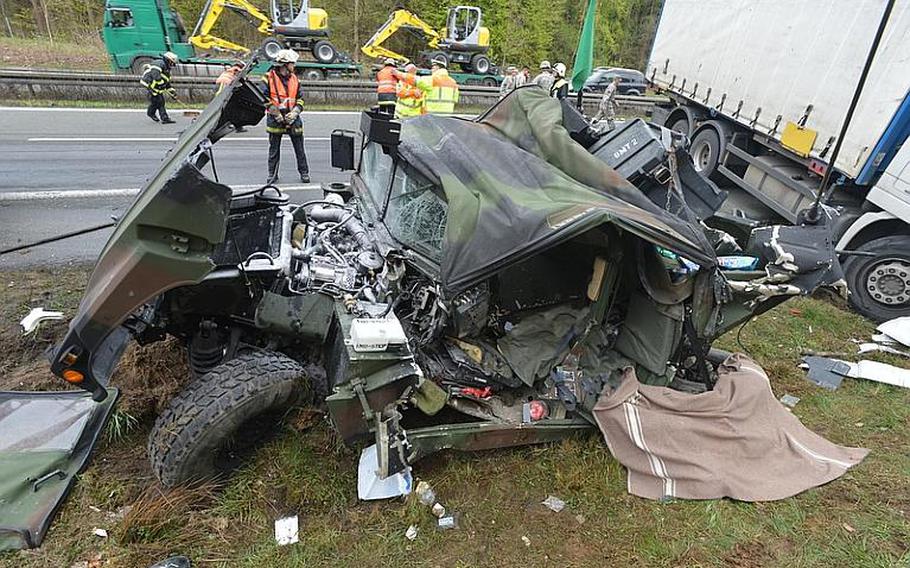 KAISERSLAUTERN, Germany — The 21st Theater Sustainment Command has identified the U.S. soldier killed in Tuesday's military convoy wreck on the autobahn near Bamberg as Spc. Bernard Hill Jr.
Hill, 28, was a unit supply clerk with Headquarters and Headquarters Company, 15th Engineer Battalion, according to a 21st TSC news release issued Thursday.
Hill, from Homestead, Fla., was married and had one child, said 21st TSC spokesman Capt. Gregory Jones.
Hill was in the rear Humvee of a 14-vehicle company convoy that was struck from behind by a large cargo truck Tuesday afternoon on Autobahn A73 south of Bamberg. The force of the collision pushed the Humvee forward into two other Humvees, killing Hill and injuring five other soldiers, U.S. Army officials and German police said this week.
One soldier remains in critical condition, and four are in stable condition, according to the Army news release. Three of the nine soldiers riding in the three Humvees involved in the crash were uninjured, Jones said in an email.
U.S. Army medics, who were part of the convoy, were able to provide almost immediate medical assistance to the injured soldiers, according to Jones.
The 38-year-old truck driver from Nuremberg received minor injuries, according to information from German police.
At the time of the accident, the convoy was en route from Schweinfurt, where the soldiers were stationed, to Grafenwöhr for a military training exercise, according to the release.
The convoy was traveling an estimated 31 to 37 miles per hour, a German police spokesman said Wednesday.
The accident is under investigation. A German police spokesman said Wednesday that it's not believed the truck driver intentionally hit the convoy.
Bardo Backert, the chief German prosecutor from Bamberg, said Thursday that he could not give any details on the crash because of the ongoing investigation, which he expects to take about two months.
The truck driver could face probation or up to five years in prison, depending on the outcome of the investigation, Backert said.
Marcus Klöckner contributed to this report.
---
---
---
---