Slain airman's father wants U.S. trial for Frankfurt shooter
---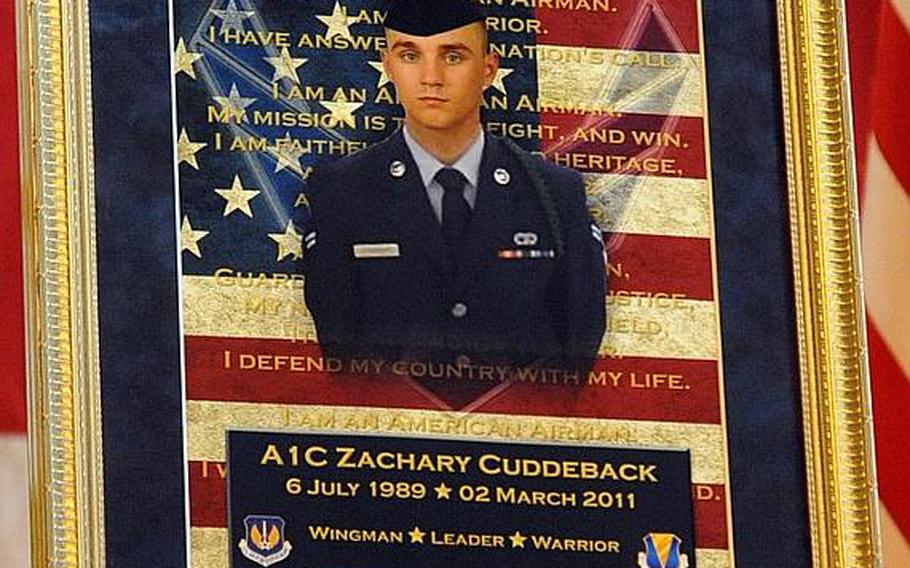 HEIDELBERG, Germany — If the Cuddeback family has its way, the man on trial in Germany for murdering their son last winter in an attack on a group of U.S. airmen at Frankfurt Airport, is only at the beginning of his legal reckoning.
The family wants Arid Uka, charged with two counts of murder and three counts of attempted murder in March 2 shootings, brought to the U.S. for trial, where they say he would most likely face a harsher justice than they expect the German court will provide.
"It's a matter of sentencing," said Bob Cuddeback, the father of Airman 1st Class Zachary Cuddeback, during a phone interview. "He needs to spend the rest of his life in jail."
Cuddeback's son, stationed at Ramstein Air Base, was shot in the head as he sat behind the wheel of a U.S. Air Force bus at Frankfurt Airport, as U.S. airmen deploying to Afghanistan were boarding.
Uka has admitted to killing Cuddeback and Senior Airman Nicholas Alden, 25, and wounding two others during the shooting spree. The gun jammed when he pointed it at a third airman, prosecutors have said. Uka has said he was inspired by jihadist propaganda he has since called "lies" on the internet.
A murder conviction in Germany carries a life sentence. But parole is possible after 15 years, and there is no sentence of "life without parole."
"This kid is 21. He killed my son at 21," said Cuddeback, who was interviewed by telephone in New York state where he lives. "Fifteen years is not a life sentence like he gave my son."
Cuddeback is to attend Uka's fourth court hearing on Monday in Frankfurt, when U.S. airmen are slated to testify. Cuddeback will have the opportunity to question Uka directly as a co-plaintif, said Marcus Steffel, who represents the families of the two slain airmen. Cuddeback said he's been discussing with U.S. federal prosecutors prospects for Uka's extradition for prosecution in the U.S. Southern District Court in New York, which has filed criminal proceedings against Uka.
Cuddeback said he believes that Uka would likely be sentenced to life without parole, if convicted in the U.S.
But whether the U.S. would seek a second prosecution if Uka is convicted in Germany and whether Germany would agree to surrender him to the U.S. is unknown.
"Extradition remains governed fundamentally by a wide array of political, diplomatic, and economic interests," said Daniel S. Margolies, a Virginia Wesleyan College history professor and extradition expert.
U.S. federal prosecutors filed a criminal complaint against Uka in June, a month before German charges were filed.
The U.S. charges were: two counts of murdering officers (employees) of the U.S. and one count of attempted murder; using a firearm during a crime that resulted in death; and committing an act of violence at an international civil airport resulting in death.
U.S. officials have declined to discuss whether they have sought or would seek Uka's extradition, citing the diplomatic sensitivity of the situation.
"I think it's the federal government covering all its bases," said Stephen Vladeck, a law professor at American University Washington College of Law and an expert on the role of the federal courts in the war on terrorism.
"We can only speculate," Vladeck said. "Maybe they think the German criminal justice system won't produce the result they're looking for," Vladeck said.
One thing is clear: Trying Uka again in the U.S. would not violate international law or "double jeopardy" proscriptions preventing successive trials and punishment for the same crimes, experts said.
The situation is similar to U.S. federal cases being brought after state criminal prosecutions, such as in civil rights cases.
"Usually, the reasons why it happens are political," Vladeck said. "Usually, the reason the federal government intervenes is there's a larger point to be made, a bigger fish to fry."
Germany and the United States are "separate sovereigns," both entitled to prosecute — Germany, for crimes committed on its soil; the U.S. for crimes committed against U.S. personnel.
What's less clear is whether the U.S. would want to spend diplomatic capital seeking extradition and whether Germany would surrender the 21-year-old.
The extradition treaty between the two countries provides exceptions to extradition: Germany generally won't extradite its citizens, or anyone in a capital case unless there are guarantees the death penalty won't be sought. Uka, a Kosovo Albanian who immigrated to Germany with his family in the 1990s when political repression, war and economic hardship induced scores of thousands to leave, is not a German citizen. "He's a citizen of Kosovo," said Jens Joerg Hoffmann, his defense lawyer.
That could make his extradition, if requested, more likely.
"Assuming that all of the treaty prerequisites for extradition have been met and that no treaty exception to extradition applies, then the treaty obligates Germany to extradite to the United States," said Ryan Scoville, an assistant professor at Marquette University Law School.
The U.S. has sought to extradite a number of foreign citizens without success.
The U.S. has been seeking extradition since 2004 of Abu Hamza al-Masri, the radical, Egyptian-born British cleric, on 11 counts of criminal conduct related to the taking of 16 hostages in Yemen in 1998, advocating violent jihad in Afghanistan in 2001 and conspiring to establish a jihad training camp in Bly, Oregon.
Hamza, who is serving a seven-year sentence in Britain on terrorism related charges, has appealed extradition to the U.S. with the European Court of Human Rights and that case is still pending, according to a court spokeswoman. The British government had agreed to extradite him to the U.S. in 2007, but his extradition was halted last year.
Hamza argued in his appeal that U.S. "supermax" prisons and life without parole sentences violate human rights. The court said it would consider the arguments.
Six years ago, the U.S. State Department sent a letter of protest to German authorities after they released Hezbollah member and airliner hijacker Mohammed Ali Hammadi from prison — after he'd served 19 years — and allowed him to return to his native Lebanon.
The State Department had sought Hammadi's extradition for two decades, officials said, on charges in connection with the 1985 hijacking of a TWA flight and the killing of a U.S. sailor on board — one of the most infamous terrorist attacks of the 1980s.
---
---
---
---