GALLERY
Shapiro takes charge of 21st Theater Sustainment Command
by
John Vandiver
June 30, 2017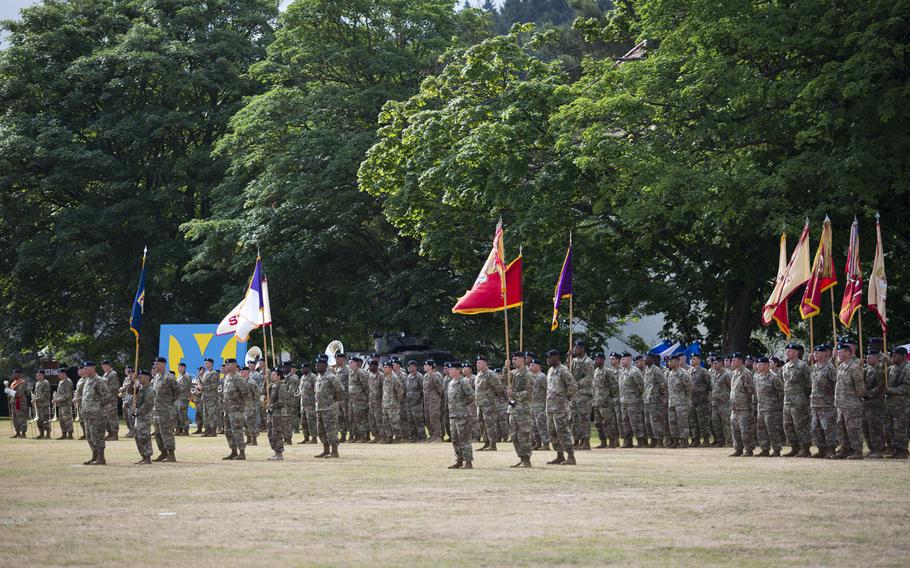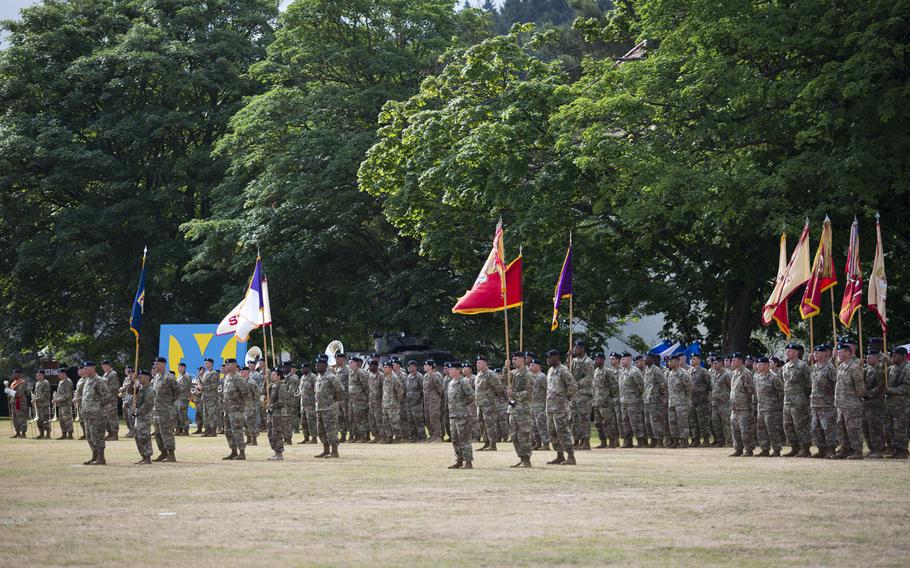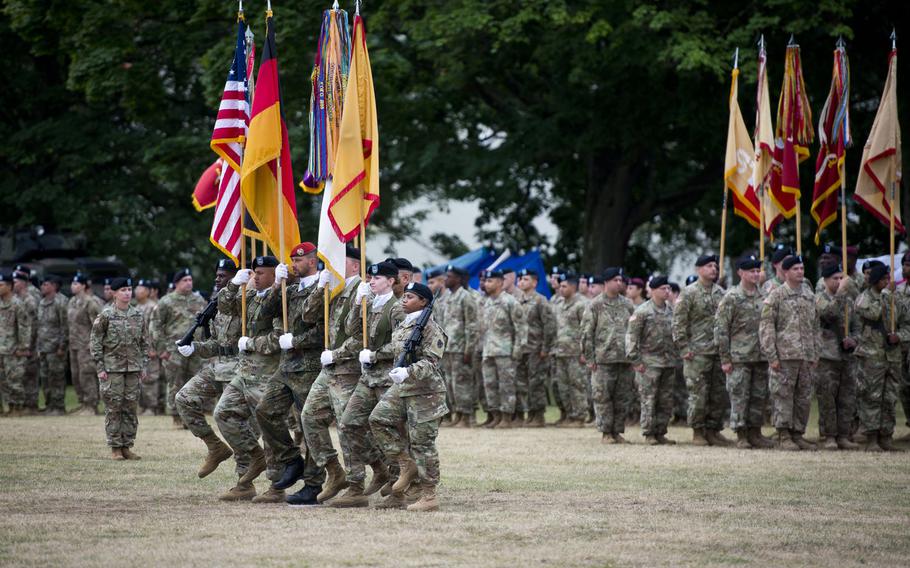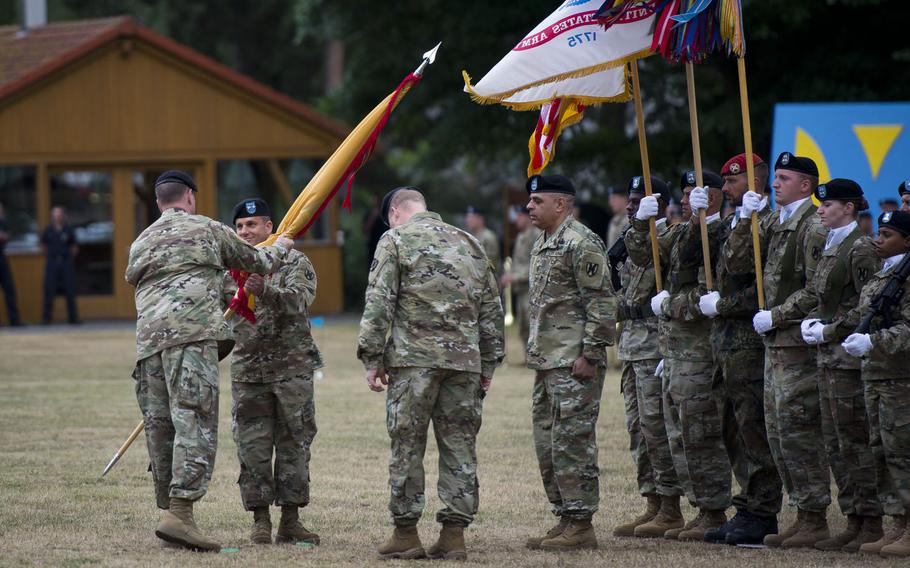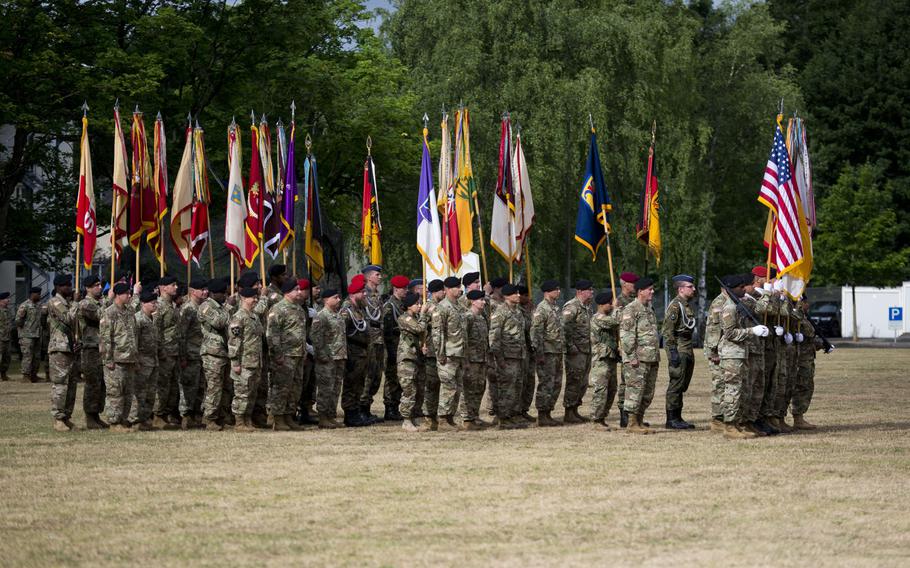 Maj. Gen. Steven A. Shapiro took command Friday of the Army's sustainment forces in Europe, which over the past two years have enabled one of the largest movements of ammunition, armor and troops back to the Continent since the end of the Cold War.
Shapiro replaces Maj. Gen. Duane Gamble, who has led the 21st Theater Sustainment Command during a hectic tenure that saw the Army boost its presence in eastern Europe in response to concerns about a more aggressive Russia.
"We had to have more capability and we had to demonstrate that capability and the will to use that capability to send a clear message," said U.S. Army Europe's Lt. Gen. Ben Hodges during a ceremony at 21st TSC headquarters in Kaiserslautern. "It is not inevitable there is going to be a conflict. The best way to keep it unlikely is to demonstrate that capability."
Hodges said the 21st TSC's role in bringing tanks and other hardware to Europe has been key to getting firepower back in position in Europe.
Shaprio who previously served as deputy chief of staff for logistics at Army Materiel Command in Alabama, will be responsible for carrying forward the flow of military hardware into Europe as the Pentagon increases funding for operations along NATO's eastern flank. He also will responsible for ensuring supplies reach units spread out on remote missions stretching from the Baltics to southern Europe and Army garrisons in between.
"I look forward to the next two years working with the great soldiers and civilians here," Shapiro said. "I do pledge 100 percent effort on everything we are going to do."
Going forward, the command's largest logistical lift in the year ahead will likely be overseeing the movement of a U.S.-based replacement force for the 3rd Armored Combat Brigade, which is on a nine-month mission to reassure allies in a series of training missions along NATO's eastern flank.
For USAREUR, concerns over a more assertive Russia have prompted leaders to examine ways it can more quickly mobilize forces in a crisis. Much of that work has fallen to 21st TSC logisticians, who sought to better chart the geographic terrain of the Baltics and Poland and improve the Army's understanding of possible logjams that can slow the movement of troops in a crisis.
As the Army in Europe has shifted to a focus on deterring potential aggression, "our solders know the importance of this mission and have risen to meet the requirement," Gamble said.
Gamble, along with Hodges, has led soldiers on a series of so-called terrain walks which have involved visits to ports, storage centers and railheads. Much of the focus has been in eastern Europe, with stops in the Baltics and Poland, which the Army describes as its "new center of gravity" in Europe.
vandiver.john@stripes.com Twitter: @john_vandiver