Servicemembers and civilian who subdued train gunman lauded as 'heroes'
by
Steven Beardsley
August 22, 2015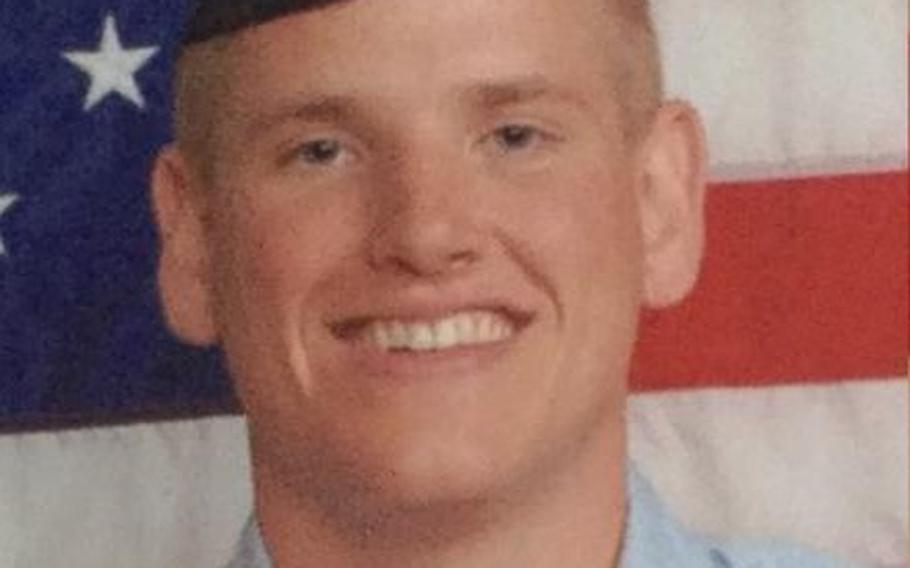 Military leaders in Europe praised the actions of two American servicemembers and a civilian friend who subdued a gunman on a high-speed train traveling through Belgium on Friday.
Airman 1st Class Spencer Stone, Oregon National Guardsman Alek Skarlatos and Anthony Sadler tackled the gunman and wrestled away his AK-47 semi-automatic rifle before the man could open fire. They then tended to a passenger who had been wounded by the gunman.
Stone is assigned to the 65th Air Base Group at Lajes Field in the Azores. Skarlatos, a specialist, returned from a deployment to Afghanistan in July, the Oregon TV station KATU reported. Sadler is a senior at Sacramento State University, according to reports. The three were traveling together on vacation.
No one was killed in the attack, which occurred as the high-speed train passed through Belgium on its way from Amsterdam to Paris. Stone, who was treated for a hand injury, was reported to have left a hospital in Lille, France, on Saturday evening.
"These men are heroes," Gen. Philip Breedlove, head of U.S. European Command, said Saturday in a news release. "Actions like this clearly illustrate the courage and commitment our young men and women have all the time, whether they are on duty or on leave. We are extremely proud of their efforts and now are praying for our injured airman to have a speedy recovery."
Stone's leaders at Lajes praised his response to the incident.
"These are the actions of a dedicated airman who answered the call and did what was needed to be done and made a difference," 65th Air Base Group commander Col. Richard C. Sheffe was quoted as saying in an Air Force news release. "We wish Airman Stone and all others a fast recovery and thank them for their actions."
President Obama called the three men Saturday to congratulate them for their courage and quick action, The Associated Press reported. Obama wished Stone a full and speedy recovery and expressed how proud all Americans are of their bravery.
Earlier in the day, the White House issued a statement saying that that the servicemembers' "heroic actions may have prevented a far worse tragedy."
Defense Secretary Ash Carter also released a statement, in which he thanked the servicemembers for stepping forward "to prevent an even greater tragedy from taking place aboard that train."
"Airman Stone and Specialist Alek Skarlatos are two reasons why - on duty and off - ours is the finest the finest fighting force the world has ever known," he said.
The three men told reporters they heard a gunshot and breaking glass before they saw the gunman. Stone was the first to tackle him and was joined quickly by Skarlatos, who helped wrestle away the AK-47. The gunman also had a handgun, and he cut Stone with a box-cutter at one point in the tussle, according to reports.
After subduing him, the group beat him unconscious and bound his legs and arms, they told reporters. Stone then turned to help the injured passenger.
Skarlatos, 22, from Roseburg, Ore., had been in Germany for 10 days with other friends before joining Sadler and Stone in Amsterdam, according to The Oregonian. A member of the Guard for three years, he had returned home from Afghanistan in July, according to the news site.
The office of French President Francois Hollande said Saturday the leader would meet with those who helped subdue the gunman to "express France's gratitude."
French actor Jean-Hugues Anglade, a passenger on the train, was injured when he broke the glass to sound an emergency alarm. He told the magazine Paris-Match that passengers thought they were going to die "because we were prisoners of this train," AP reported.
"We were in a bad spot but with good people," Anglade said. "We were incredibly lucky to have American soldiers with us. I pay homage to their heroic courage and thank them. Without them, we all would be dead."
Twitter: @sjbeardsley