Service honors two 2nd SCR soldiers who died in Afghanistan
by
Seth Robson
March 17, 2011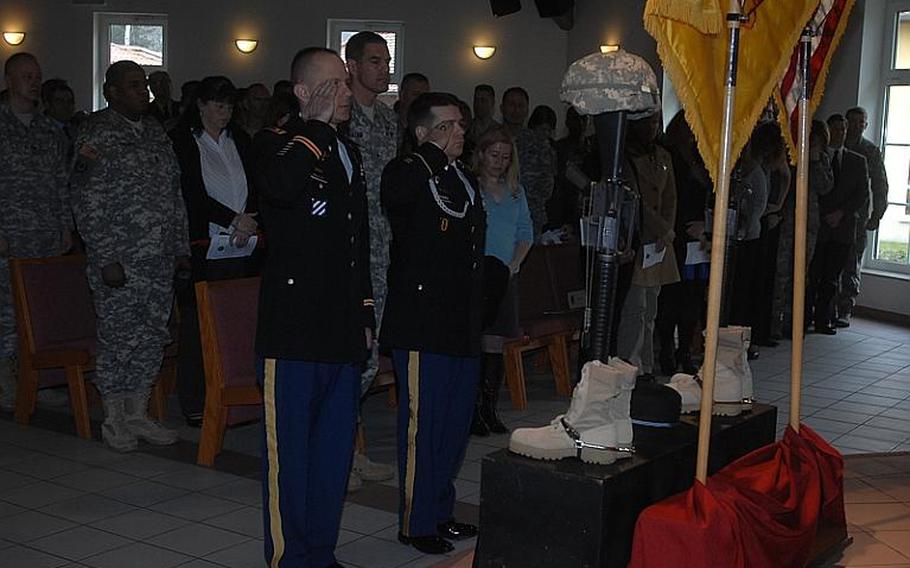 VILSECK, Germany — Enemy bullets and bombs were not to blame for the deaths of Pfc. Andrew M. Harper and Pfc. Kalin C. Johnson.
However, the 2nd Stryker Cavalry Regiment soldiers, who died in Afghanistan this month in separate noncombat-related incidents, were given the same send-off as soldiers killed in action during their unit's yearlong mission to Afghanistan.
Harper, 19, of Maidsville, W.Va., a member of Company I, 3rd Squadron, 2nd SCR, died in a vehicle roll-over in Kandahar province on March 11, according to 3rd Squadron commander Lt. Col. Bryan Denny, whose remarks were read during a ceremony in Vilseck on Thursday.
"He was a fighter," Denny wrote of the young soldier. "Almost always for a good cause, but a fighter nonetheless. His exploits around the squadron and to include our squadron ball last year make for some good stories."
Harper's company commander, Capt. Daniel Bourke, recalled him as "one of the finest infantrymen" in Company I.
"Despite being young of age, he inspired others," he said of Harper, who, as a vehicle gunner, performed one of the Army's most dangerous jobs.
Harper is survived by his mother, Deanna; father, Steven and sister, Bridgette.
Johnson, 19, of Lexington, S.C., and also a member of the 3rd Squadron, took his own life, Denny said. But, he added, that didn't make his death any less tragic or painful.
"Nothing will ever tell you what Pfc. Johnson was thinking moments before he took his own life," he said. "Nothing facing him would not have been rectified in the next 71 days and on the bus ride that would have taken him back (home)."
Johnson is survived by his mother, Ronda, his father, Brenton and son Logan.
---
---
---
---