Sabine storms across Europe, damaging areas near US bases in Germany
By
Marcus Kloeckner Jennifer Svan
February 10, 2020
---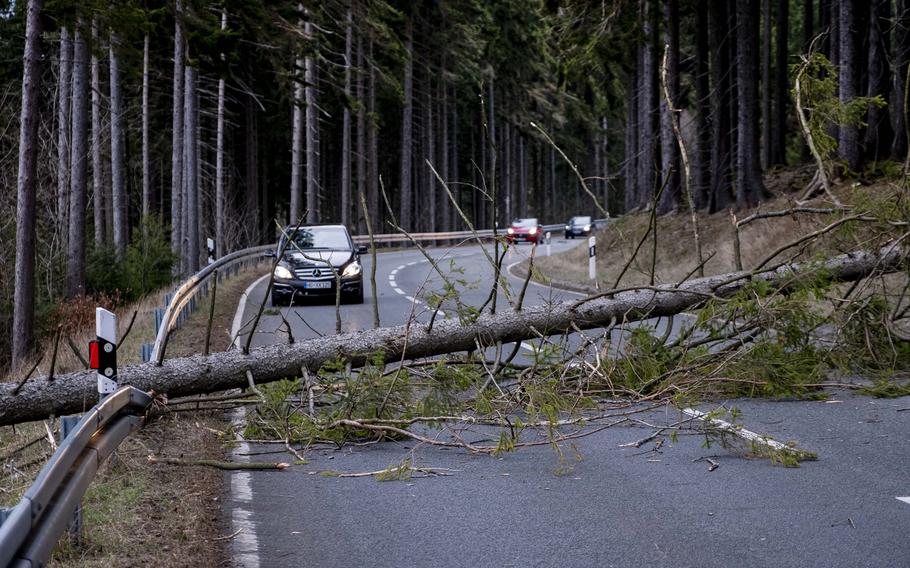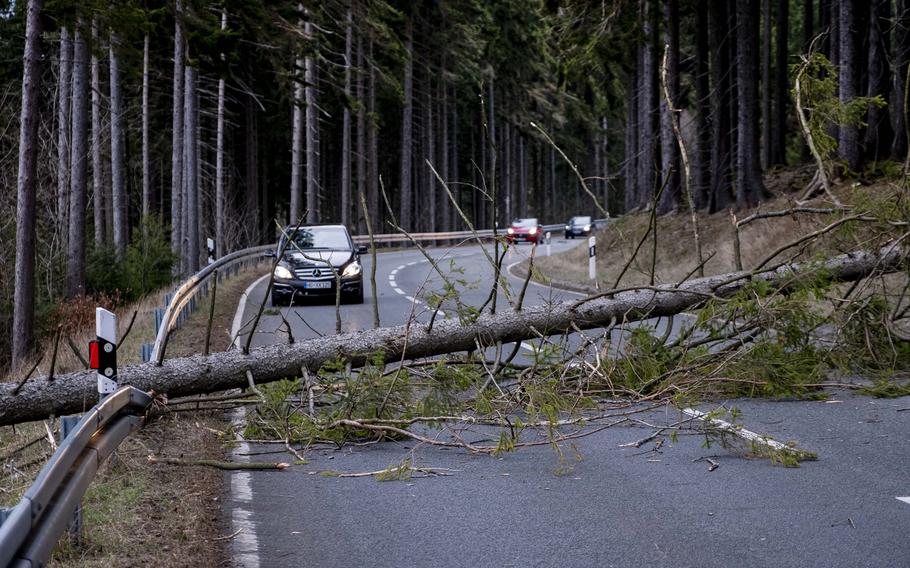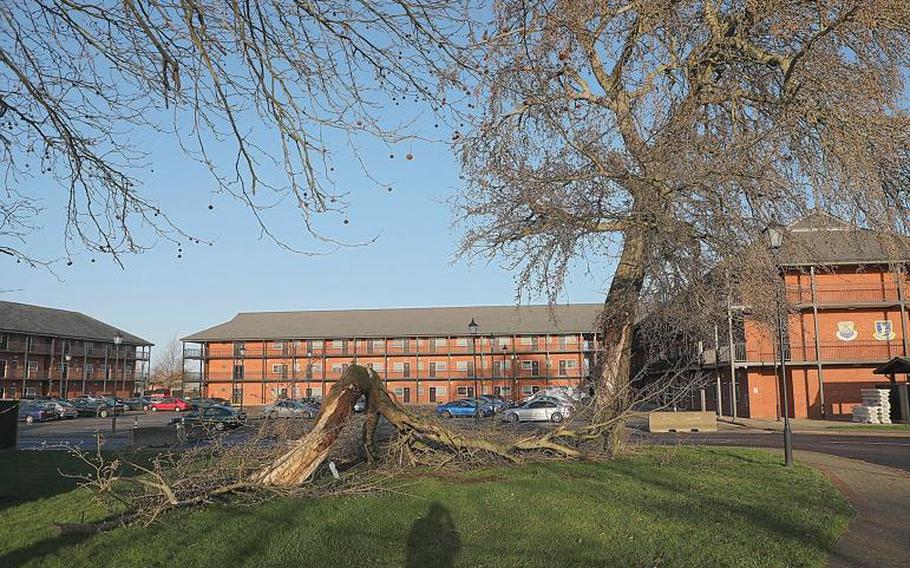 KAISERSLAUTERN, Germany — The U.S. military in Germany began damage assessments Monday after a winter storm packing hurricane force winds blew across the country Sunday night, while meteorologists warned that the storm isn't over.
The storm called Ciara in the U.K. and Sabine in Germany knocked out power, downed trees and damaged homes and cars in the Kaiserslautern area, German police and social media groups reported. The storm is responsible so far for seven deaths elsewhere in Europe, The Associated Press reported.
There were no indications of major destruction or injuries at U.S. bases, though officials said they were still evaluating the damage.
Gusts of 93 mph were reported overnight in Neustadt an der Weinstrasse, a small city about 20 miles southeast of the Army's Kleber Kaserne in Kaiserslautern. Further south, Feldberg in the Black Forest saw gusts of 109 mph, German news outlet SWR said.
The German Meteorological Service said sustained winds were expected Monday to range from 45-60 mph in Rheinland-Pfalz, the state where about 50,000 service members, families and other Defense Department personnel live. Localized gusts could reach 65 mph, said Ines Wiegand, a meteorologist with the weather service.
There will be periodic lulls but "the winds will pick up speed again," Wiegand said, adding that winds were expected to average 30-45 mph on Tuesday in the Kaiserslautern area.
Ramstein Air Base had no reports of major damage Monday and said they probably wouldn't know the extent of damage for another day or two, when operations are expected to return to normal. Nearby villages experienced high winds and some road blockages, including a trampoline in the middle of the road in Queidersbach, police said.
Rhine Ordnance Barracks in Kaiserslautern reported minor damage, including fallen trees, a broken phone cable and power loss to two buildings, a base spokesman said. The trees were cleared and power was restored, the spokesman said.
Defense Department schools closed ahead of the storm in most of Germany on Monday, while bases in Kaiserslautern and Baumholder closed facilities and limited work to essential personnel. Army garrisons in Bavaria and Wiesbaden delayed the start of their day, while in Stuttgart work went on as normal.
Outpatient services and routine medical appointments were canceled Monday at Landstuhl Regional Medical Center. Only the intensive care unit, inpatient wards and the emergency room remained open.
In the U.K., the 48th Fighter Wing and 100th Air Refueling Wing reported no serious damage to their installations, located about 26 miles northeast of Cambridge, base officials said.
In Bavaria, 50,000 homes were without power, news portal t-online said Monday. The Oberpfalz area, home to the U.S. Army Hohenfels and Grafenwoehr training areas, is also expected to sustain severe weather from Sabine.
The German Meteorological Service said Sabine is a type of winter storm that can be expected once every two years.
There were reports of deaths directly linked to the storm with three drivers, one in the Czech Republic, one in Slovenia and another in southern England, killed after their cars were hit by falling trees, AP reported.
Two people also died in Poland after the storm ripped off a roof of a ski rental equipment building in the mountain resort of Bukowina Tatrzanska, and sent it hurtling onto people standing near a ski lift, police said. Two others were injured too, AP said.
In Sweden, one man drowned after the boat he and another person were sailing in on the southern lake of Fegen capsized. The victim was washed ashore and later died. The other person is still missing, according to the Aftonbladet daily.
Stars and Stripes reporter Christopher Dennis contributed to this report.
svan.jennifer@stripes.com Twitter: @stripesktown
---
---
---
---