Saber Junction exercise to focus on integrating special and conventional forces
---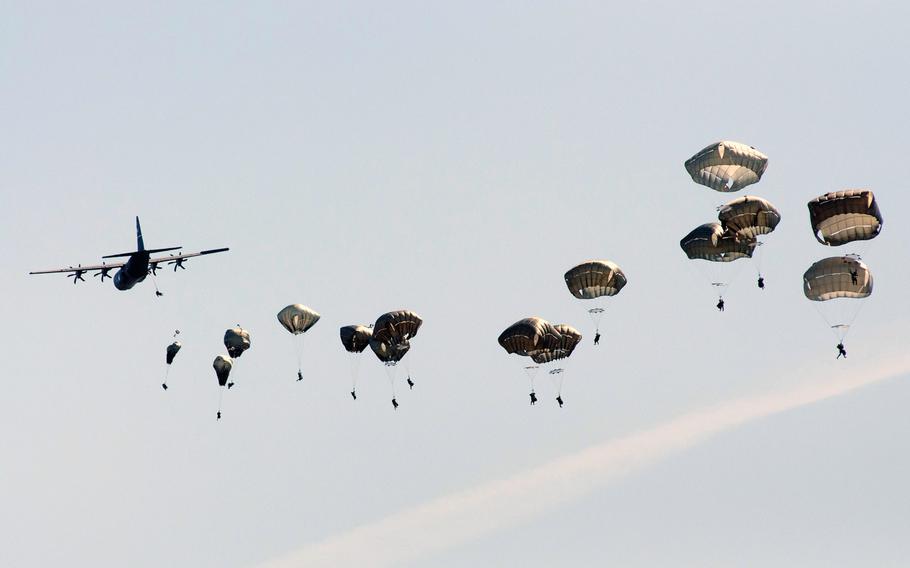 HOHENFELS, Germany — The skies above Hohenfels will be filled next week with hundreds of paratroopers.
The jump will be the keynote event of Saber Junction 16, the latest in a series of U.S. Army Europe-led combat readiness drills now underway at the Joint Multinational Readiness Center in Hohenfels.
Most of the force that will participate in the massive air assault on April 12 is now hundreds of miles away in Vicenza, Italy.
Meanwhile, as they continue to prepare for the big day, special forces from the United States, Moldova, Albania, Bulgaria and Macedonia are already on the ground in Hohenfels. These soldiers belong to twin special operations task groups engaged in the opening scenes of a multifaceted war game that will star the 173rd Brigade.
Their mission, according to Maj. John McManus, is to help the 173rd "liberate" the fictional town of Atropia from an invading force. McManus, from the Maryland detachment of the 20th Special Forces Group, is temporarily at Hohenfels to serve as adviser to one of the task groups.
"Before the 173rd lands, there is a lot of things we can do to make their lives a lot easier," he said. Some of those things — such as hiding a cache of Meals, Ready to Eat for the arriving airborne to pick up after landing — are smaller in scale. Others are more expansive operations that will require the combined efforts of operating units, advisers, joint terminal attack controllers, and civil affairs and psychological operations teams.
They will clear the area of any air defense systems that the enemy — played here by the 1st Battalion, 4th Infantry Regiment opposing forces unit — may have set up. From that point on they'll be providing the airborne brigade with reconnaissance and intelligence support.
"The biggest things we're looking for is identifying resistance elements, linking up with those resistance elements so they can support the 173rd," McManus said. "And then ... making sure that elements that might prevent them from infiltrating, we destroy them or at least prevent them from stopping the airborne drop."
The melding of special operations and traditional forces has remained a focus at exercises like Saber Junction, said Maj. Robert Temple, chief of the special operations forces cell at JMRC.
"To train U.S. and multinational SOF to be able to work with U.S. and multinational coalition forces and vice versa," he said. "That's the big piece, that's what we're out here to make sure happens."
Temple's team helps oversee and advise the task groups. Last year, they helped design the special forces scenario at Saber Junction. The mission to take out air defenses in advance of an airborne unit's assault is a time-tested one, McManus said.
"If you go back to looking at Afghanistan in 2001, that's what 5th [Special Operations] Group was on the ground doing," he said. "They were helping for when American conventional forces arrived on the ground. They already had airfields; they already had local militias who were supportive of what they were doing."
Further mimicking real life, the operating groups will be acting without a script, McManus added.
Teams can use joint terminal attack controllers to call in airstrikes, cut the power to necessary systems or mount an assault to seize control over the defenses.
They'll have to do so while overcoming language barriers, different rules governing soldiers' actions and doctrinal differences between units. Moldovan Maj. Veaceslav Balan, commander of the first task group and a seasoned veteran of interoperability exercises like Saber Junction, said overcoming those challenges is why he continues to return.
"I can learn something new: how they act, how they work. All the time I'm learning stuff," he said. "Each time is a different unit, different people, different exercises."
Balan said his men would be among the troops operating in the field in advance of the 173rd's arrival. They'll be deep in the bush, their boots caked with mud, on the day the airborne troops drift to earth. If they do their job correctly, none of the dignitaries, military officials and reporters will even know they're out there.
But members of the 173rd certainly will, if only because of the lighter load they'll have to carry.
"If placing a bunch of MREs in a culvert somewhere is going to help a conventional unit, that's easy," McManus said. "It saves that conventional infantry company from carrying an extra couple thousand pounds' worth of equipment. It's a huge load off them to know they can rely on someone who is already on the ground."
---
---
---
---