Russian fighter jet intercepts Air Force, Navy aircraft over Black Sea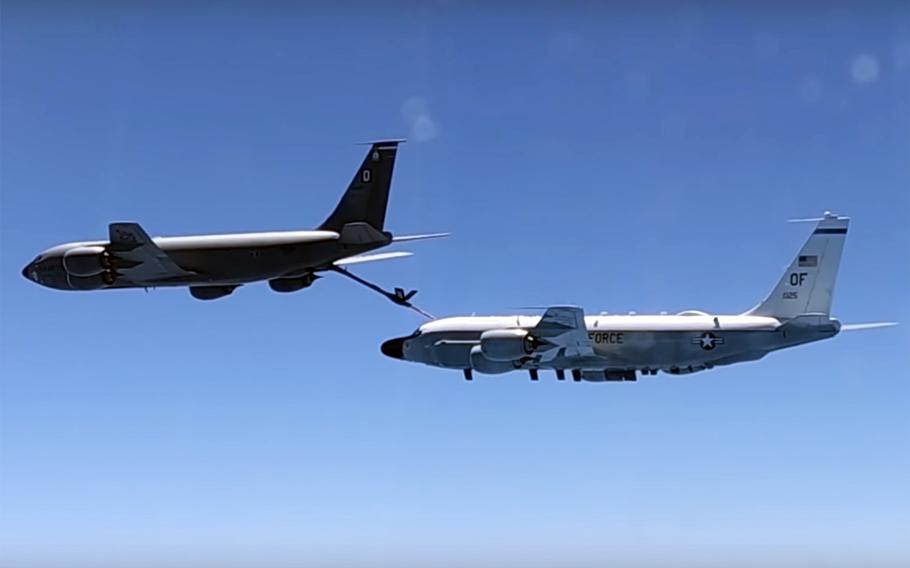 A Russian fighter jet intercepted two U.S. reconnaissance aircraft and a refueling tanker as they flew in "neutral" airspace over the Black Sea, the Russian defense ministry said in a statement.
The intercept was at least the 12th this year involving U.S. and Russian aircraft worldwide, according to a tally by Stars and Stripes. Most have occurred in the past month.
The American planes were in international airspace "at a considerable distance from the state border of the Russian Federation" when they were intercepted by an Su-30 from Russia's Southern Military District, the defense ministry said in a statement that accompanied a video shot by the Russian air crew. The Southern Military district is responsible for security in the Black Sea region.
The crew of the Sukhoi fighter jet approached the American aircraft "at a safe distance" and "identified them as a U.S. Navy P-8A Poseidon patrol plane, an RC-135 strategic reconnaissance aircraft, and a U.S. Air Force KC-135 tanker aircraft," a translation of the statement said.
The planes were heading toward Russia, according to the statement, but "immediately changed … direction" after the intercept. The Sukhoi returned to base, the defense ministry said, adding that "the flight of the Russian combat aircraft took place in strict accordance with international rules."
No one was immediately available at the Pentagon or U.S. European Command for comment.
The intercept came days after U.S. F-22 Raptor stealth fighters were scrambled to intercept two Russian military planes off the coast of Alaska and less than a month after Russian fighters intercepted Air Force B-1s flying with Ukrainian Su-27s and MiG-29s in the Black Sea region on May 29.
The intercept Wednesday off Alaska was the ninth in 2020 and the fifth in June, according to the North American Aerospace Defense Command, which guards U.S. and Canadian airspace.
It's not unusual for Russian aircraft to fly close to American territory, but it is rare for intercepts to occur so frequently in one month. U.S. military aircraft also routinely fly near Russian borders and are typically intercepted by Russian fighters.
Other recent intercepts occurred over the Sea of Okhotsk — off Russia's Kamchatka Peninsula and north of Hokkaido island in Japan — on June 19, and over the Baltic Sea days earlier, when Russian fighter jets intercepted a B-52.
In late May, Russian pilots in two Sukhoi Su-35 fighters drew condemnation from the 6th Fleet after they intercepted a U.S. Navy P-8A Poseidon reconnaissance aircraft over the eastern Mediterranean Sea.
That intercept — the third in the area involving Russian and American aircraft — "was determined to be unsafe and unprofessional due to the Russian pilots taking close station on each wing of the P-8A simultaneously, restricting the P-8A's ability to safely maneuver," the 6th Fleet said in a statement.