Russia deploys S-400 anti-aircraft missiles to Serbia
---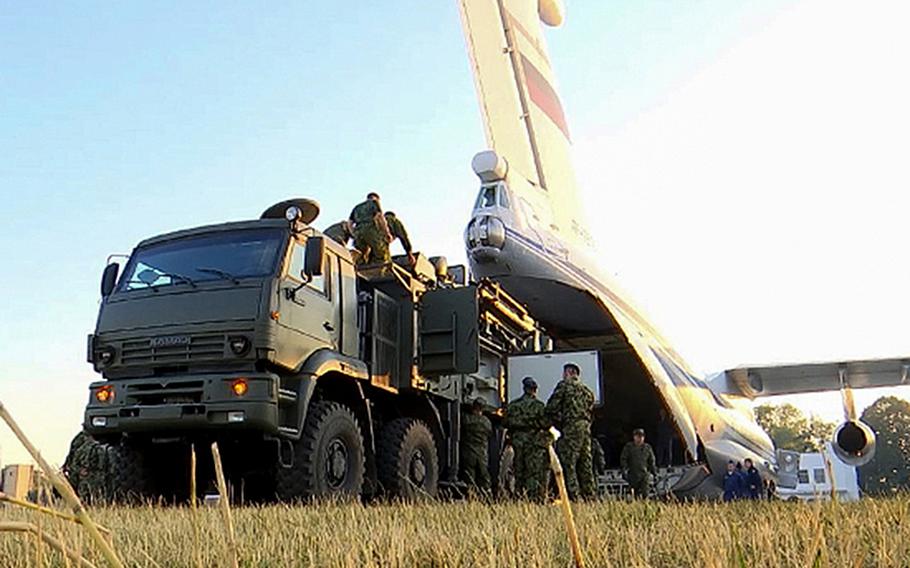 Russia has deployed its S-400 surface-to-air missile system to Serbia for exercises with the Balkan nation's military, bringing the advanced system that caused friction between the U.S. and Turkey closer to bordering NATO allies.
Russian air force transports flew the S-400 Triumf missiles to a military air base near Belgrade early Thursday, along with a battery of Pantsir-S medium range anti-aircraft missiles, the Russian Defense Ministry said in a statement.
Both systems are scheduled to take part in a joint Russian-Serbian anti-aircraft exercise known as Slavic Shield, the ministry said. This was the first time the S-400 unit will take part in a military exercise in a foreign country, the statement said.
"We have ordered the Pantsir-S," Serbian President Aleksandar Vucic said during a ceremony Thursday. "I will see it on Saturday, while I will see the S-400 tomorrow at the Slavic Shield exercise."
Serbia's Defense Ministry said the aim of the drills, which began Wednesday, was to train to jointly defend ground forces from enemy air attacks.
The S-400 gained notoriety earlier this year when NATO member Turkey purchased Russian missiles rather than opting for the U.S.-made Patriot system, which allied countries had deployed to southern Turkey to defend from a spillover of the war in Syria.
In response, Washington bumped Turkey from participation in the F-35 stealth fighter project, saying the S-400 could be used by Russia to collect information on how to defeat the jet. Turkey had ordered 100 F-35s.
The S-400's Triumf missiles have a reported range of up to about 250 miles.
The Pantsir S-1 — dubbed SA-22 Greyhound by NATO — is a short-to-medium self-propelled anti-aircraft gun and missile system which has seen wide use in Syria, where it has been deployed to protect Russian forces. Serbian air defense troops were sent to Russia last month to train on both systems ahead of the exercises, officials said.
Although Serbia aspires to join the European Union, Belgrade has fostered increasingly close political, economic and military ties with Moscow.
These have raised concerns in Western capitals that Moscow is trying to turn Serbia — which borders five NATO nations — into its bridgehead in the Balkans, a region that has been relatively tranquil since the wars that marked the collapse of the former Yugoslav federation in the 1990s.
---
---
---
---