Report urges greater intel-sharing with allies about unconventional Russian attacks
by
John Vandiver
September 4, 2019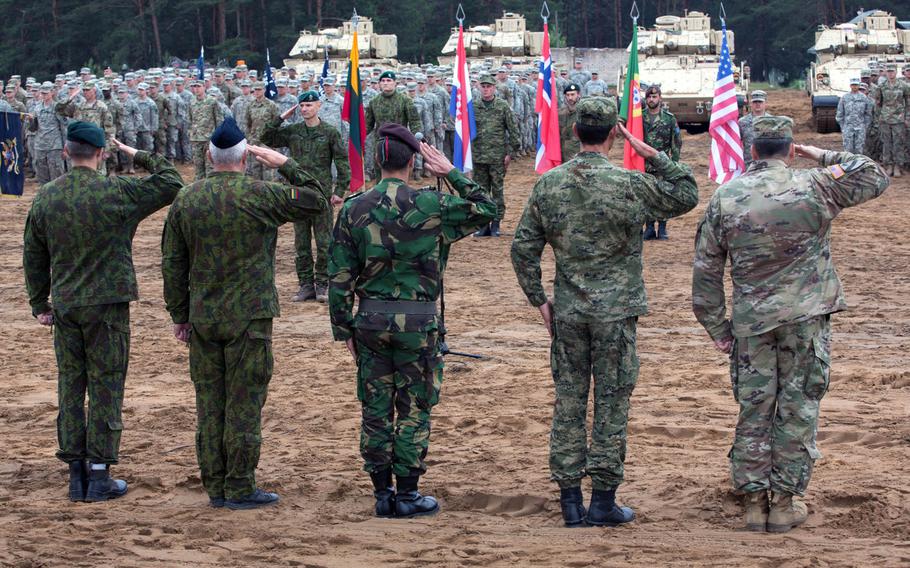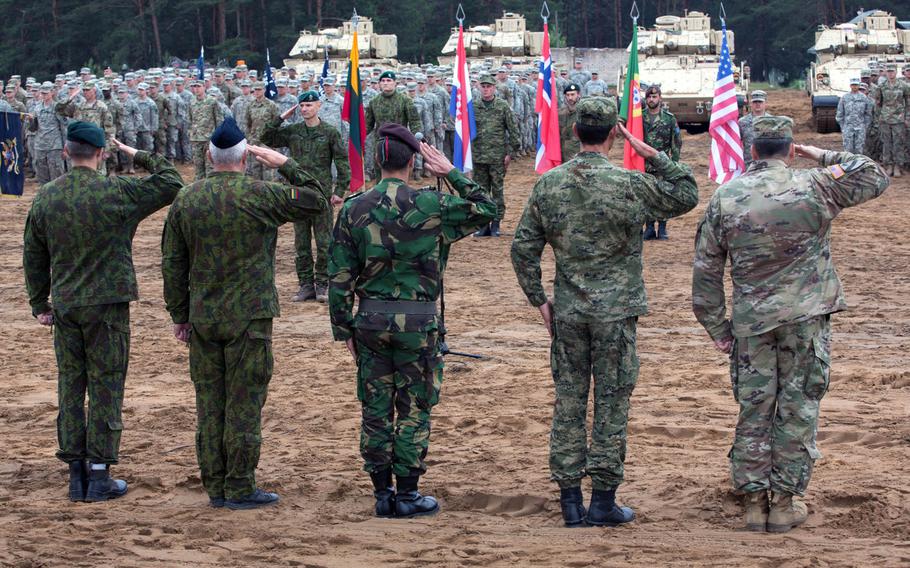 STUTTGART, Germany — The U.S. should share more intelligence with allies about mischief-making by Moscow during peacetime if it wants NATO to be unified in a crisis, according to a report that examines risks to the alliance during a hypothetical conflict with Russia.
Differences among allies about the nature of the threat posed by Moscow and fears of Russian military retaliation might challenge NATO, said the report by Rand Corp., a nonprofit think tank that contracts with the Defense Department.
The U.S. should start by declassifying intelligence for public release more quickly to counter denials from Moscow, particularly related to destabilizing disinformation campaigns, the report said.
Having dedicated training and personnel to oversee public release "might be particularly valuable if an unconventional Russian attack seems likely," the report said.
NATO observers are concerned that allies would fail to agree on who is at fault or how to respond to unconventional Russian attacks, which could include meddling in elections, cyberattacks or even stirring civil unrest among Russian populations in the Baltics.
Public intelligence releases would raise awareness of what Russia doing and could promote unity, the report said.
Another question that persists for allies, despite repeated declarations by members that NATO's commitment to the collective defense is "ironclad," is how the alliance would respond if an ally came under direct attack from Russia.
While such worries largely disappeared in the aftermath of the Cold War, they reemerged after Russia's 2014 military intervention in Ukraine. Since then, public polling has revealed a mixed picture regarding support for defending fellow members.
In 2017, a poll by the Pew Foundation found that among those who responded, 60% of Germans, 55% of Britons and 54% of Spaniards opposed the use of military force to defend an ally. At the same time, allies like the U.S., Poland and the Baltic states expressed a much stronger willingness to defend partners.
Public opinion would factor into the political decision-making process about whether to join any military response, the Rand report said. "Allies would face a stark choice between a greater risk of escalation and Russian retaliation and a desire to respond to Russian aggression," it said.
If allies failed to respond, it would amount to "a failure of the alliance's core function."
Confusing rhetoric from the U.S. about its commitment to NATO's Article 5 — the provision that states an attack on one member requires a collective response from all — could increase the risk that some allies might balk, the report said.
President Donald Trump, a frequent critic of NATO, has sent mixed signals about the alliance's relevance and questioned defending allies who he has said "don't pay their fair share" on defense.
"Clear and consistent U.S. messaging about alliance value would be particularly critical during a crisis, when Russian information campaigns would be likely to be most active," Rand said.
Still, U.S. officials should make clear that all allies would be expected to contribute under Article 5 and that failure to do so would have consequences, the report said. "More controversially, the United States could state explicitly that its security guarantees are conditional upon an ally's willingness to support an Article 5."
vandiver.john@stripes.com Twitter: @john_vandiver