Report: Ukraine sees surge in cease-fire violations
by
John Vandiver
April 15, 2015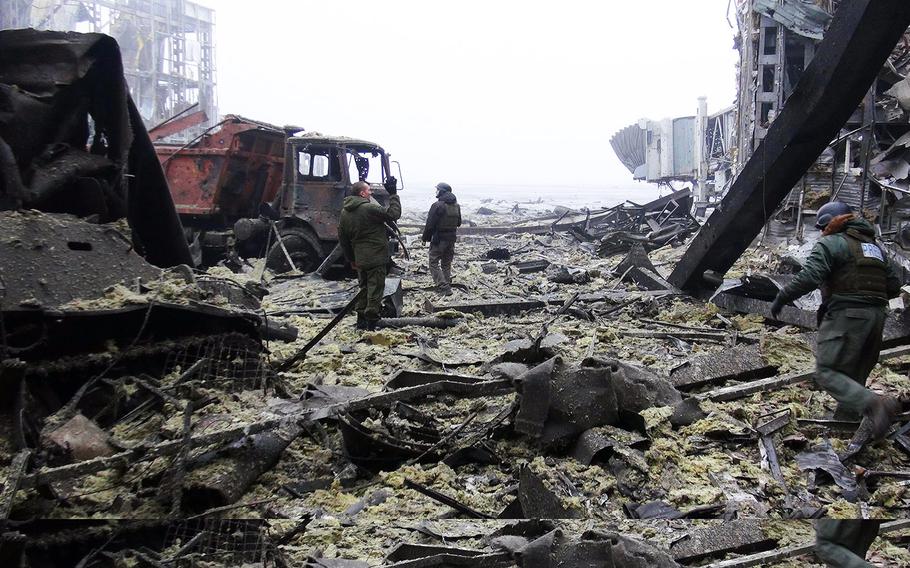 Fighting in eastern Ukraine has intensified in recent days, resulting in a "massive increase" in cease-fire violations and marking an escalation in the conflict between Russian-backed separatists and government troops, international monitors say.
Monitors with the Organization for Security and Cooperation in Europe witnessed hundreds of violations to an already fragile cease-fire between Saturday and Monday, especially around rebel strongholds in Donetsk and Shyrokyne. In a new report released Tuesday that details the long list of transgressions, the OSCE said that small arms, artillery and mortar fire are all being deployed on the battlefield.
As tensions have escalated, monitors say the lack of security guarantees from rebels continues to prevent them from making a complete assessment of conditions.
NATO officials have called on Russia to pressure rebels into granting access to observation points.
"It is very hard to see how any cease-fire can hold and be implemented if there is nobody there to supervise it," said Judy Dempsey, an analyst with the Brussels-based Carnegie Europe think tank. She added that monitors were being prevented from freely assessing the flow of equipment across Ukraine's border with Russia.
The OSCE reports that Russian-backed rebels have utilized jamming equipment to interfere with unmanned aircraft that the monitors are using to observe the area of conflict.
"Despite this, (the Special monitoring Mission to Ukraine) UAVs observed many indications of renewed fighting in the Shyrokyne area, including ... burning houses in and several tanks around the village itself," the OSCE said in the report.
In addition to tanks, OSCE unmanned drones this week spotted a rebel mortar team operating north of Berdianske along with a probable anti-aircraft gun mounted on a truck east of Oktyabr, which amount to violations of the cease-fire, the OSCE says.
Since Russia's annexation of Ukraine's Crimea peninsula in March 2014, Ukraine has battled pro-Russian separatists in the country's east. During the yearlong war, an estimated 6,000 people have been killed.
Ukrainian officials on Tuesday reported that six troops were killed in the latest violence. At least one rebel was reported to have been killed.
The conflict has raised tensions across Europe, with NATO allies in the east particularly unnerved by the prospect of a more aggressive Russia. In response, the U.S.-led NATO alliance has increased its presence across much of the region, including the Baltics and Poland. U.S. paratroops are about to commence training of a new Ukrainian national guard force, formed after the Crimea annexation.
If the cease-fire is completely shattered, there are few options for the West to pursue, Dempsey said.
"The only option still open, and this is what (German Chancellor Angela) Merkel has been pursuing, is sanctions and if necessary more sanctions," Dempsey said. "We don't have any more cards to play."
In its report detailing the fighting over the past few days, the OSCE described scenes of intense conflict.
On Sunday alone, during a four-hour span, monitors heard 1,166 explosions caused by different weapons, about 30 percent of which came from heavy artillery, tank and 120 mm mortar fire. The remainder were caused by anti-aircraft machine-gun fire, heavy machine guns and small arms, the OSCE said.
vandiver.john@stripes.com Twitter: @john_vandiver