Refugees trump Kaiserslautern international school in bid for Villa Ritter
by
Jennifer H. Svan
April 15, 2015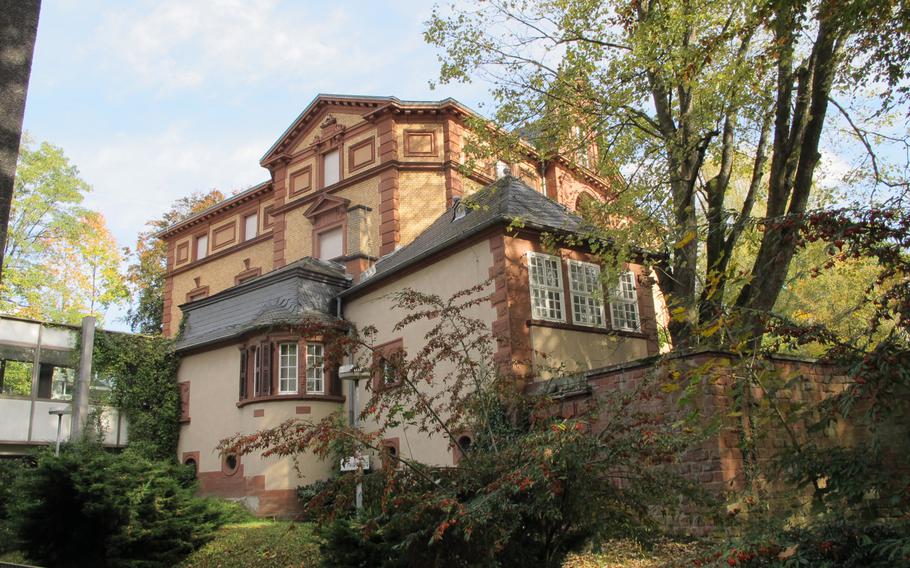 KAISERSLAUTERN, Germany — The opening of a private international school in Kaiserslautern has been pushed back by one year after city officials decided to use the school's proposed site to house refugees from war-torn countries such as Syria, Libya and Iraq.
School planners had their hopes pinned on Villa Ritter. The former German military's recruiting center comprises several historical buildings on a small, hilly campus above the Pfalzgalerie.
At a contentious neighborhood meeting in February, Kaiserslautern Mayor Klaus Weichel said the city had decided to put 140 new immigrants at Villa Ritter to fulfill a requirement from the Rhineland-Pfalz government to find housing for 600 immigrants this year — more than double the number of the city's total last year.
"Most of them are coming across the sea from Libya," he said. "Those coming into the (European Union) from the southern route include Libyans, Iraqis, Syrians, Somalis, Malians and others."
Libya has been in the grip of political chaos and lawlessness since 2011 when, NATO airstrikes helped topple dictator Moammar Gadhafi, whose regime had prevented illegal immigrants from sailing across the Mediterranean to Europe.
About 25,000 refugees transiting through Libya are now arriving each month during the peak sailing season in spring and summer.
Because the German federal government owns the Villa Ritter, the buildings are rent-free, municipal officials have said. The central location is also viewed as favorable for the refugees, who will lack their own transportation. "We were obviously very disappointed that Villa Ritter suddenly fell through," said Charlotte Ducker, the business development manager for the proposed Kaiserslautern school. "That was the building we really had in our sights."
School officials had hoped to find an alternative site in time for a planned fall 2015 opening, Ducker said. But with a location still in limbo, a decision was recently made to push back the project another year.
In the interim, parents interested in starting their children in an international program this fall will be offered free bus transportation to and from a location in the Kaiserslautern area to the international school in Neustadt, where about 170 students are enrolled, Ducker said.
The Neustadt school is run by the same Swiss company, SBW Haus des Lernens, developing the Kaiserslautern school and offers the same curriculum planned for Kaiserslautern.
So far, 43 families have expressed interest in sending their children to the Kaiserslautern school, Ducker said. About 70 percent are American, a mixture of military and nonmilitary, Ducker said. NATO and German families, along with those from the city's Technology University, have also expressed an interest in the future school.
Instruction would primarily be in English for children in pre-kindergarten through high school. The school would offer an international baccalaureate program, making transfer to another international school relatively seamless.
A bus would most likely pick up students near Ramstein Air Base. The commute from the Ramstein area to the Neustadt school is about 50 minutes one way, Ducker said.
Tuition for the Neustadt school ranges from 13,400 euros to 16,000 euros per year, depending on grade level. Similar tuition fees would be charged in Kaiserslautern.
Among the alternative sites now being considered for the future school are the Beilstein school in a wooded area on the outskirts of Kaiserslautern and a former monastery in Landstuhl.
The city's plan to host refugees downtown has been met with some resistance. At several neighborhood meetings, residents who objected to the plan complained that the international school would benefit Kaiserslautern's economic prospects by attracting more foreign experts.
Stars and Stripes reporter Slobodan Lekic contributed to this report.
---
---
---