Ramstein middle schooler wins second European spelling bee
by
Jennifer H. Svan
February 29, 2020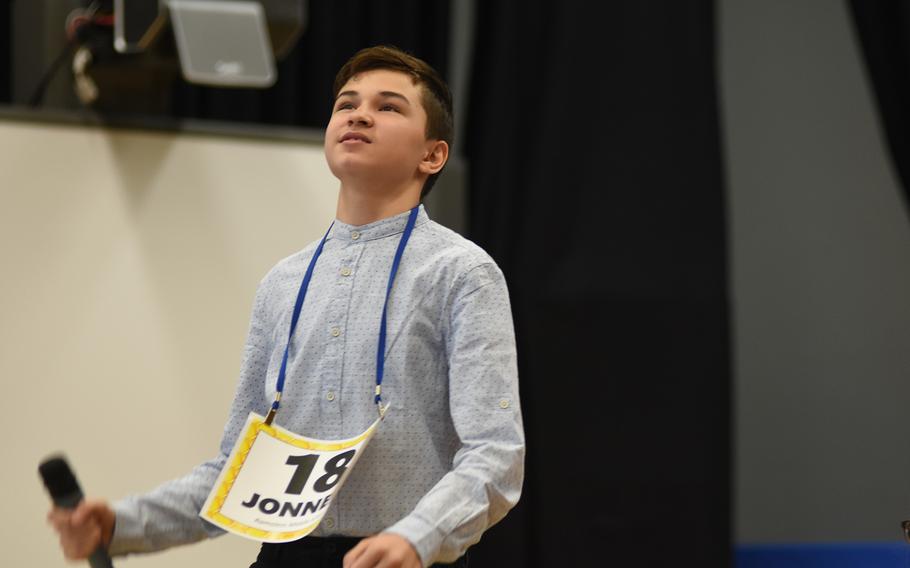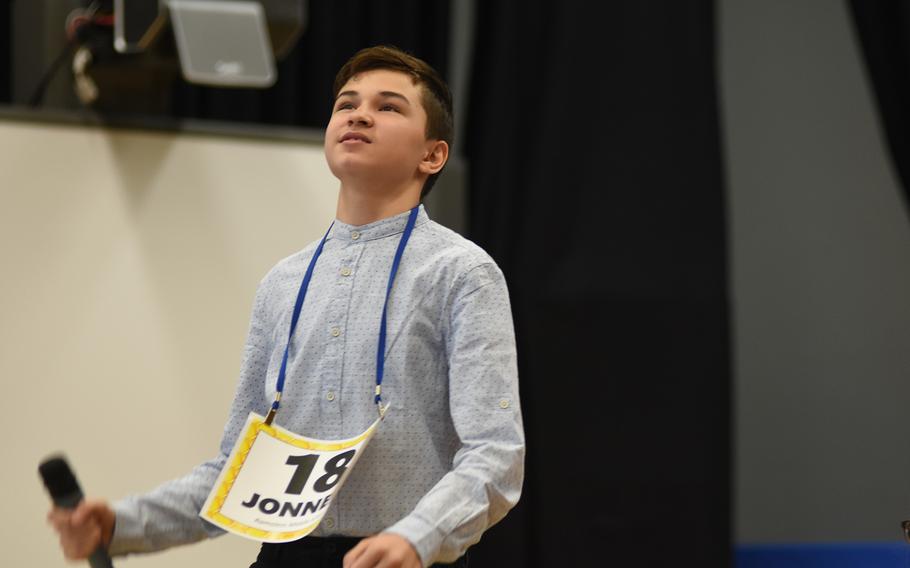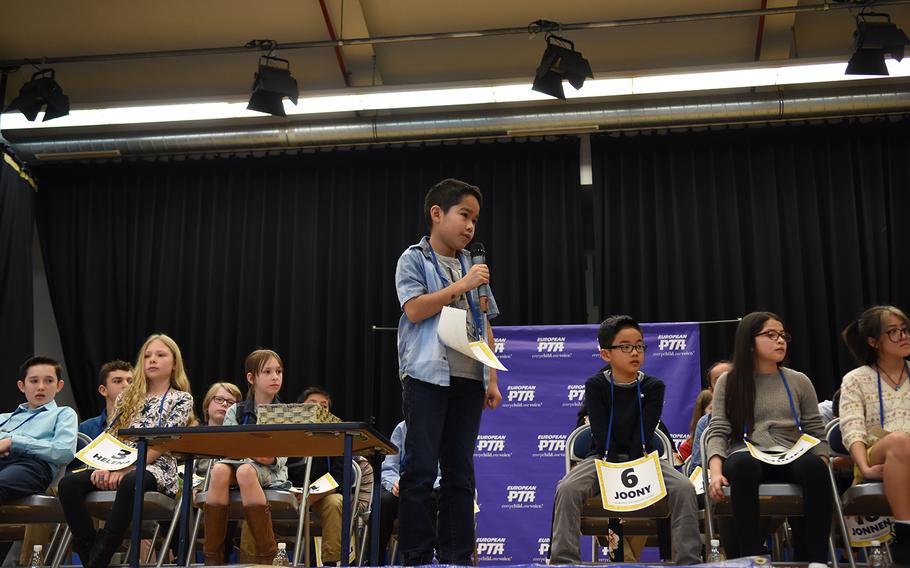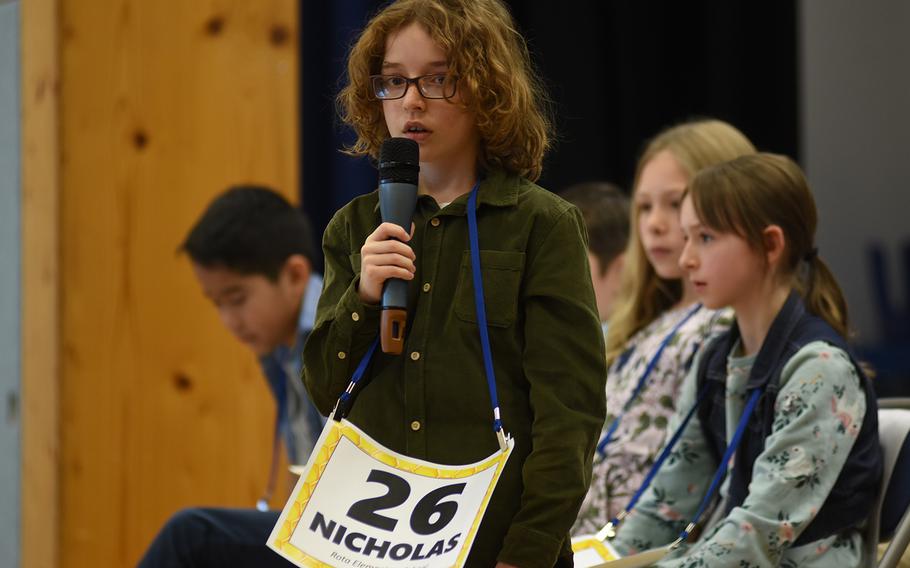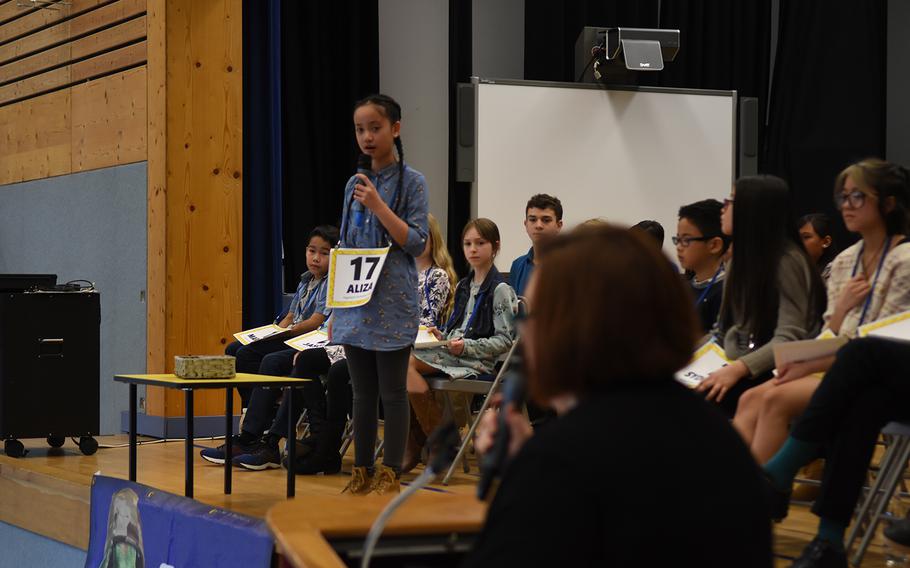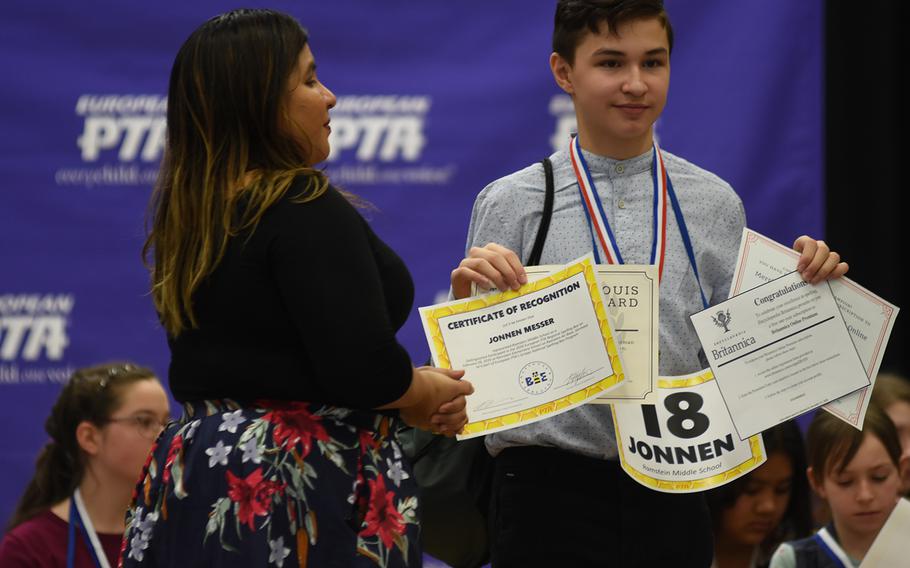 RAMSTEIN AIR BASE, Germany — Jonnen Messer earned his ticket back to the national spelling bee with the word "sacrament," letting out a big sigh of relief when the judges said, "that is correct."
"It felt great winning again," Messer said on Saturday. "I needed that."
Two years ago, Messer, a seventh grader at Ramstein Middle School, won the European PTA Regional Spelling Bee to earn a spot in the prestigious Scripps National Spelling Bee. On Saturday, he was back in the winner's circle.
Messer edged 27 fellow spellers in grades three to eight from Defense Department schools across Europe.
Most kids held on through the early rounds, conquering their nerves and words such as "pigsty" and "peekaboo." But in the fourth round, as the words progressed in difficulty, eight spellers bowed out, getting tripped up on words such as "sequential," "intersperse" and "casualty."
The bee lasted less than three hours, with Messer sealing victory in the 10th round.
By then, only two spellers were left standing: Messer and Liliana Eierdam, a fifth grader from Naples Elementary School in Italy.
After Messer spelled "indemnity" correctly, Eierdam stumbled on the word "homage," tricky because the "h" is silent when the word is pronounced.
The spelling bee rules required Messer to get the next word right, or the round would start all over again. He nailed it.
Messer said he was excited to return to the national bee, which will be held in Washington, D.C., from May 24 -27. The European PTA, with help from sponsors, will cover the cost of most of the trip for Messer and one of his parents — the top prize for winning the regional bee.
"I hope you win in Washington," Eierdam said to Messer after the bee concluded.
Messer said the national bee is extremely tough because only 50 spellers — out of more than 500 contestants, typically — make it to the final round of competition. He hopes to make it through the preliminary rounds this time.
Even though he's been there before, he knows he'll be nervous.
"You feel extremely nervous because you're on live TV," he said.
svan.jennifer@stripes.com Twitter: @stripesktown