Ramstein honors airman killed in 2008 attack while on secret mission in Pakistan
by
Jennifer H. Svan
June 17, 2020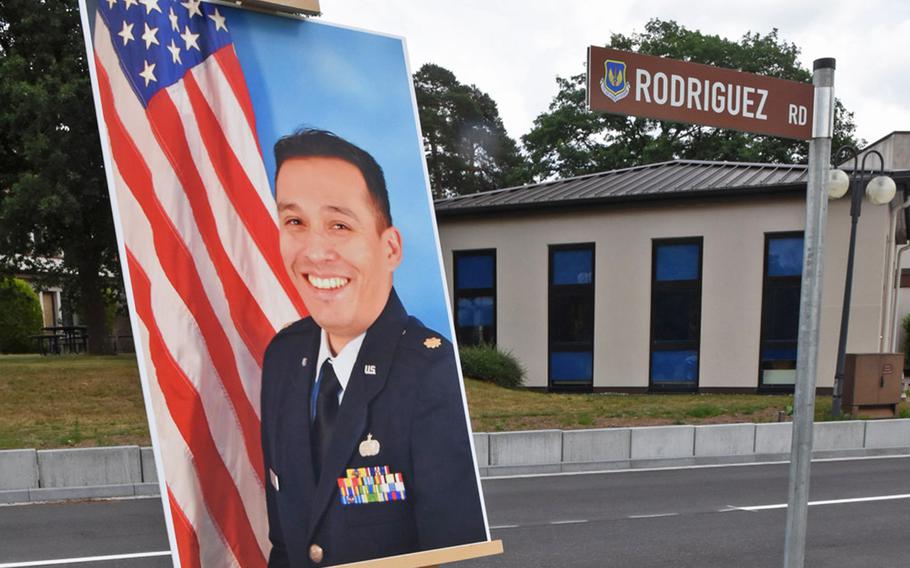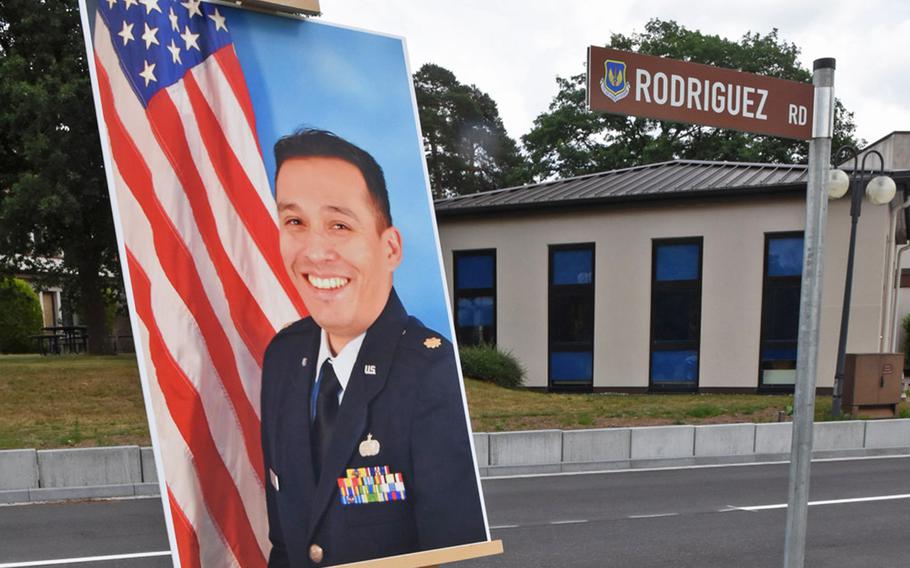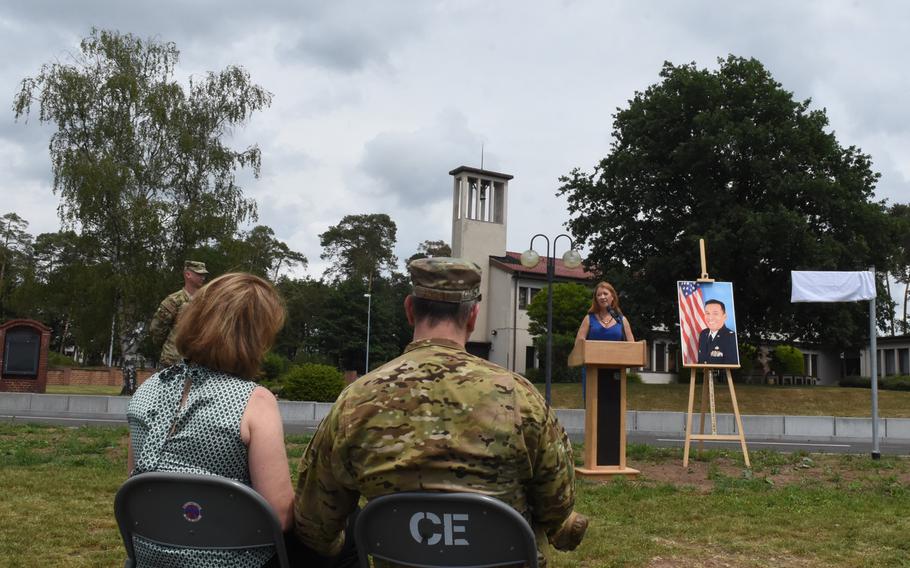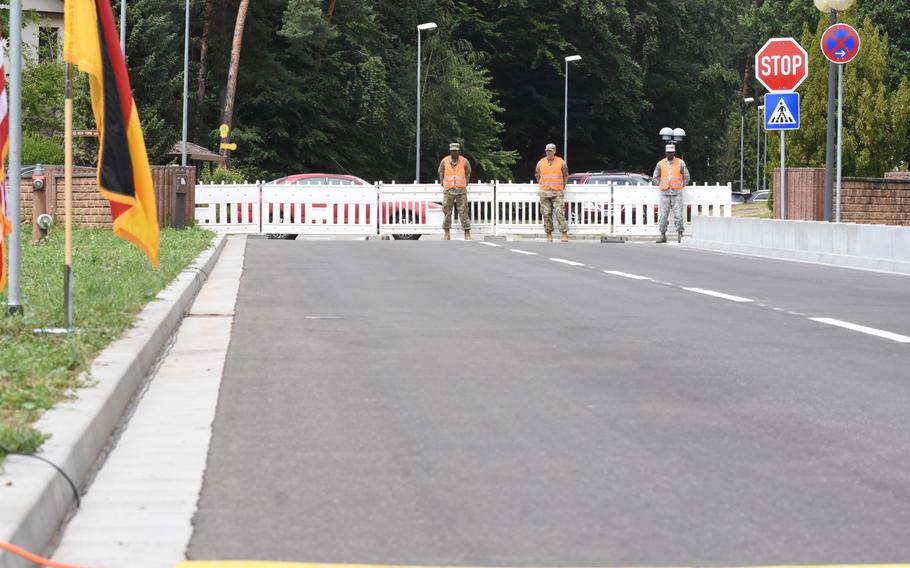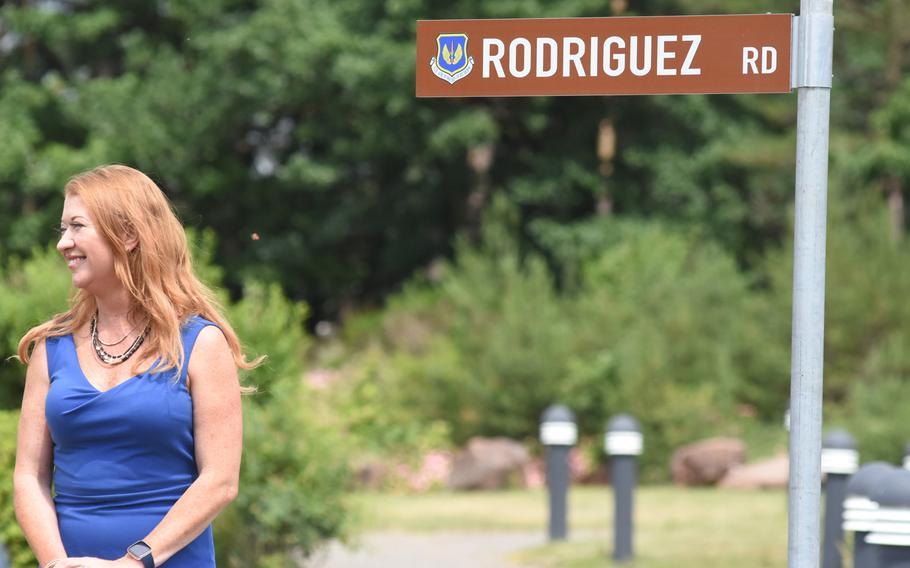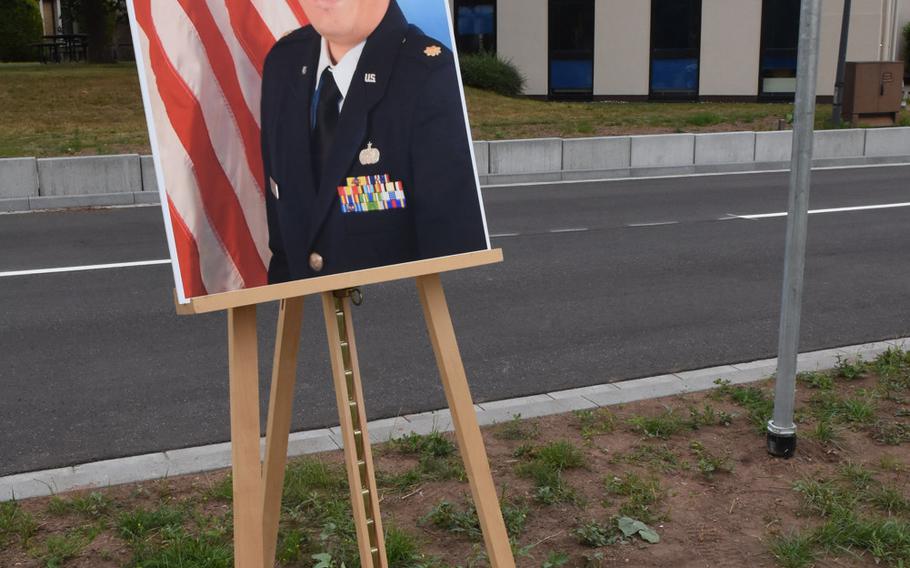 RAMSTEIN AIR BASE, Germany — On Sept. 20, 2008, Air Force Maj. Rodolfo Rodriguez was outside the Marriott Hotel in Islamabad, Pakistan, when a dump truck rammed the hotel's security gate and caught fire.
Rodriguez, who was 34, immediately called in the attempted terrorist attack to his command before the line suddenly went silent. The truck laden with more than 1,300 pounds of explosives had detonated, killing Rodriguez and more than 50 others, and injuring about 270 people.
Rodriguez at the time was the training flight chief for the former 86th Construction and Training Squadron at Ramstein. He was on a secret mission to review plans to house servicemembers looking for Osama bin Laden in Pakistan, his widow, Caryn Rodriguez said.
On Tuesday, Caryn Rodriguez attended a ceremony at Ramstein, where a new street named after her late husband was unveiled.
Rodriguez Road, located behind the Northside Chapel, will serve drivers who now cut through the commissary and chapel parking lots, officials said. The road was paved with some of the $700,000 in prize money Ramstein won for being named the Air Force's best installation in 2019.
"As you look at the pavement behind us, you would think we're here to talk about a road," said Brig. Gen. Mark August, the 86th Airlift Wing commander. "But in fact, it's anything but that."
In reviewing a list of candidates to name the road after, "one engineer really stuck out," August said, adding that Rodriguez was remembered fondly by everyone who worked with him as "an officer, a leader, an airman and an engineer."
Caryn Rodriguez, a former fourth grade teacher at Landstuhl Elementary School, met Rod in 1997 while in college during spring break in Mexico. It turned out they were going to school an hour apart — Rod at the U.S. Air Force Academy, Caryn at University of Colorado Denver.
"Every weekend that he could get away, he would come and see me," Caryn said in an interview after the ceremony.
They married in 2000 and soon the Air Force sent them overseas, first to Osan Air Base in South Korea, then on to Ramstein in 2005. The couple had plans to start a family after Rod returned from Pakistan, his third Central Command assignment since 2001.
A devoted husband and son, "he loved me and his family more than anything and anyone who knew him knew that," Caryn said during remarks at the ceremony.
After his death, Caryn found out Rod had volunteered for the Pakistan deployment. He was supposed to go to Qatar but offered instead to "forward deploy in order to personally do the site work instead of just relying on digital images," Caryn said.
"Honestly, I was quite upset" at the time, she said. "I knew he had left that detail out on purpose. He knew I would try to talk him out of it."
But after much reflection, "his choice made sense. He was dedicated to our Air Force, its mission, its values and the airmen that he served with."
Lt. Col. Kathryn Kilker, the 86th Civil Engineer Squadron commander, first suggested naming the road after Rodriguez, her sponsor when she came to Ramstein as a young officer in 2005. She considered him to be a friend and a mentor.
"He was awesome, you know," she said through tears Tuesday. "Caryn and I were talking earlier — it's like he's still here, and now we've actually got a sign so everybody can remember him and they can ask, 'Who was this guy?' and we can tell them. So it's pretty cool."
svan.jennifer@stripes.com Twitter: @stripesktown