Ramstein airman found guilty in 2019 road death of German teen
by
Jennifer H. Svan
July 12, 2020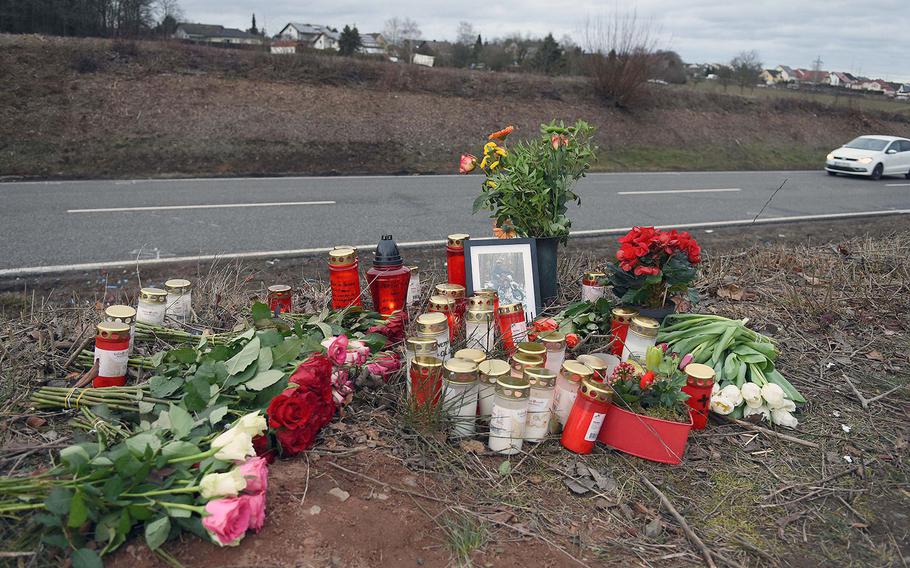 RAMSTEIN AIR BASE, Germany — A Ramstein airman was found guilty in a court-martial Saturday of negligent homicide for the death of a German teenager in a 2019 car crash.
Military jurors stripped Tolman D. Roman Bahena, 21, of two ranks — from airman first class to airman basic — and ordered him to perform three months of hard labor without confinement. He'll be reprimanded and restricted to Ramstein and the Vogelweh housing area for two months.
But the jury did not end Roman Bahena's military career or mandate jail time for an offense that allows a maximum prison sentence of three years and a bad-conduct discharge. Court members acquitted Roman Bahena of four other charges including involuntary manslaughter, which carries a sentence of up to 10 years in prison.
The jury reached a verdict and a sentence on Saturday, following five days of testimony centered around the Feb. 6, 2019 collision on a country road near Ramstein.
Roman Bahena was found to be traveling at an excessive speed in his Chevrolet Camaro on the L367 when he slammed almost head on into a Piaggio Ape driven by 17-year-old David Wirsching of Weilerbach, who died instantly.
Neither driver was found to have alcohol or narcotics in their systems. Roman Bahena was new to the Air Force and to Germany, receiving what he described as a dream overseas assignment after basic training.
On the evening of the crash, Roman Bahena and his wife were driving from Weilerbach to Vogelweh when they took a wrong turn, according to court testimony. They ended up traveling towards the village of Mackenbach on the L367, a two-lane priority road.
Witnesses described how Roman Bahena passed one vehicle and then failed to return to his lane. Data extracted from the airman's Camaro showed he was driving nearly 84 miles per hour – more than 20 miles per hour over the speed limit – seconds before the crash. He did not take his foot off the gas pedal until 1.5 seconds before the collision, an expert for the government testified.
The Camaro and Piaggio collided near the road's center line, evidence at the scene showed and witnesses said. The force of the crash sent the Piaggio airborne and onto a car traveling behind it.
Wirsching was on his way to Kaiserslautern with his best friend, who was following behind on Wirsching's motorcycle.
The Piaggio is a three-wheeled light commercial vehicle with a Vespa scooter as a base. It travels at a maximum of 40 miles per hour, so a line of vehicles was trailing the boys as they drove towards Kaiserslautern, witnesses said.
The airman did not testify and it wasn't clear why he didn't return to his lane before the crash, though a few possibilities were mentioned.
A defense expert said it could have been "an error of perception." The small, closer-set width of the Piaggio's headlights may have made it seem the vehicle was farther away than it was.
Testimony also suggested that Roman Bahena may have been confused as to the type of roadway he was driving on. After the crash, he asked another driver if the road was an autobahn for one- or two-way traffic, according to testimony.
"Some tragic accidents are just that – just accidents. This is one such case," defense counsel Maj. Casey Groher said.
Prosecutors said Roman Bahena wasn't paying attention and wanted to drive fast in his Camaro.
Roman Bahena expressed condolences in court to the Wirsching family, who sat in the court room throughout the duration of the trial.
"Not a day goes by that I don't wish I could go back in time and change what happened," he said. "My only hope is that your hearts one day find peace."
Since the crash, Roman Bahena has excelled in his duties at Ramstein with the 86th Aircraft Maintenance Squadron, those who work with him testified.
During the sentencing phase, Miriam Wirsching described her big brother as loving, caring, always happy, "a ray of sunshine," who was passionate about music and motorbikes.
Wirsching's parents described the immense pain of losing their only son. Hans-Joachim Wirsching said his wife spends countless hours caring for their son's memorial and gravesite and helping their two daughters cope.
"And I, I am standing here to give a statement about a dead son," Wirsching said to court members. "This will clutch at my heart until the end of my days."
svan.jennifer@stripes.com Twitter: @stripesktown