Ramstein aircraft deliver aid to refugees fleeing Libya strife
by
Seth Robbins
March 5, 2011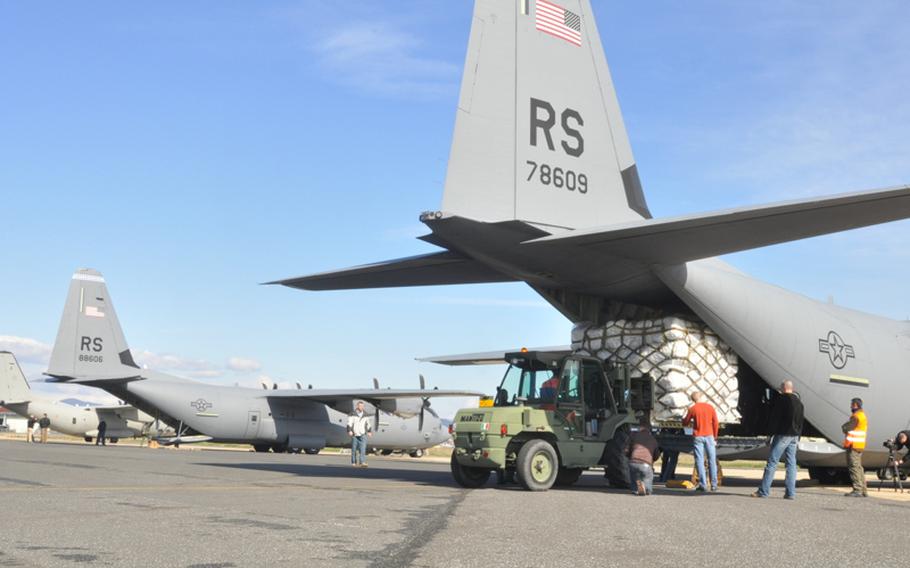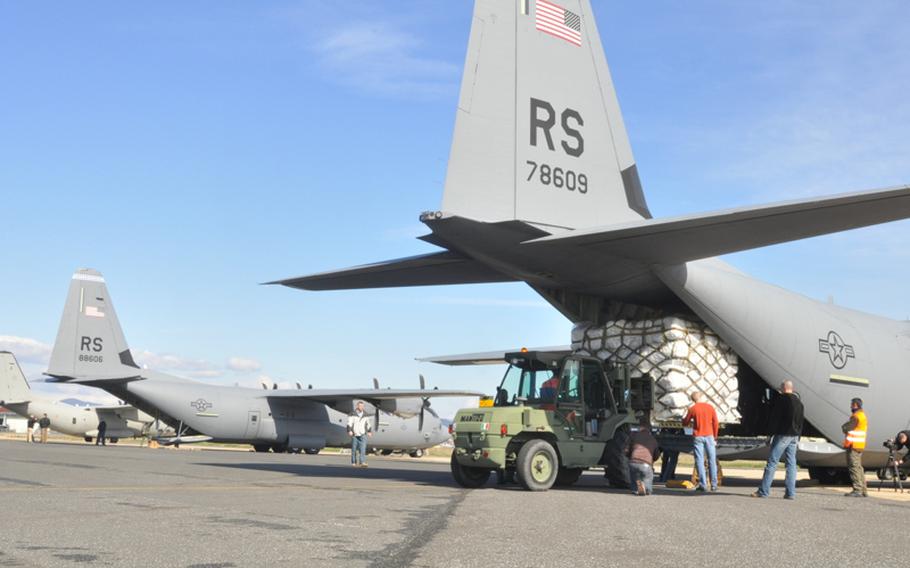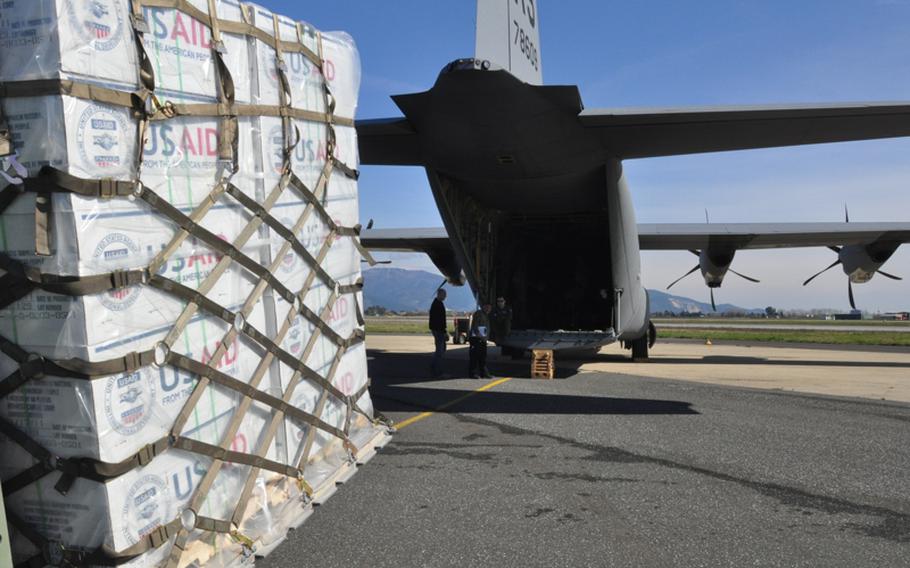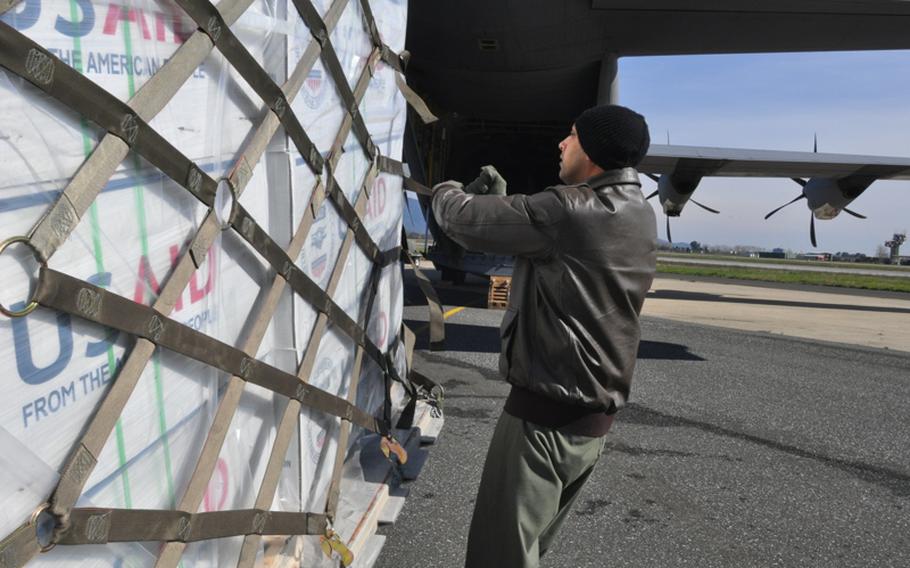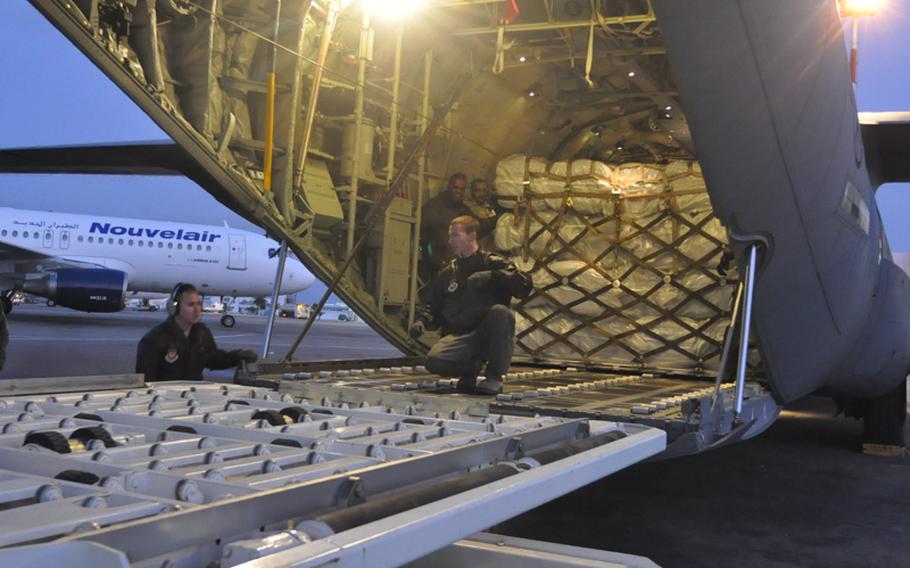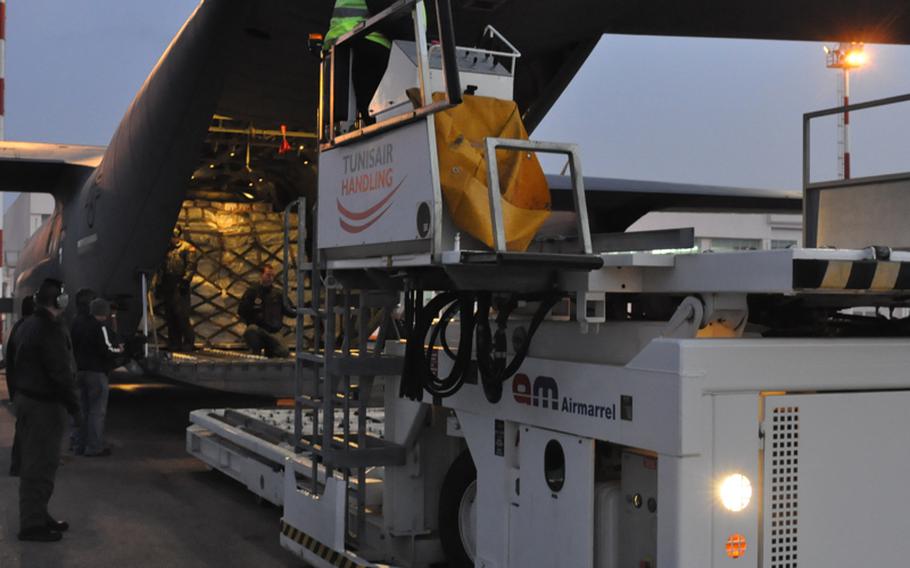 DJERBA,Tunisia —Two C-130 transport planes from Ramstein Air Base in Germany landed at Djerba-Zarzis International Airport here late Friday, bringing with them supplies intended to aid the tens of thousands of refugees fleeing the ongoing conflict in Libya.
On board the planes were hundreds of boxes containing 4,000 blankets, 9,600 collapsible water jugs and 40 rolls of plastic sheeting. The boxes were from the U.S. Agency for International Development, whose members will distribute the materials along the border near the Tunisian city of Djerba this weekend.
The scope of the crisis inside Libya is not known; areas controlled by Col. Moammar Gadhafi's forces have not been open to media or humanitarian organizations. But according to the European Commission, since Feb. 21, more than 83,000 refugees have crossed into Egypt, and as many as 100,000 have sought help in Tunisia.
Working throughout the early morning hours Friday, dozens of airmen prepared the two C-130J Super Hercules aircrafts, which are part of Ramstein's 37th Airlift Squadron. The squadron is tasked with providing air support to U.S. Africa Command, which leads missions on the continent.
"This is my first active disaster with this unit," said Capt. Jason Powell, with the 435th Air Mobility Squadron. "It's very complex, but it shows our ability to help those in need."
Early Friday, the planes took off for Pisa, Italy, where the USAID houses its materials in warehouses at nearby Camp Darby. Alberto Chidini, coordinator of Camp Darby's Humanitarian Assistance Program, brought the cargo to the flightline there, watching as the boxes were loaded. He said he received the call about preparing the shipment Thursday afternoon.
"I've seen the reports," he said. "Supplies are lacking."
Several hours later, the planes took off for the Tunisian airport, but delays there halted the process of unloading. Finally, as the sun's rays descended behind the vast desert, the first of the six pallets were dropped onto the forklifts.
The airmen unloaded the last of the cargo in the wind and dark.
According to the U.N. refugee agency, an estimated 80,000 to 90,000 people, mainly foreign workers, have fled to neighboring Tunisia to escape the escalating violence in Libya between government troops and rebels pushing to oust longtime strongman Moammar Gadhafi.
On Thursday, President Barack Obama outlined his plans to help those fleeing Libya. Getting them the USAID supplies was the first wave in that effort.
While Egypt has the resources to process the refugees, the situation in Tunisia is considered a crisis, and several European nations are also using planes for flying supplies in and refugees out.
According to some media reports, 30,000 refugees tried to enter Tunisia over two days this week. A transit camp was set up on the Tunisian side of the border for refugees waiting for onward transport.
---
---
---
---