Program lets Bamberg, Schweinfurt students keep in touch
by
Dan Blottenberger
September 3, 2011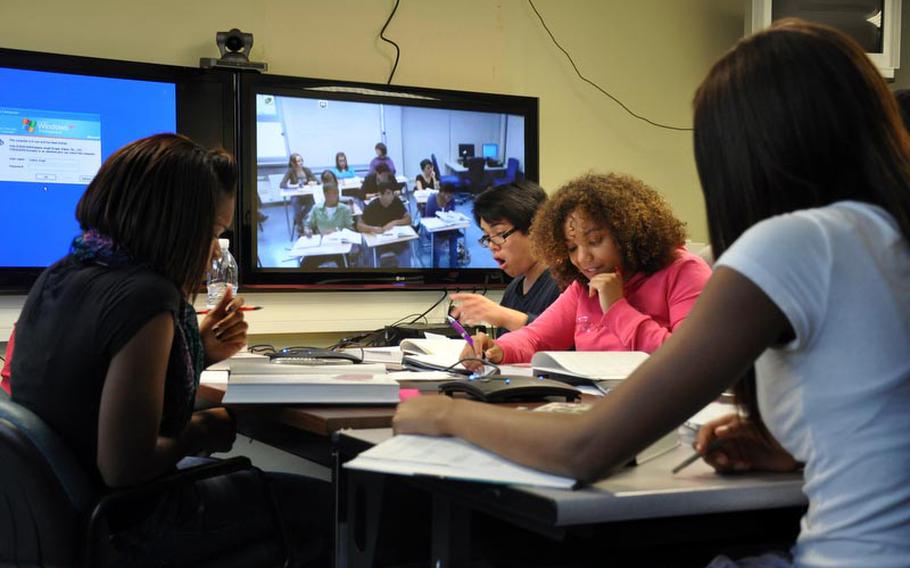 SCHWEINFURT, Germany — Students in the Defense Department school system are fortunate if they get to spend all their high school years in one location, since their military parents are frequently moving.
Rodolfo Bernardino, who lives in Schweinfurt, was one year away from finishing his four years at Bamberg High School. But the decision this summer to open a new high school in Schweinfurt meant he would no longer be attending Bamberg High. Instead, he would be in the first class to graduate from the new Schweinfurt High School.
Bernardino worried that he would no longer get to spend time with his Bamberg schoolmates.
Department of Defense Education Activity officials, meanwhile, were looking for ways to ensure educational continuity for students. Both concerns were at least partially addressed through a new program unofficially called "Blended Learning," which allows Bernardino to see some of his friends via video teleconference every other day during the school week in his Advanced Placement U.S. government class.
The Bamberg-Schweinfurt class is the first of its kind in DODEA, officials said.
Lessons are taught from one location, and students in a class at another school are able to participate via video teleconference. When the students have questions, they raise their hands and the teacher sees them on a video monitor.
A second monitor allows both classes to see the same visual elements. Students in the remote classroom also can scan their work, so the teacher can see it and give instant feedback, officials explained Friday during a demonstration at the Schweinfurt school.
"I think it is a fantastic class," said Bernardino. "I think it is very pleasant to see my friends, my former classmates in Bamberg — it is very interactive."
Elaine Engel, who teaches the class in Bamberg, is familiar with students in both classes from previous high school years. Six of her 14 students are joining via video conference from Schweinfurt. As a teacher, she has to be mindful of the virtual environment.
"This format will be worthless if you just teach from a textbook," she said in a telephone interview Friday. "This style demands discussion and interaction."
She also says teachers and students need to learn to slow down a bit and take turns in the virtual format. She noted that this is the "wave of the future" and it is taking place in universities and schools across the U.S.
The program also allows students to participate in subjects that may not be available in their location, officials said.
Marilee Fitzgerald, acting director for DODEA, was among those taking part in the demonstration class Friday. She is visiting Europe-based schools during the first week of the new school year.
She heard several suggestions on how to improve the program. For example, at times, the screens are out of focus and students find themselves having to yell into the speakers in order to be heard.
"We will make it better," she told students from the classroom in Schweinfurt. "You need to be good critics. This kind of technology in your classroom helps you access information that you might not otherwise get, because your class sizes are too small," she told the joint class.
"We are moving out of the 20th century where everyone learned the same thing on the same page on the same day and moving to something that is far more student-centered," she said.
blottenbergerd@estripes.osd.mil