Popeyes chicken sandwich is back — but not at overseas military locations
---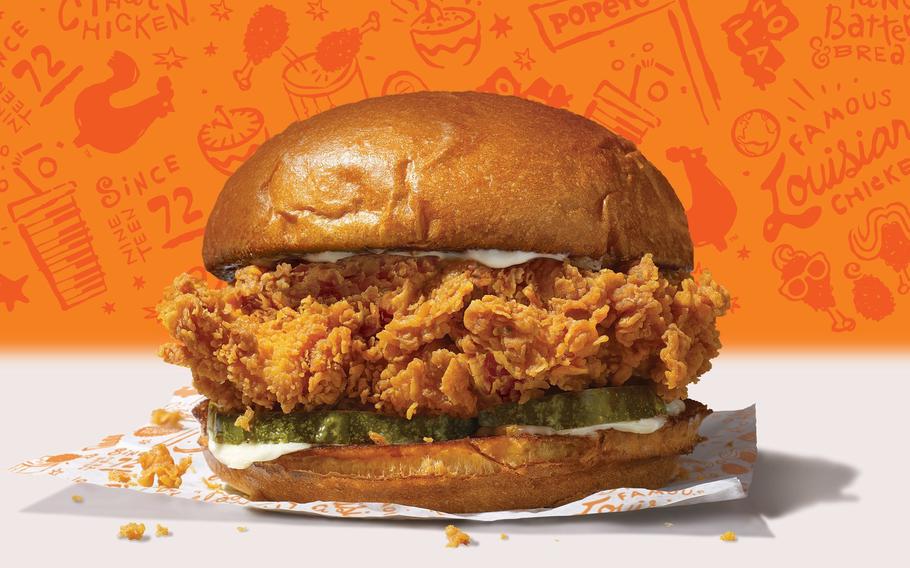 ClarificationA previous version of this story said the Popeyes chicken sandwich would be available at all of its locations, based on information released on an Army and Air Force Exchange Service website and on social media. The sandwich will be available at locations in the U.S.
———
Service members overseas will have to wait a little longer for a taste of Popeyes chicken sandwich after all.
After Army and Air Force Exchange Service announced that the crispy morsels would be sold at all Popeyes Exchange locations starting this weekend, a spokeswoman said the sandwiches would be available only at locations within the United States starting Sunday.
Information posted Tuesday on the Exchange's website under Community Hub and on its Facebook page said the sandwich would be "at all Exchange Popeyes locations." That was an error, said the spokeswoman, Julie Mitchell.
The Exchange is working with Popeyes to bring the sandwich to locations overseas, Mitchell said.
"As soon as we know when we can launch it globally, we'll tell the world," she said.
Popeyes introduced the $3.99 sandwich Aug. 12, only to see sales skyrocket amid reviews that described it in terms such as "the best new thing in fast food" and a "game changer in the fast-food world."
Two weeks after the launch, Popeyes announced it was suspending sales because it had run out of supplies.
The suspension came before Popeyes could distribute the sandwiches to its stores on overseas bases, leaving military members and their families wondering what the fuss was all about.
During the two weeks of sales, Popeyes sold about 1,000 chicken sandwiches per store each day, doubling its store traffic, according to an industry analyst at KeyBanc Capital Markets.
"We, along with our suppliers, are working tirelessly to bring the new sandwich back to guests as soon as possible," Popeyes said in September.
Sales have proved a bonanza for Popeyes and its owner, Restaurant Brands International, which spent the last weeks working to secure ingredients and negotiate prices with suppliers. The company hopes the sandwich will also pave the way for an international expansion, The Wall Street Journal reported last week.
Restaurant Brands said third quarter results for Popeyes were among its best in nearly 20 years.
---
---
---
---