Pence to Europe: US stands by NATO but allies must share burden
---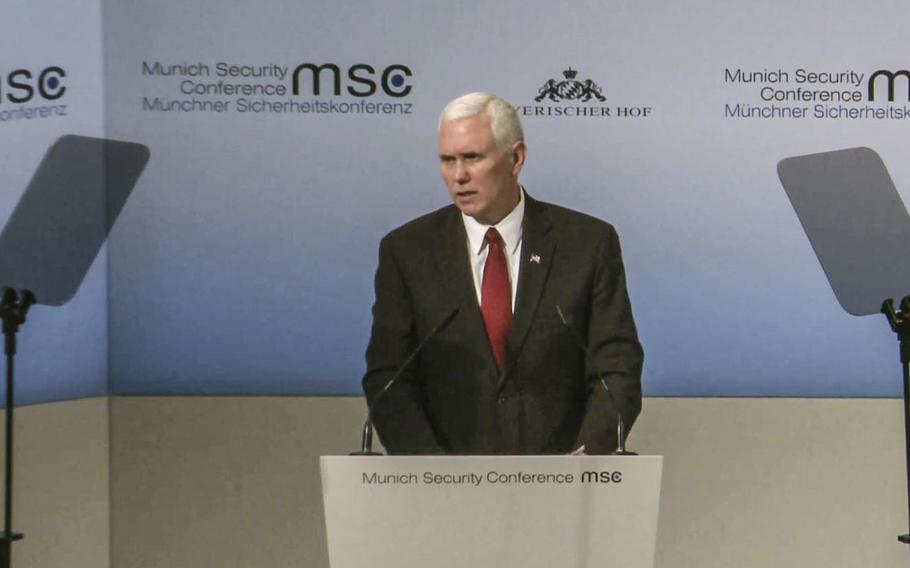 MUNICH — Vice President Mike Pence delivered a tough-love message to Europe on Saturday, saying the United States stands behind NATO, yet U.S. allies' failure to carry their share of the security burden will no longer be tolerated and threatens to damage the 68-year-old military alliance.
Pence, on his first trip to Europe as vice president to attend a major security conference in Munich, told German Chancellor Angela Merkel that U.S. military spending is set to rise and America's enhanced military presence in eastern Europe will continue, but Europe must contribute more.
"Europe's defense requires your commitment as much as ours," Pence said. "Let me be clear on this point, the president of the United States expects our allies to keep their word. For most, that means the time has come to do more."
Inside the assembly hall of the Bayerischer Hof hotel, the applause was sparse as Pence laid bare President Donald Trump's insistence that money matters when it comes to strong defense. This position threatens to put the U.S. at odds with Germany, the main economic power in Europe, and one of the nations that dedicates a small share of its budget to defense.
For Europeans, Pence's appearance was a chance to get a glimpse of how the U.S. policy toward the Continent will evolve under Trump, whose "America first" slogan has shaken confidence over Washington's commitment to NATO and support for the EU.
While Pence delivered a stern message on defense spending, he also aimed to reassure nervous allies on Russia, saying Trump will "hold Russia accountable even as we look for common ground."
Trump's emphasis on seeking closer ties with Moscow has sparked concerns in parts of Europe, particularly among eastern nations worried about a more aggressive Russia.
"I bring you this assurance, the United States of America strongly supports NATO and will be unwavering in our commitment to this trans-Atlantic alliance," Pence said. "As you keep faith with us under President Trump, we will keep faith with you."
In Munich, the U.S. has sought to deliver a message of solidarity, with Defense Secretary Jim Mattis speaking of the U.S. commitment to defending Europe. Still, there is lingering doubt about the credibility of those claims given the many contradictory statements by Trump in recent months.
In recent years, Russia has blasted U.S. policy toward Moscow at the Munich conference. This year, Russian Foreign Minister Sergey Lavrov changed his tone. While he complained about NATO's expansion since the end of the Cold War, Lavrov stop short of issuing critical remarks against the new U.S. administration, leaving open the door to political and military cooperation. "We are open for that in as much as the U.S. is open for that as well," Lavrov said.
Merkel, who spoke before Pence on Saturday, defended Europe's dedication to multinational institutions like the EU, which Trump has derided and which are under threat from rising populist movements that share the American president's skepticism.
"Is this multilateral approach really the one to solve problems?" Merkel asked. "Some will say, should we not concentrate on ourselves?"
"These challenges of the world today cannot be mastered by one state alone," Merkel said.
Merkel defended the kind of multilateral approach in Europe that has marked the post-World War II period, but is now under threat after the British decision to break away from the EU.
Merkel said Germany is committed to spending more, but will do so at its own pace. Berlin is set to increase expenditures by 8 percent this year and aims to reach the NATO benchmark of 2 percent of gross domestic product in about eight years.
"We will do everything we can in order to fulfill this commitment," Merkel said, adding that a strong Europe is also in America's interest.
"The Europeans alone could not cope with fighting Islamic terrorism," Merkel said. "We need the strength and power of the United States of America."
For Germany, a key question will be whether it can consolidate the political will and convince voters that a more powerful military is important in a country that has a strong pacifist streak dating to its crushing defeat in World War II.
It is unclear whether Germany's gradual pace of building up its military will satisfy the Trump administration or damage relations in a deeper way.
At a late night session Friday led by retired Adm. James Stavridis, a former supreme allied commander of NATO, officials debated the alliance's future.
The question for the forum: Is NATO "Obsolete" or "Very important?"
"Both of those quotes come from the same person (Trump)," Stavridis said. "That is a pretty interesting spread of opinion."
vandiver.john@stripes.com Twitter: john_vandiver
---
---
---
---