Pence says US committed to expanding military presence in Poland, details still thin
by
Jennifer H. Svan
September 2, 2019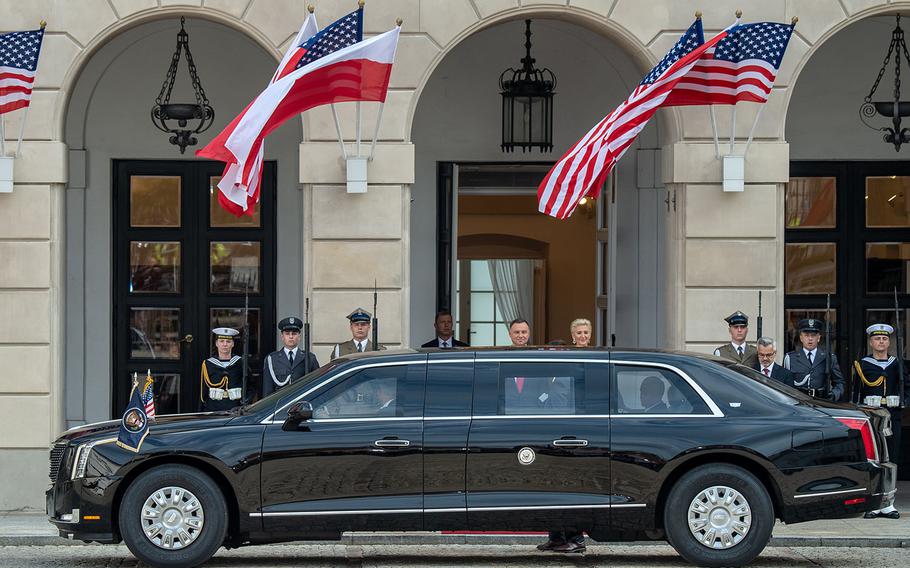 WARSAW, Poland — The U.S. and Poland are moving ahead with a plan to add another 1,000 U.S. troops to the country, perhaps by the end of this year, said Vice President Mike Pence and Poland's President Andrzej Duda at a joint news conference Monday.
"Lots of proposals have been put on the table," Duda said. "We hope this year we will be able to sign a final agreement concerning the extension of the U.S. presence" in Poland.
Pence said sites "for our joint bases have also been finalized," but referred a reporter's question about the timeline of the boost into Poland to the Pentagon.
Pence and Duda did not say to which locations U.S. military personnel would go. U.S. troops currently live and train at about half a dozen Polish bases on a rotating or temporary basis.
"I know that is in the process as we speak," Pence said of timeline targets, "and it reflects a part of the United States' ongoing commitment to this alliance and our relationship to Poland, rotating troops through this country."
Pence and his wife arrived in Warsaw early Sunday morning to attend the 80th anniversary of the outbreak of World War II along with dozens of foreign leaders from across Europe. He came in place of President Donald Trump, who canceled his trip earlier in the week to better monitor Hurricane Dorian, which is battering the Bahamas after making landfall as a Category 5 storm and is forecast to stay just off the U.S. coast as it turns up the eastern seaboard.
Trump is expected to reschedule his trip to Poland this fall, Pence said.
"The president was truly disappointed that circumstances in our country did not allow him to be here," he said.
When Trump does visit, he likely will demand certain NATO allies spend more on defense, a drum he's been beating since the start of his presidency — and a theme repeated by Pence during his visit to Warsaw.
In a speech at the World War II event Sunday, Pence said the U.S. and Poland should "call on our allies to live up to the promise we made to one another."
On Monday, Pence elaborated on that message, praising Poland for being one of only seven countries in the 29-member NATO alliance to meet a NATO target calling for each member to spend at least 2% of gross domestic product on defense by 2024.
"We commend President Duda for committing to that and also his aspiration to well exceed that amount in the not-too-distant future," Pence said. "I can assure you that when President Trump is next in Poland, two things will happen: He will commend President Duda for his commitment to our common defense and he'll continue to call out our NATO allies.
"It simply does not make sense for the people of the United States to bear the lion's share of the burden of defending Europe when so many countries in our NATO alliance fail to meet the minimum obligation that every nation in this alliance made to one another."
Trump's insistence on enforcing the NATO spending goal has caused a rift with Germany, where Chancellor Angela Merkel's government announced earlier this year a three-year budget plan that would fall even lower than an earlier target of 1.5 %.
Pence called out Germany for its increasing dependence on Russia for its energy needs, referring to natural gas pipelines under construction from Russia to Germany via the Baltic Sea.
"This is another point Trump will continue to raise," Pence said.
Pence asserted the relationship between Poland and the U.S. under Trump and Duda is the strongest it's ever been. Proof of that includes plans to allow Poles to travel visa-free to America soon, Pence said.
"I'm pleased to report Poland is nearing eligibility for our visa waiver program," Pence said, noting an announcement could be forthcoming when Trump visits Poland next.
The visa requirement has long been a sore point in relations between the two nations. Poles, unlike Western Europeans, must apply for U.S. visas in order to travel to the U.S.
svan.jennifer@stripes.com Twitter: @stripesktown