Pence: Patience of American people being tested by NATO
---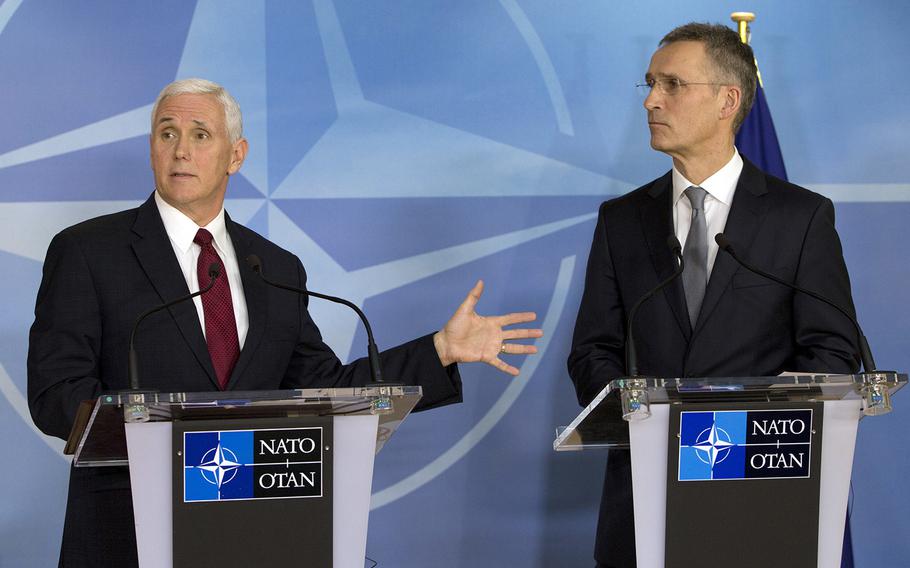 NATO allies must accelerate defense spending this year in answer to a U.S. demand that Europe carry a heavier burden — or face consequences, Vice President Mike Pence said Monday during a visit to the alliance headquarters in Brussels.
When asked what measures Washington could take if allies fall short, such as pulling some troops out of Europe, Pence declined to offer any details. But he underlined the U.S. has grown weary of allies not keeping their commitments on defense spending.
"I don't know what the 'or else' is," Pence said. "But I do know the patience of the American people will not endure forever."
Pence, who was wrapping up his first visit to Europe as vice president, reiterated much of what he told leaders at the Munich Security Conference on Saturday. President Donald Trump has issued a demand that NATO members move toward reaching agreed to spending levels, which requires members dedicate at least 2 percent of gross domestic product on defense. Only five of NATO's 28 states reach that benchmark.
"The president expects real progress by the end of 2017," Pence said.
Defense Secretary Jim Mattis at a meeting in Brussels last week warned allies that the U.S. could "moderate" its position toward NATO should allies fall short.
Trump's demand struck fear into many allies amid speculation the U.S. could back away from its security commitments at time of concern on the Continent about a more assertive Russia.
Pence said the U.S. was "committed to do our part. But the time has come for our NATO allies to step forward."
vandiver.john@stripes.com Twitter: @john_vandiver
---
---
---
---