One-fifth of airmen failed to meet standards in new fitness test
by
Jennifer H. Svan
August 13, 2010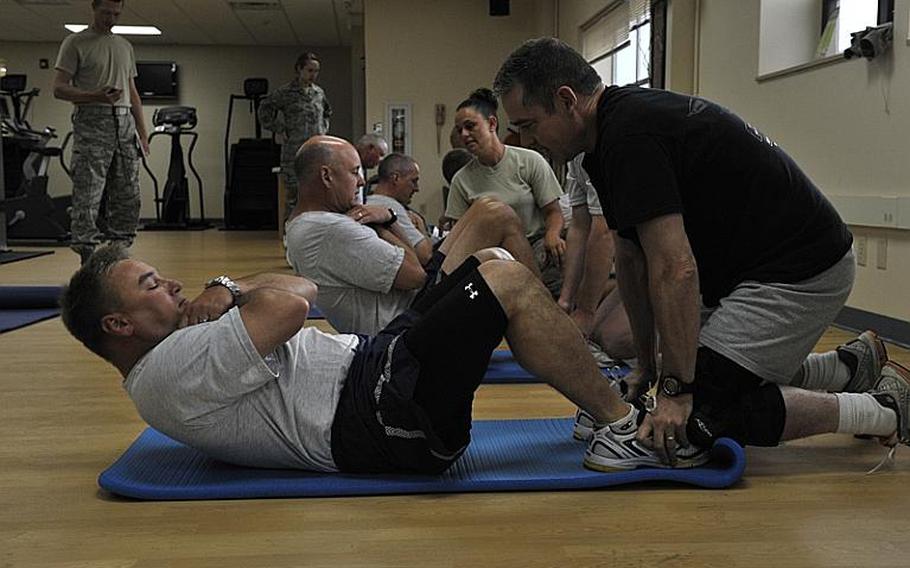 KAISERSLAUTERN, Germany — About 20 percent of airmen failed the Air Force's new physical fitness test in July, the first month the new standards were in effect, Air Force officials said Thursday.
Now, the roughly 6,000 airmen who failed — out of 30,000 active-duty, Guard and Reserve troops tested — have 90 days to try again.
Though the failure rate was roughly double that of the old test, the results were better than anticipated. Based on a sampling of airmen unofficially testing under the new standards since January, the Air Force had warned in May that the failure rate could be as high as 33 percent.
"We are encouraged that the failure rate is not as high as we expected," said Chief Master Sgt. Mark Long, chief of enlisted promotions, evaluations and fitness.
Additionally, about 40 percent of the airmen who took the test posted scores of 90 or higher out of a possible 100 points, which was also double the rate under the old standards.
Long said the Air Force is still analyzing data from early test results and could not say which components were giving airmen the most trouble.
The new standards are "comparable to our sister services" and are scientifically-based and vetted, he said.
"A 20 percent failure rate … that's still a high number, but we stand by the test," he said.
Airmen who fail must enroll in a "healthy living program" that targets nutritional and exercise behavior changes.
Under the new policy, commanders can discharge airmen who fail consecutive tests if they find the airman failed to demonstrate significant improvement and a medical condition is ruled out. They must, however, make a discharge or retention recommendation when an airman remains in the unsatisfactory fitness category for 12 months or receives four failing scores in 24 months, according to Air Force guidance.
No one has been kicked out yet because of the new standards, Air Force officials said.
The service announced the new PT standards in 2009 after an internal audit found the existing program did not promote year-round fitness. Auditors reported 35 percent of airmen tested at 13 bases worldwide gained weight and recorded significant increases in abdominal circumference measurements within 60 days of taking their annual PT test.
The new standards mark the first major revision to the Air Force fitness program since 2004, when the Air Force replaced the cycle ergometry test with the 1.5-mile run.
The most significant changes rolled out July 1 include biannual testing, rather than every 12 months; the hiring of 250 civilians to administer the test, and a minimum passing score in each of the components: the 1.5-mile run; sit-ups and push-ups completed in one minute each; and waist measurement.
The Air Force is most encouraged by the number of airmen who scored 90 or higher, according to Col. Julie Boit, chief of military force policy division. A 90 or above and a minimum passing score in each component allows an airman to only test once a year.
"There is a carrot out there for airmen to not just meet the standard but exceed it," Boit said.