Not-so-grand theft auto: Transmission foils US soldier's attempt to steal a cab in Germany, police say
---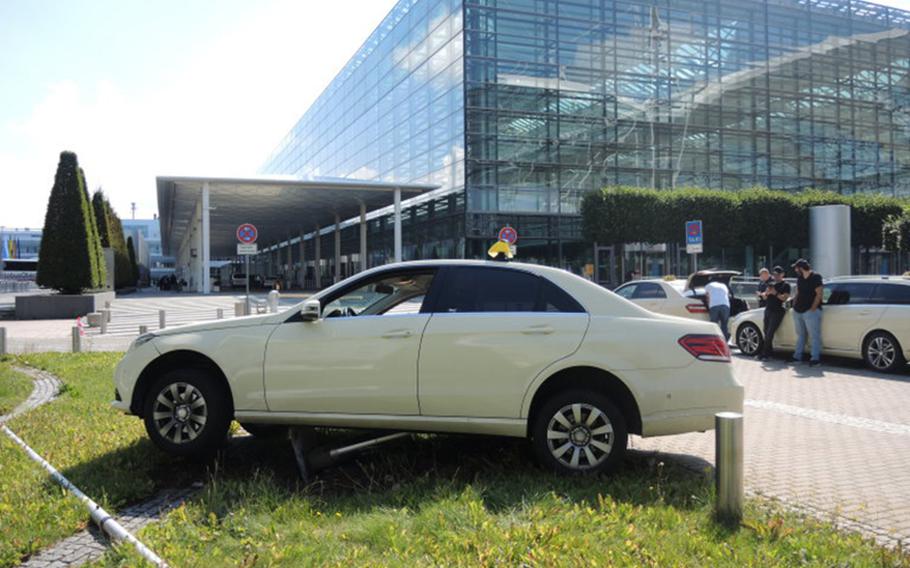 KAISERSLAUTERN, Germany — A 19-year-old American soldier who is accused of trying to steal a taxi at Munich International Airport was thwarted by the car's transmission, German police said.
The soldier, a member of the 2nd Cavalry Regiment based at Vilseck in Bavaria, was supposed to be flying back to the U.S. from Munich International Airport last week, regiment spokesman Maj. John Ambelang said.
Instead, he is accused of trying to take a Mercedes taxi for a spin after seeing the keys in the ignition and no one in the driver's seat, said the Munich airport police, who are investigating the incident.
The soldier is also accused of assaulting the 50-year-old cab driver when he tried to stop him from taking the car, the police statement said.
The taxi driver was outside the vehicle, leaning on the hood, enjoying the fine summer weather Wednesday morning as he waited for passengers at one of the airport's cab ranks, the statement said.
All of a sudden, he noticed that the engine was on, it said.
"Surprised, the taxi driver turned around and saw a stranger sitting in the driver's seat," it said.
The soldier tried to drive off "but was apparently not prepared for the Mercedes' transmission," it continued.
The car was an automatic, the statement said, without specifying if it had five, seven or nine gears, where the gear selectors were located or how to use them.
With the car juddering violently as the soldier tried to put it into gear, the cab driver got into the front passenger's seat to try to stop him.
During the ensuing scuffle, the soldier managed to get the car into gear and drove off. He didn't get far, though, because he crashed the vehicle into a post at the side of the road, doing about $11,800 in damage to it, the statement said.
The American then punched the cab driver in the face before trying again to drive off. But when it became clear that the car wasn't going anywhere after colliding with the post, the soldier leapt out and tried to flee on foot — only to run straight into the arms of police officers, who detained him, the statement said.
The soldier later was handed over to Hohenfels military police, said Ambelang.
German police are investigating the soldier for theft and assault, they said. He could also face a court-martial, Ambelang said, declining to name the soldier "to maintain the integrity of the investigation and protect (his) privacy."
"Germany has primary jurisdiction over crimes committed by soldiers that violate host nation law," but often hands authority for offenses committed by soldiers to the Army, Ambelang said.
"Regardless, the soldier is no longer returning to the U.S. until the investigation and any follow-on administrative or legal actions are complete," he added.
Reporters Immanuel Johnson and Karin Zeitvogel contributed to this story.kloeckner.marcus@stripes.com
---
---
---
---