New exercise class brings babies into the workout mix
by
Jennifer H. Svan
December 26, 2011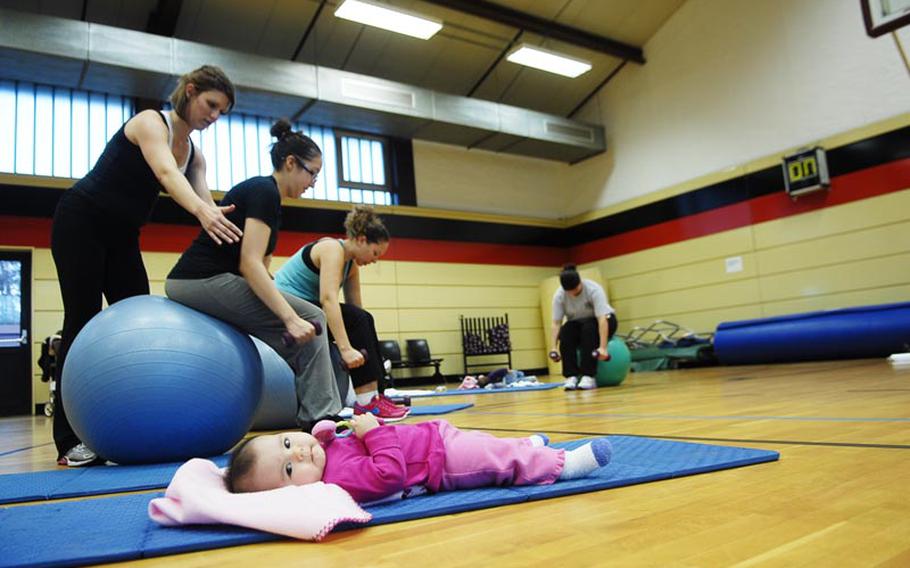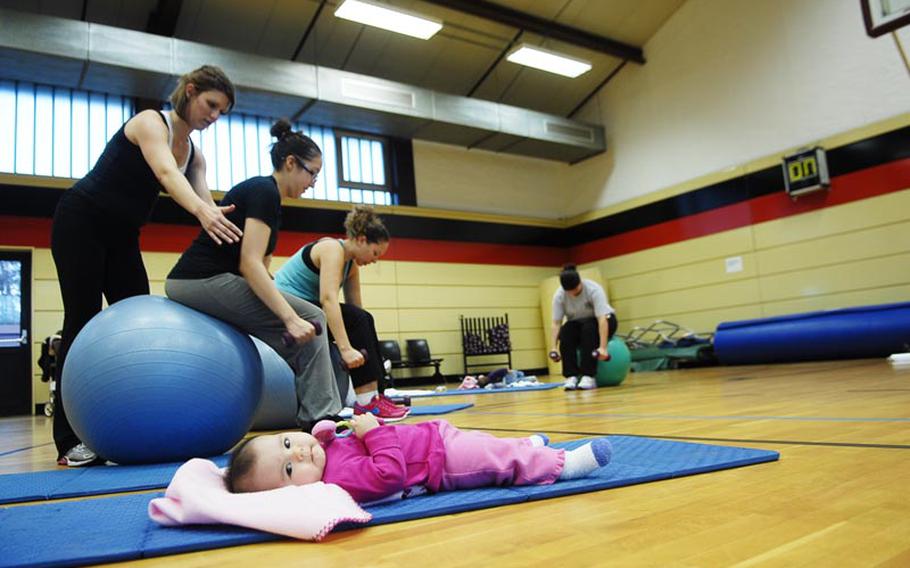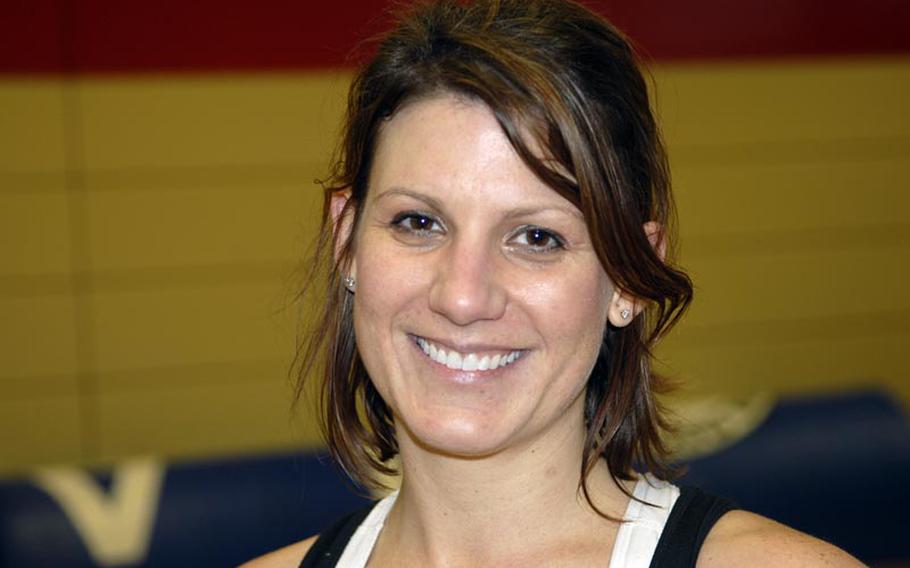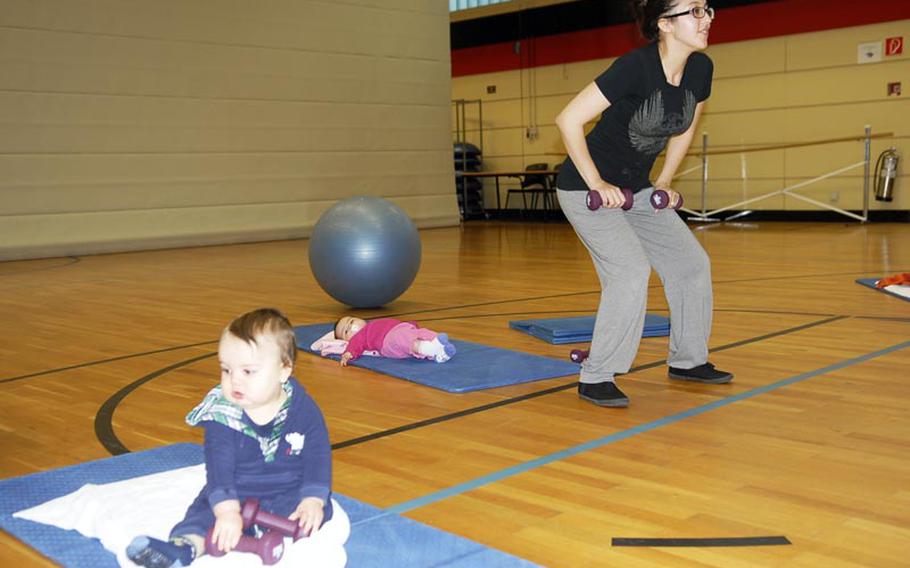 KAISERSLAUTERN, Germany — Lunges with a 13-pound baby in tow?
Fitness instructor Amy Robitschek makes it look easy.
On a recent December morning at the fitness center on the grounds of the Landstuhl Regional Medical Center, Robitschek led a group of mothers carrying their babies while performing a series of walking lunges, a workout intended to strengthen leg muscles.
"If you don't feel stable with the baby, you can stand in one place," she instructed.
Her class, the weekly Binkies and Babes, is one of several new Army fitness classes being offered in Kaiserslautern for the whole family.
U.S. Army Garrison-Kaiserslautern is trying to provide more opportunities for parents — in particular stay-at-home spouses with young children — to get out of the house and exercise, says Renee Champagne, the garrison's fitness coordinator.
"Overseas life adds to the plethora of challenges for military families, especially mothers, to find ways to exercise, without needing to worry about child care," Champagne said. Being overseas can be isolating for parents who feel "stuck at home," she said, a situation that can contribute to depression, obesity, alcohol abuse and other problems.
"We're trying to reduce that and provide something for everybody," Champagne said, while also supporting the military mission. Working out and staying physically fit may help a spouse cope during a deployment, for example, she said, which in turn could provide peace of mind to the military member downrange.
"We want to have a healthy family to support our soldiers and airmen," agreed Robitschek.
Bringing the kids along to work out can also help curb childhood obesity, Champagne said, allowing parents "to lead by example."
Children are welcome to participate in nearly all the fitness classes being offered by USAG-Kaiserslautern, including Zumba, RealRyder Cycling, Family Fitness, H.I.T. (High Intensity Training), Tai Chi and Yoga Sculpt. Most of the classes don't have age limits.
Binkies and Babes, as its name suggests, is for parents with a baby or toddler, between the ages of 6 weeks and 2 years. All classes are held during the daytime at fitness centers on LRMC, Miesau Army Depot, Sembach Kaserne, Kleber Kaserne or Rhine Ordnance Barracks. Classes cost $4 per class, or $6 if taken with a child. Champagne's Yoga Sculpt, which combines yoga-inspired movements with weights, is free.
The new offerings were added to the garrison's Morale, Welfare and Recreation fitness calendar in the last three months, Champagne said.
"Every class I've brought forward, I haven't gotten a 'no,' " she said. "MWR has been very supportive. They're just letting me create."
Champagne, 39, a mother of two and a former elementary school physical education teacher, is still creating and hopes to offer kickboxing for families starting in February, she said.
"If people have ideas, I want to hear them," she says.
Key to the program's success is finding instructors willing to include children in their classes, Champagne said.
"It takes an instructor with patience and experience," she said. "You have to be flexible because class isn't always going to go as you want it."
During the hour-long Binkies and Babes class, Robitschek offered to hold a fussy baby while her mother did crunches on an exercise ball. She didn't seem to mind when an older baby, intent on exploring, crawled up to her while she was trying to demonstrate proper technique for another exercise. She effortlessly picked up the 25-pound boy and showed the class how to march in place with knees up, toes pointed out and baby in the "flying position."
"This is the place where they're welcome to definitely take care of their babies first, if you need to change or feed or just cuddle your baby," Robitschek said of the parents.
Robitschek said her goal is to create an exercise class in which parents can attend to their babies in a "nonjudgmental, unintimidating" environment.
Robitschek is certified through Mommy and Baby Fitness, a Canadian organization that designed a postnatal fitness program that incorporates "infant stimulation" and other activities to foster parent-child bonding, according to its website. In Robitschek's class, those infant-oriented segments include bouncing babies gently on the knee while singing songs and playing with a multicolored parachute she spreads on the gym floor.
But the 31-year-old Air Force spouse with a master's degree in public health also stresses to new mothers the importance of taking care of themselves, a lesson she said she learned the hard way after her son, Greyson, now 2, was born.
"I was out of shape, a little depressed," she said. "Once I started working out again and incorporating my son, it brought a great joy to my life."
Mothers in Robitschek's class said it's hard to find child care, so being able to bring their babies along makes it easier for them to exercise.
"I'm always at home," said Melissa Van Hausen, 24, the spouse of an Army civilian and mother to 6-month-old Marissa. "It gives her some time to get out, too, while I'm working out, so it's ... beneficial for both of us," she said.
For information on class times and locations, look under "weekly happenings" at: www.mwrgermany.com/kaiserslautern.html
if(typeof(dstb)!= "undefined"){ dstb();}
if(typeof(dstb)!= "undefined"){ dstb();}
if(typeof(dstb)!= "undefined"){ dstb();}