New customs forms, rolling out in August, could mean longer waits at post offices for service members
by
Rose L. Thayer
July 14, 2020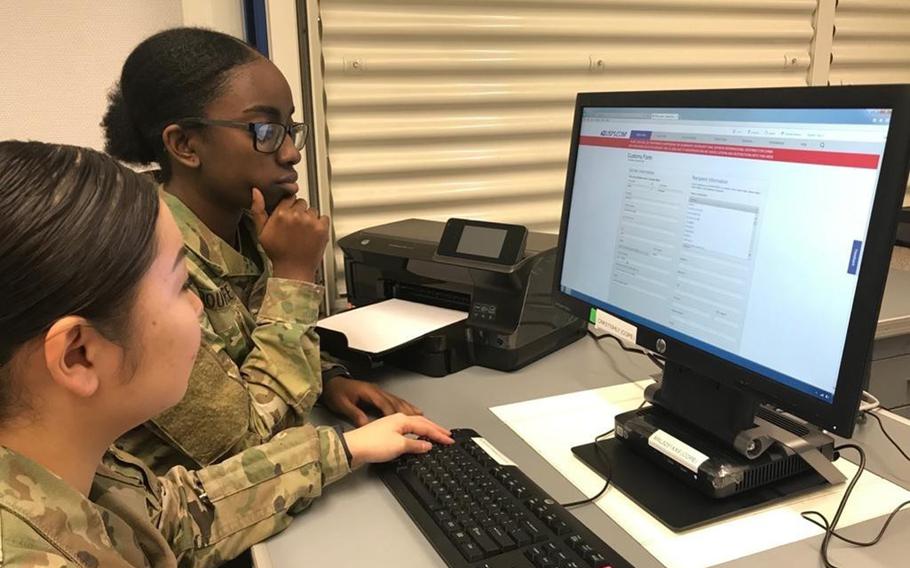 New electronic customs forms will be required in a month and could result in longer lines at military post offices for service members looking to mail packages back to the United States.
A previously delayed rollout of the U.S. Postal Service's electronic customs forms, which significantly changes how overseas service members mail packages, is set to go into effect Aug. 13, according to the U.S. Army Europe's Installation Management Command.
Overseas post offices will stop accepting handwritten customs declaration forms at that time. Military postal officials recommend customers begin adjusting to the change now and familiarize themselves with the new requirement. Customers can fill out and print the correct form online either at home or computer-equipped kiosks that will be available at military post offices.
"We ask for customers' patience and understanding if the policy change causes longer wait times at the counters. We will continue to do everything we can to support their needs as we implement this new policy," Mike Kinstle, program manager for the postal operations branch at IMCOM-Europe, said in a statement.
After Aug. 13, customers can still fill out customs worksheets at the post office, but they will have to wait as a postal clerk enters the information into the retail system, Bill Hilsher, chief of postal plans and policy at U.S. Army Europe, said in a statement. This will take time and cause longer lines and wait times, he said.
The change directly relates to forms 2976, 2976-A and 2976-B, according to the Army news release. Packages found with handwritten customs declaration forms after Aug. 13 will be returned to the sender, according to the Postal Service.
The change took effect stateside in March, but officials asked to delay the requirement at overseas military post offices, Hilsher said in February.
thayer.rose@stripes.com Twitter: @Rose_Lori