New commander takes charge of 100th Air Refueling Wing
---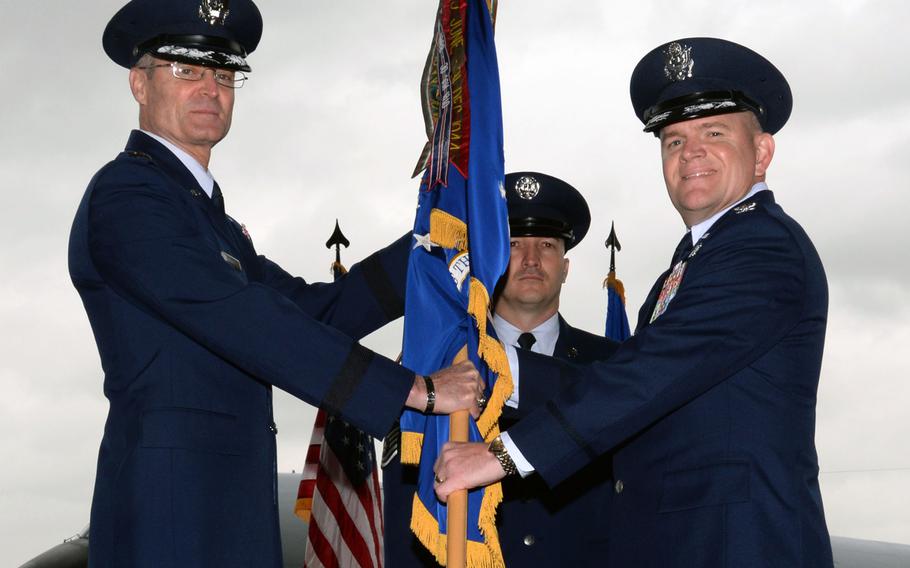 Col. Thomas D. Torkelson assumed command of the 100th Air Refueling Wing in a change-of-command ceremony Friday at RAF Mildenhall in England.
Torkelson replaced Col. Kenneth T. Bibb, Jr.
The 100th, which has 15 KC-135 aircraft, is the U.S. military's only permanently assigned air refueling operation in the European theater. A 1992 Air Force Academy graduate, Torkelson has served as an instructor and evaluator in the KC-135R and the C-21A, according to his official biography.
He also holds degrees from the Air Force Institute of Technology and Air University's School of Advanced Air and Space Studies.
This is Torkelson's second stint at the 100th, where he served as chief of safety from August 2009 to July 2010.
He last served as the vice commander of the 18th Wing at Kadena Air Base, Japan.
"It is a sincere honor to be back in the Bloody Hundredth as an active member," he said at the change-of-command ceremony.
"Thank you for your continued support of those who defend freedom," Bibb said. "It was an honor and privilege to serve our great nation and command the Bloody Hundredth."
---
---
---
---