Navy vet runs the world to raise suicide prevention awareness
by
John Vandiver
January 1, 2020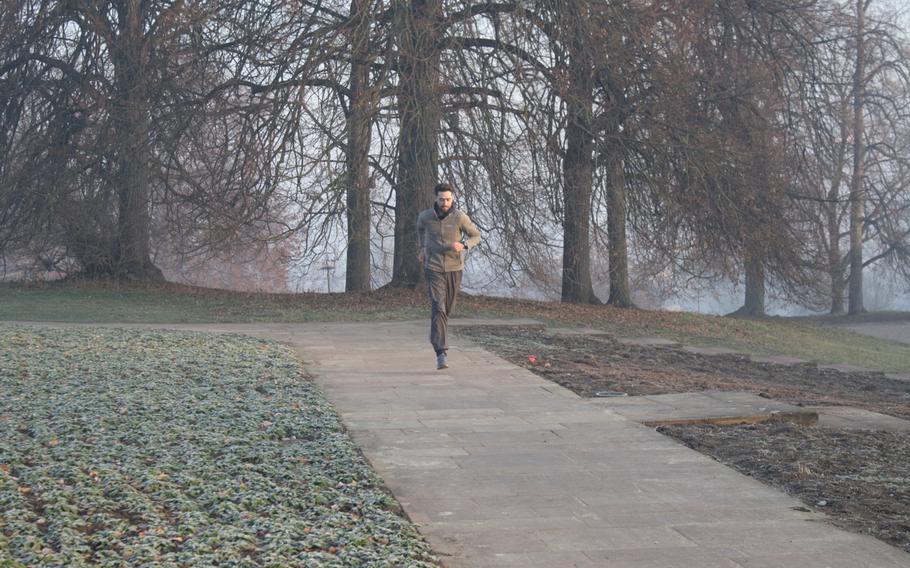 STUTTGART, Germany— Navy veteran Dustin Johnson was in despair.
He was already struggling with his transition into civilian life, and a fire burned his Missouri home to the ground in January 2019. It was the final straw for Johnson, who said he attempted suicide in the aftermath of the blaze.
"I lost everything that I owned, and that was like my rock bottom," Johnson said.
A year later on New Year's morning, the 25-year-old began an attempt at setting a record for the longest nonstop journey on foot — a 420-mile sleepless trek from Stuttgart to Berlin that will take about six days to finish. The endurance test is just one part of a broader effort by Johnson to raise awareness about preventing veteran suicides by running extraordinary distances.
Since April, Johnson also has been on a quest to become the first American to circumnavigate the globe on foot. So far, he's run more than 6,000 miles. When he is finished, the trip will add up to 16,400 miles across four continents. He estimates that his run, which will end in his home state of Missouri, will be completed by late November 2020.
He averages about 30 miles of running per day and has already completed a stretch across part of the U.S. and South America and is now crossing Europe. After that, he will run across New Zealand and Australia before finishing in the western part of the U.S.
In Germany, Johnson, a former Navy plane captain responsible for making sure aircraft were fit for flight, has been joined for parts of his run by members of the military community. In Kaiserslautern and Stuttgart, he's also met with troops to talk about suicide awareness.
The suicide rate among veterans is about 1.5 times the rate of those who never served in the military, according to Department of Veterans Affairs data.
"It was pretty inspirational in terms of someone who hit his low and found a way to turn his life around in a year. And then to put all that toward bringing awareness to suicide, particularly veteran suicide, it is pretty incredible," said Stuttgart garrison commander Col. Jason W. Condrey, who was part of a group of Americans gathered at Stuttgart's Killesberg Park Wednesday morning to see Johnson off to Berlin.
Many military members have connected with Johnson during his journey — the Facebook page Dustin Johnson's World Record Run posts regular updates on his journey. Johnson said he often hears directly from veterans who share stories about their struggles.
Johnson said that during his own physical struggles on the road, what keeps him going is the idea of other veterans who are having a hard time. "I put a lot pressure on myself. People can see me doing this. If I was looking at somebody when I was going through my hard time, and saw them give up, it would make me feel even worse," Johnson said. "If I quit, then they may quit."
While the runs so far have been a battle against the elements and endurance, the trip from Stuttgart to Berlin will be a different kind of test. It's staying awake that has him worried.
"The sleep deprivation is no joke," he said.
The record for the longest nonstop journey on foot recorded in Guinness World Records belongs to Georges Holtyzer of Belgium, who walked 418 miles in six days in 1986. Guinness no longer monitors this particular record, but Johnson is gunning for it nonetheless and will submit his attempt to the World Runners Association.
Other than a two-minute bathroom break every four hours, the rules of the test require that a person's feet can never stop moving, Johnson said. An assortment of data-collecting GPS devices will monitor Johnson's steps.
The plan is to start off with a 12-hour run and then transition to a walk. If he has the energy, he'll alternate as he heads toward Berlin. Along the way, he hopes to connect with a childhood friend based at the U.S. Army's garrison at Grafenwoehr who can keep him company on foot for a short leg of the trip.
"I'll be on my feet. I can't stop moving," Johnson said.
The drive to run around the world traces back to a childhood dream when Johnson first heard stories about a small group of runners who completed the world run. After his suicide attempt last year, a doctor suggested he put his talent for running to use, Johnson said. That's when the idea of attempting the world run came together in his mind.
In the beginning, the world run wasn't just about raising awareness. It also was to be a means for finding himself, something Johnson said finally happened after pushing to the top of a 16,000-foot mountain in the Andes.
"That was the moment where I say I found myself," he said. "So now I am 100% focused on helping others."
There have been challenges along the way. He was sidelined briefly after getting hit by a truck in Chile. He was awakened in the night by three jaguars in Argentina and was lunged at by a 7-foot snake along a trail.
The hardest part physically was pushing his supply cart through the Andes in subzero temperatures. It took seven days of up-and-down climbing to get through a section of the mountain range, Johnson said.
"Pushing a cart full of water and food that long in that environment was miserable," he said.
The toughest on the mind was probably the lonesome runs through Peru, where there was no human contact for days on end. At one point, Johnson said, he went 11 days without seeing a person.
"That's the hardest part. Going those stretches without talking to people," he said.
vandiver.john@stripes.com Twitter: @john_vandiver