Navy families under coronavirus restrictions in Naples 'get down tonight' with the Giant Voice
by
Ann Pinson
April 1, 2020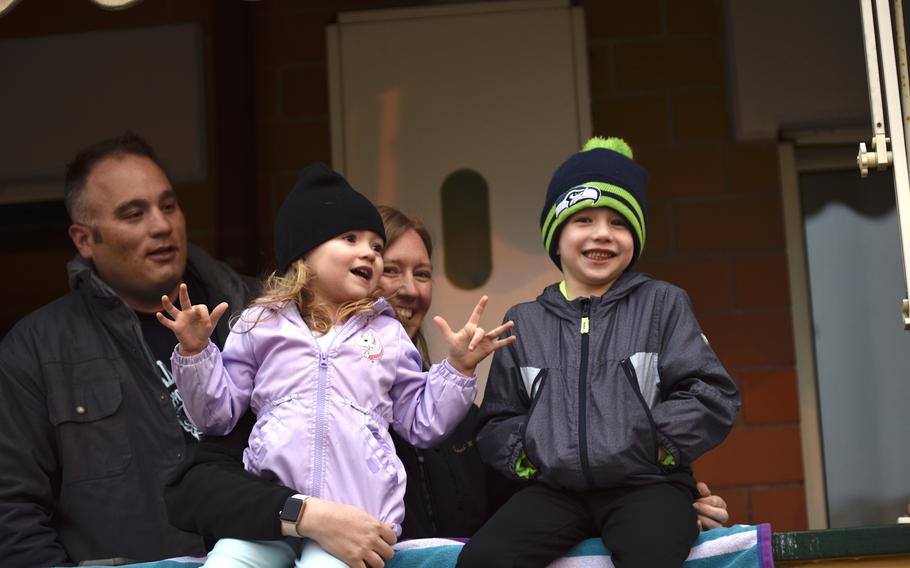 Stars and Stripes is making stories on the coronavirus pandemic available free of charge. See other free reports here. Sign up for our daily coronavirus newsletter here. Please support our journalism with a subscription.
Landon Schoenborn, a kindergartner who lives at Naval Support Activity Naples in Italy, counts down to Wednesdays and Fridays every week. Those evenings, he gets to be part of a socially distanced balcony singalong with his neighbors.
"It's a chance to hang over the rail and shout hellos to their best friends and neighbors in our building who they haven't played with in so long," said Tiffany Schoenborn, mom to Landon and his 3-year-old sister Emelia. "Being stuck in our house, missing out on play dates, parties, school with friends and beloved teachers, and being restricted to our patios for their only outside play space isn't the best.
"But I hope that, having and participating in things like Operation Fun/GDT (Get Down Tonight), this can be a time they'll look back on and remember fondly despite the circumstances."
Operation Fun/GDT (Get Down Tonight) features music played over the base's loudspeakers, known as the Giant Voice, at 6 p.m. two nights a week, as residents get a chance to wave hellos and bob along. Italy has been hit particularly hard by the coronavirus pandemic, and the program was designed to give those on base, whose movement is limited under the country's sweeping coronavirus restrictions, a chance for a sense of community.
NSA Naples Commanding Officer Capt. Todd Abrahamson came up with the idea for the event, and residents get to vote for the songs they want played via options on the base's Facebook page. Voting is a hot topic for the Cockerham family, who live on base.
"Every Wednesday and Friday, I'll tell them the song choices and we choose which to vote for then we anxiously wait for 1800 to roll around," said Kayla Cockerham, mom to 8-year-old son Jayden; daughter Brylee, who just turned 8, and 2-year-old Jeff.
"My daughter is the one who helps me remember and be on top of us going out on the patio close to 1800. We try to make the most of it and dance around and sing along."
Her 2-year-old was particularly thrilled when "Baby Shark" made the playlist, she said. Each installment features two songs around a theme. For example, a classic rock night included Queen's "We Will Rock You" and Journey's "Don't Stop Believin'."
Grace Bordt, a base resident, said her 8-year-old daughter Faith made tissue-paper pompoms to wave during the songs. Her 10-year-old son Roman likes voting for selections online but needs encouragement to get out the door to dance. Not so much for Mom.
"It's so fun for me to dance around holding my 10-month-old, she seems a little overwhelmed by how loud it is but eventually giggles," Grace Bordt said. "It's a nice way to break up our time spent inside. Most times we forget it's happening so then it seems like a surprise every time the music comes on."
Listening to music over a loudspeaker might not be a priority if just adults were home, Tiffany Schoenborn says, but it's a must-do with the youngsters.
"It seems kinda silly and the echoey loudspeaker quality isn't the greatest, but no matter the weather we're out there with our kids because they love it," she said.
pinson.ann@stripes.com Twitter: @annpinson