NATO warns of Afghan exit without security agreement
by
John Vandiver
December 3, 2013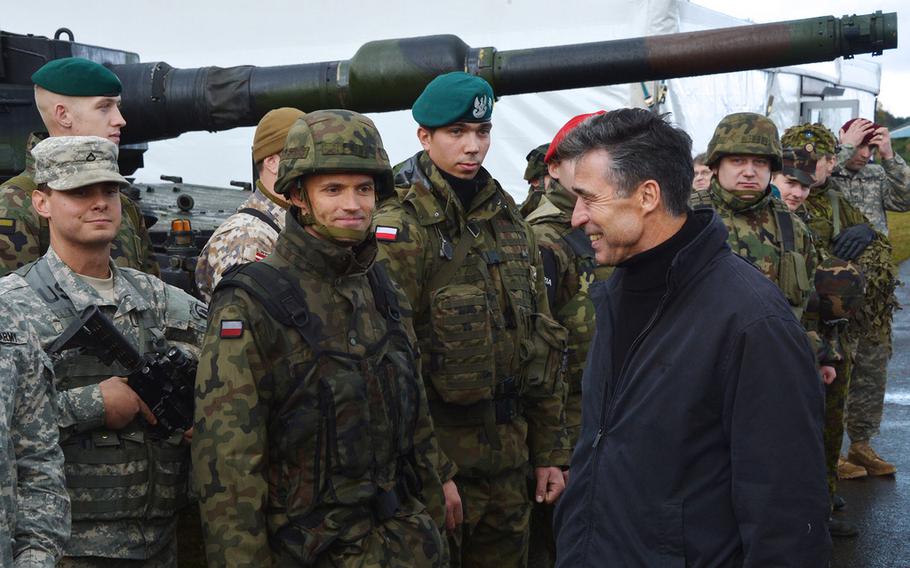 STUTTGART, Germany — If Afghan President Hamid Karzai continues to stall on a long-term security deal with the United States, all international troops will be out of the country by the end of 2014 and foreign aid to the impoverished nation could dry up as well, NATO's secretary-general cautioned Tuesday.
"Let me stress that we are still prepared to deploy a Train, Advise and Assist mission to Afghanistan after 2014 if the Afghans so wish. At the end of the day, it's their decision," NATO Secretary-General Anders Fogh Rasmussen said during the start of a two-day defense ministers' meeting at NATO headquarters in Brussels.
Karzai has said he will not sign the bilateral security agreement with the U.S. until after his successor is elected in April, defying the recommendation of a consultative council, or Loya Jirga, he convened last month to review the accord.
U.S. and NATO forces have been at war for more than a decade in Afghanistan, making it the alliance's longest and largest operation in history. But if Karzai fails to sign the bilateral security deal with the U.S., Afghanistan will likely go the way of Iraq.
The U.S. canceled a postwar training mission in Iraq after talks with Baghdad broke down over a U.S. demand that troops be granted immunity from Iraqi prosecution. At the time, NATO, which wasn't a part of the Iraq war effort, was planning to launch a training mission of its own in that country, but those plans fell apart soon after the U.S.-Iraq deal fell through.
U.S. officials have said the deal needs to be signed soon so they can plan for a follow-on training and advisory force. Without a deal, they are likely to withdraw completely.
In theory, other NATO members could press forward with plans for a post 2014 training mission in Afghanistan, but Rasmussen has made clear that without the U.S.-Afghan deal, NATO would follow America out of the country.
"My concern is that if we are not able to deploy a training mission to Afghanistan it may have a negative impact on the security situation and on the provision of financial aid to Afghanistan," Rasmussen said. "That is put at risk if we can't deploy our own training mission to Afghanistan."
While he didn't set a deadline for Karzai, Rasmussen said the clock is ticking.
"I have to remind everybody that there are certain realities on the ground, including planning, including budgetary and parliamentary procedures in potential [troop] contributions, and those facts on the ground make it necessary to sign that legal framework very soon," he said.