NATO, Russia agree to disagree in first meeting since 2014
---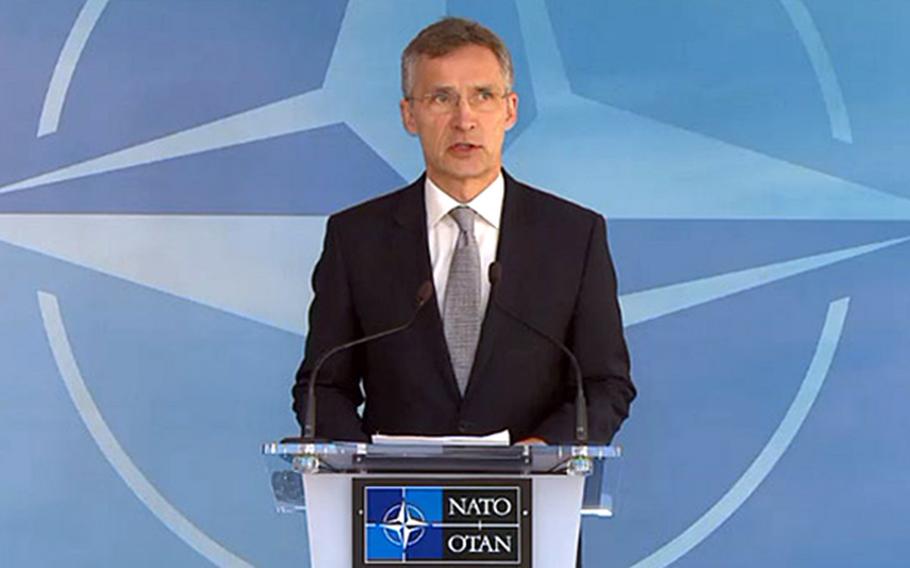 BRUSSELS — Common ground proved elusive Wednesday during the first meeting in two years between NATO and Russian leaders, who quarreled over the conflict in Ukraine, NATO's top official said.
"During the meeting it was reconfirmed we disagree, both when it comes to the facts, the narratives and the responsibilities for the crisis in and around Ukraine," NATO Secretary-General Jens Stoltenberg said after several hours of talks at NATO headquarters in Brussels.
At the top of the agenda was the ongoing conflict in Ukraine, where a Russian intervention in 2014 served as the trigger for the alliance's ongoing military buildup in eastern Europe.
Stoltenberg put the blame for the hostilities squarely on Russia, saying Moscow continued to back separatists with weaponry and military guidance. During the meeting, Moscow countered that Ukraine was in the midst of a civil war, defecting criticism.
"Many allies also conveyed a very strong message that we disagree when Russia tried to portray this as a civil war," Stoltenberg said.
Other issues discussed included the war in Afghanistan, regional terrorism concerns and the need for more transparency between Russian and NATO militaries conducting exercises around Europe, Stoltenberg said.
The meeting of the NATO-Russia Council marked the first such gathering since June 2014, which was just a few months after hostilities in Ukraine began. The panel was set up in 2002 to improve relations between the former Cold War foes, typically meeting on a monthly basis.
This week's gathering also comes on the heels of a series of confrontations between Russian and U.S. military personnel operating in the Baltics. Over the span of several days last week, Russian fighter jets buzzed a U.S. warship operating in the region and barrel rolled over the top of an air force surveillance plane, prompting formal complaint from U.S. officials.
Russia has denied any wrongdoing, but the events underscore how tensions have escalated between Russia and the West.
"NATO and Russia have profound and persistent disagreements. Today's meeting did not change that," Stoltenberg said.
Meanwhile, NATO continues to move forward with plans to strengthen its military posture in the Baltics and other parts of NATO's eastern flank, a move that began soon after Russia's annexation of Ukraine's Crimea peninsula.
As more NATO forces and larger exercises take place in the region, allies have made a point of giving advanced notification to Moscow about its training regiment, said Stoltenberg, who accused Moscow of not operating in kind.
"The armed forces of every nation and every military alliance have the right to exercise. But in recent years, Allies have seen a decrease in transparency in (Russian) military activities," Stoltenberg said. "Combined with an increase in military activity and forces, and strong rhetoric. This is a dangerous combination."
For its part, Moscow has called the U.S.-led NATO alliance's build up in the east an unnecessary provocation that will force Russia to answer with more frontline forces of its own.
---
---
---
---