NATO reaffirms force repositioning plan for Poland, Baltics
---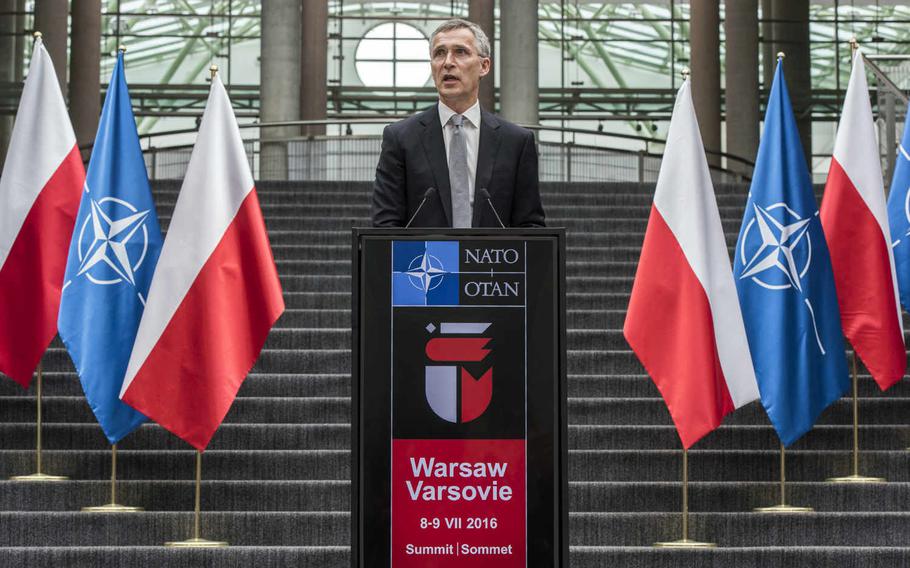 NATO's top official on Tuesday reaffirmed an alliance plan to position several battalions on the alliance's eastern flank, with final decisions on the size and scope of the mission expected in July at a major summit in Warsaw.
NATO Secretary-General Jens Stoltenberg, speaking during a stop in Warsaw ahead of the summit, said that military planners had presented allies with a range of recommendations on how the organization can build up its presence in the region and that those measures are under review.
"This presence will be multinational and rotational," Stoltenberg said during a speech at Warsaw University. "This enhanced force and presence, combined with the ability to deploy forces quickly, will send a clear message."
The moves are part of a plan to reassure allies in Poland and the Baltic states, countries edgy in the wake of Russia's 2014 intervention in Ukraine.
Earlier Tuesday, Stoltenberg held a joint news conference with Polish Defense Minister Antoni Macierewicz, who said the plan to beef up NATO's presence in the east was an important step in adapting to a new security environment.
"Both in Poland as well as the Baltic states there will be full battle groups, full battalion battle groups deployed on a rotational basis," said Macierewicz, echoing Stoltenberg's pledge of a steady circulation of troops in the region.
Since Russia's intervention in Ukraine in 2014, including Moscow's annexation of the Crimea Peninsula, NATO has responded by expanding the size of its crisis-response forces, streamlining command and control systems and intensifying the pace of exercises across Europe.
Those efforts have in turn angered Russia, which has warned of unspecified countermeasures.
---
---
---
---