NATO foreign ministers agree to bolster Ukraine's defenses
---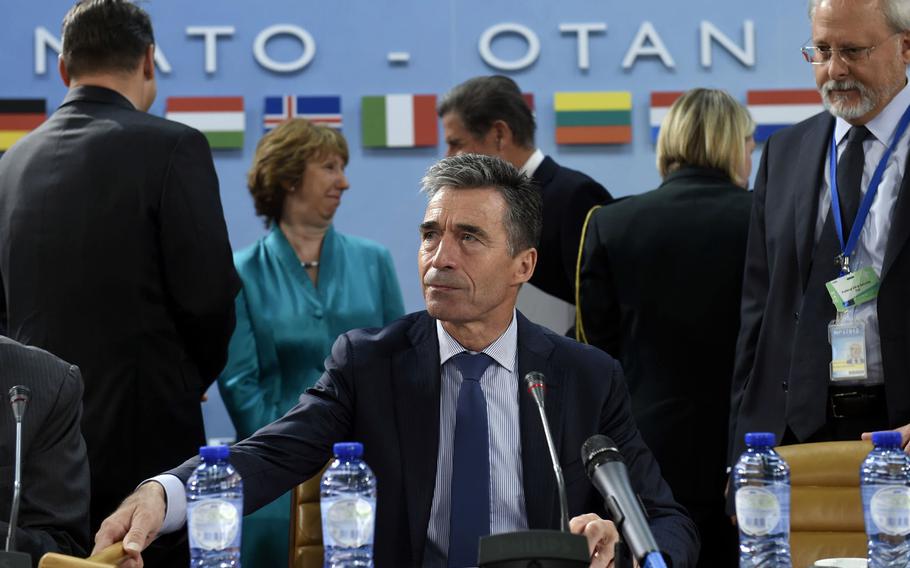 STUTTGART, Germany — NATO foreign ministers endorsed a series of support measures to bolster Ukraine's defense capabilities in areas such as logistics, cyberdefense and command and control, the alliance's top official said.
Foreign ministers met Wednesday to discuss the crisis in Ukraine, which has soured relations between NATO and Russia.
NATO Secretary General Anders Fogh Rasmussen called on Russia to stop its support of pro-Russia militants operating in Ukraine and to cease sending weapons into the country to arm them.
"This is a real opportunity to de-escalate the crisis caused by Russia's aggression, and Russia must step back in line with its international obligations," he said at a news conference at the alliance's headquarters in Brussels.
Russia's upper house of parliament on Wednesday, at the request of President Vladimir Putin, canceled a resolution allowing use of force in Ukraine after Ukraine declared a cease-fire with pro-Russian separatists.
In addition to measures taken to strengthen NATO's partnership with Ukraine — a nonmember state — the alliance discussed future NATO enlargement. Rasmussen said NATO remains committed to adding Montenegro and Georgia in the years ahead, despite Russian objections.
Russia has long viewed NATO's push east as a threat to its own security, but Rasmussen said those fears are misplaced.
"Our summit in Wales in September will mark that success and maintain the momentum," Rasmussen said at the start of talks on Wednesday. "And let me be clear: NATO's door remains open. And no third country has a veto over NATO enlargement."
Still, the decision to bring more countries under NATO's security umbrella remains controversial. A senior diplomat to NATO, speaking on the customary condition of anonymity, said there is resistance among several member states that see any NATO enlargement as unnecessary antagonism toward Russia.
Rasmussen, at the conclusion of talks Thursday, also called for a credible political transition in Afghanistan where a dispute over the results of the recent presidential election persists. Such a resolution is needed for the Afghan government to move forward with a long-term security deal with the U.S. and NATO — a prerequisite for a post-2014 training mission in Afghanistan. That mission will involve about 9,800 U.S. troops and likely between 2,000 and 3,000 NATO troops.
Final numbers, however, on NATO troop contributions from allies have not been reached, Rasmussen said.
"I am not able to provide any exact figures for this stage, but I can confirm a number of nations have already come forward with concrete announcements. This will not only be a U.S. mission."
The unrest in Iraq also was discussed by allies, which are concerned about the potential ripple effect on member state Turkey, which borders Syria and Iraq.
"I can assure you that NATO allies stand together in solidarity and unity and we are focused on providing effective defense and protection of all our allies including Turkey," Rasmussen said.
NATO last year deployed Patriot missiles in response to a Turkish request for air defense support aimed at countering a potential strike from Syria.
"And we will not hesitate to take the next steps to ensure effective defense and protection of Turkey," Rasmussen said.
Stars and Stripes reporter Slobodan Lekic contributed to this report.
---
---
---
---