NATO eyes larger role training Iraqi security forces
---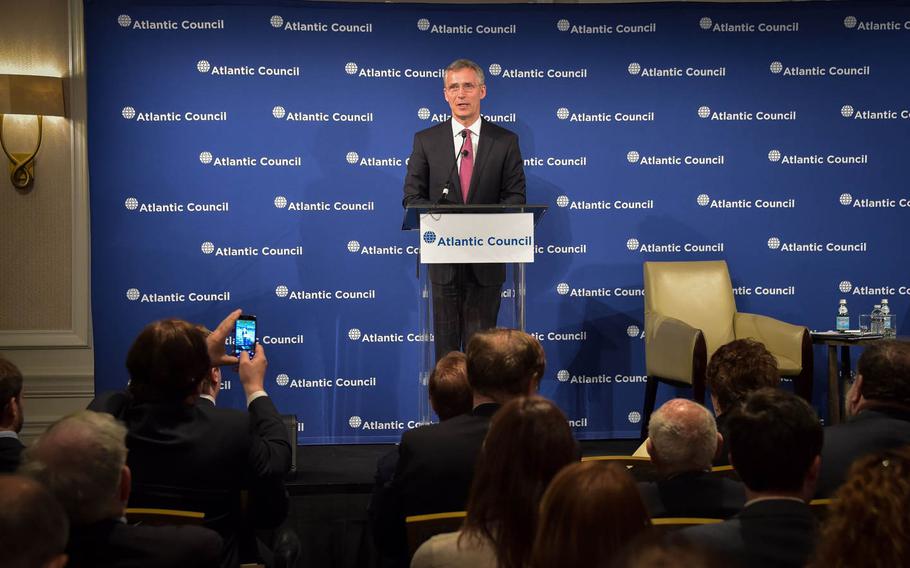 NATO should play a larger role in the training of Iraqi security forces, possibly serving as the force-generating hub in a mission to help troops seize and hold territory in the fight against the Islamic State group, the alliance's top official said.
"I believe NATO can do more," Secretary-General Jens Stoltenberg said during a talk at the Atlantic Council in Washington on Wednesday.
Last week, NATO launched an effort in Jordan to train 350 Iraqi officers in medical response, countering roadside bombs and other areas. In the future, NATO could serve as a central coordinator for training efforts in Iraq, where programs are now generally conducted on a bilateral basis, Stoltenberg said. Putting the effort under a NATO umbrella would streamline various training missions and encourage smaller alliance countries to join the campaign, he added.
"The advantage of using NATO is NATO has the structures and the mechanisms for generating forces," Stoltenberg said. "It is a stronger commitment when you are part of a NATO alliance … than the commitment just being a part of the coalition of the willing."
NATO could also serve as the main negotiator with the Iraqi government on terms for training. "When NATO does the training, we have one agreement, one legal framework, and we can plug into that," he said.
Stoltenberg's comments come as Iraqi security forces in coordination with the U.S.-coalition in Iraq begin operations to retake the city of Mosul, which fell to the Islamic State in a 2014 offensive that left Western observers stunned by the militant group's rapid ascent.
Soon after the 2003 invasion of Iraq, NATO set up a small training mission in Baghdad's National Defense University. But at the end of 2011, after the Iraqi government rejected granting U.S. and NATO advisers immunity from local laws, the alliance closed down the facility and pulled out its instructors. Parallel to the attempt to retake Mosul, NATO should make an intensive effort to prepare local forces to hold the territory once Islamic State fighters are cleared, Stoltenberg said.
"It has to be local forces, and we should start to train them now and not to wait," he said.
The idea of investing more in the training of indigenous forces is likely to be a key focus for NATO in the year ahead. While much of the past year has centered on reinforcing the alliance's position in eastern Europe in response to a more assertive Russia, unrest to the south is dividing NATO attention. Chaos in Iraq, Syria and Libya and the resulting spillover of migrants into Europe has strained relations among European governments struggling to deal with the influx.
By bolstering militaries in northern Africa or the Middle East, NATO could help prevent or contain future crises, Stoltenberg said.
"We need a more robust approach — responsive, ready-to-go capability so that we can plan, coordinate and deploy advisory support and training missions faster," Stoltenberg said. "The demand for capacity building is growing."
Stoltenberg pointed to the ongoing NATO mission in Afghanistan, where allies have been training forces for years, as a proving ground for strengthening local militaries.
Still, Afghanistan also shows the difficulty of building up credible forces in places where institutions are weak and corruption is the norm.
"We should have started building capacity in Afghanistan earlier," Stoltenberg said.
---
---
---
---