NATO allies agree to expand mission in Iraq
by
John Vandiver
February 12, 2020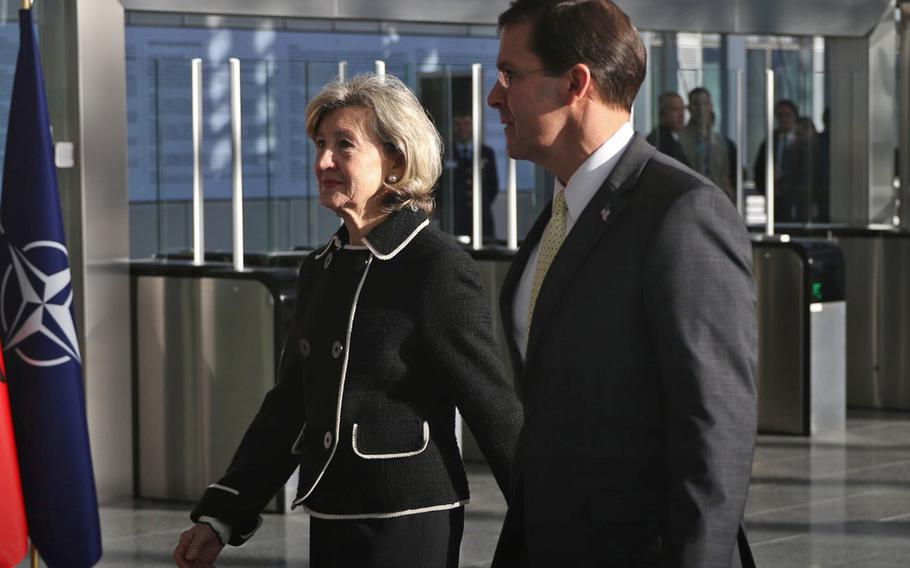 STUTTGART, Germany — U.S. allies in Europe agreed Wednesday to expand their mission in Iraq, answering a demand by Defense Secretary Mark Esper that NATO members play a larger role in the fight against the Islamic State, the alliance's top official said.
NATO Secretary-General Jens Stoltenberg said allies decided in principle during a meeting of defense ministers in Brussels to boost efforts aimed at training Iraqi security forces. Esper was at NATO headquarters in Brussels to press allies to expand operations in the Middle East, echoing President Donald Trump's recent call for NATO to do more in the region.
Esper, speaking ahead of the NATO meeting, said NATO doing more in Iraq means the United States eventually could reduce the number of forces it has in the country.
"That's my ambition, but the first thing is getting NATO in, and once we get NATO in, or more NATO partners in, we could look at reducing our footprint," Esper told reporters.
An expanded NATO mission in Iraq would mean some U.S. troops could be returned to bases at home to focus on training or deploy to other regions such as the Pacific, where the Pentagon has said it wants to shift its focus to counter China and Russia, Esper said.
The United States has about 5,000 troops in Iraq to support operations against ISIS, while NATO's training mission in the country comprises some 500 members.
NATO suspended training operations in Iraq following the killing last month by a U.S. drone of Iranian general Qassem Soleimani, but Stoltenberg said the alliance expected to resume training in the country "as soon as possible."
Stoltenberg did not specify how many more troops NATO members would send to Iraq or if forces would shift from the U.S.-led coalition against ISIS to the NATO campaign in the country.
"It's too early to say today," he said, adding details still need to be worked out.
Stoltenberg said Iraq ultimately would decide whether allies remain in the country to train local forces. In the wake of the U.S. airstrike against Soleimani in Baghdad, Iraq's political leaders complained about a violation of the country's sovereignty and threatened to evict U.S. troops.
Meanwhile, Esper said he'd also like to see more NATO participation in deterring Iranian aggression in the region. More forces could be sent to Saudi Arabia to help with air defense there, he said.
Greater NATO involvement in the Middle East was expected to be high on the agenda of the NATO defense ministers' meetings, which run until Thursday.
Allies also are expected to discuss the alliance's mission in Afghanistan and the implications of a new Russian missile system — the SSC-8 — that U.S. officials said prompted their decision last year to pull out of the Cold War-era Intermediate-Range Nuclear Forces Treaty.
Stoltenberg said allies will review defensive measures needed to counter a range of Russian threats.
"The SSC-8 is just one challenge we face," he said. "We will discuss our response to the whole range of Russian missile systems — conventional and nuclear — currently deployed or under development."
vandiver.john@stripes.com Twitter: @john_vandiver